Awakeri School

Here is the.....News

20 October Ag Day! A lovely day for it. About 160 animals came to school, in the different sections: lambs, kids, calves, dogs and pets. Yesterday everyone made lots of exhibits for the indoor show. It's all on display in the Events Centre. It looks and smells awesome: flowers, aqua jars, all sorts of art works..... There is some cool baking there too. Check out these cool photos of the day. Thanks to our senior student photographers and all the helpers and organisers.

29 September Mr J's last day. Sad to see him go. "Be careful how you go!"
All the middle and senior school filled out questionnaires for Room 14's maths investigations. There are some fascinating results on all sorts of topics. Check them out on Room 14's windows.
If you want to have a look at the Ag Day indoor show activities for the first week back at school, click on the link. We will be doing the activities on the Thursday so they are on display on Ag Day.
28 September Want to know what the most popular book in the whole school is? Want to know what's happening in the holidays for kids? Check out the library page!
27 September This morning we saw a brilliant dress rehearsal of our Yr 4 - 6 jump jam team, who are heading to Westlake College in Auckland for the national finals of the Open Challenge in a few weeks time (the 28th October). The team looked amazing, with their energy, enthusiasm, costumes, smiles and moves all shining out. Well done to the team, who have worked hard for many lunchtimes, and their coaches Nic Laurent and Jamie Maunder.
| | |
| --- | --- |
| | |
| The Awakeri team is ready to go. They have trained four lunchtimes a week for ages, then they have dropped it down to twice a week for the last while. | There are fifteen people from years 4 to 6 in the team. They had auditions to pick the team at the start of last term. |
| | |
| "Awakeri! Let's party!!!!" calls out Summer and her team. The song is Don't Stop The Party, by Pitbull. | The coordination is awesome. The uniforms look bright, colourful and give a confident mood. |
25 September The last week of the term, last week for Mr J.
Our Jump Jam Squad, who are travelling to Auckland at the end of October to compete in the nationals, are having a dress rehearsal on Wednesday 27th September at 12.20pm - you are invited to come along and see them in action.
If you are looking for something cool, exciting and educational to do in the holidays, check out the Science programmes offered by REAP in Whakatane. Click here. Spaces are limited, so be in quick. $30 per day.
22 September It's all over! A great final night show, awesome kapa haka.... Check out these photos.
Some welcome feedback:
Dear School. ......Production Team and Students. We attended the Production last night it was just amazing , fantastic, and entertaining. We also enjoyed the Kapa Haka Group brought tears to our eyes. They were super special....The work the Team has put into these Students to produce such a high standard is a credit to you all. Look forward to your next Production.
21 September Tonight is the last night of our school production which is sold out. Hopefully everyone's voices are mending. Yesterday we performed to the juniors of our school. Mr Sheather told the Juniors to Boo at the bad guys. When the princess was in her cell and the baddies were mocking her, the juniors booed at us. Halfway through the show our princess's voice went but came. On Tuesday night we had our opening night. Our opening night was amazing. Our talent acts also made the audience have a bit of a laugh especially Jake Webb's "tape face". The students from Year 5-8 have a day off this Friday while the teachers bring everything back to school.
19 September Valley of the Voodons shows are sold out! Dress rehearsal was a mission yesterday. We got through the show and practised some bits that needed extra work. A few funny thngs happened as well: Jamie slipping over when running onto the stage saying "Stand still everyone". Josh thought the white screen was a wall, leaned on it and fell over. The two destructor hands (Riley and Charlotte, Corban and Jake) having a lot of trouble putting the "trees" into the destructor!
Opening night tonight. Break a leg everyone!! Reminder to be there at 6pm if you are in kapa haka or a main lead, 6.20pm for everyone else.
15 September Here are a few photos of our dress rehearsal yesterday.
14 September Check out the Library page for news of the winners of the poster competition and some awesome Space themed reading to go with our Valley of the Voodons show. Tickets are selling well for the two public shows next week. Get your from the school office. $10 adults, $5 children (including high school students).
11 September Congratulations to our 11 runners who braved miserable conditions at the AIMS Games cross country yesterday. The course turned into a slip and mudslide in places, with some runners climbing a hill only to slip back to the bottom again! Big congratulations to Teigan Nolan (26th place), Elijah Wetting-Davidson (29th place), Olivia Nolan (41st) in their respective races.
6 September Good luck to all our runners competing in the AIMS Games cross country this Sunday at Waipuna Park, Welcome Bay, Tauranga. There are over 800 runners doing cross country (in four races: Yr 7 boys / girls and yr 8 boys / girls). Getting in the top 100 will be a good effort!
3 September Some photos from kapa haka intensive last week. Tino ataahua!!
30 August Today is the second day of kapa haka intensive. We have 65 kids in our group. They did really well on Monday, so hopefully there will be another good step up today. We have a concert for parent at 6pm in the events centre lounge, so you can see how they are going.
A good turn out at the Ag Day meeting last night, we now have plenty of people to run the day. Thank you to all those who volunteered.
29 August Details of our fantastic BOP Science Fair success:
Kieran Butler won in the Intermediate Technology section, the Best Overall Technology entry and his was the 2nd best entry in the entire fair.
Liam White won the Judge's Choice and was 3rd in Intermediate Technology.
Sophie Peat won the Science in Farming special award.
Joshua Broadmore was highly commended.
26 August Good news / bad news.
Good news: Kieran Butler won over $800 in prizes at the BOP Science fair yesterday, including Best Intermediate Technology entry. Liam White was also up in the hundreds of dollars in prizes. Details of what the awards were that our students won will be published as soon as they come to hand.
Bad news: The Whakatane District Council has given our booking for the Little Theatre to someone else!!! (You might ask how they could do that!). We now have to perform our Valley of the Voodons and kapa haka production a week earlier, so our rehearsal and organising time has been reduced. There might also be clashes with other things that we would have avoided, e.g. high school open days. Fingers crossed that we can do it!
24 August Today we had 15 students at the BOP Science Fair at Rotorua. Ours was the biggest school group from the EBOP. We are waiting to hear if we are getting any awards. It will be tough, up against 110 other students. Prize giving is tomorrow. If you are in Rotorua, you can view the fair at the Convention Centre on Fenton Street up until prize giving at 1pm. Here is a recount from one of the children who went there. Today we went to the science fair. Today I got up early to go to the B.O.P science fair. We left at 6 45 to travel in a van to Rotorua. It was very noisy because of Bonnie and Teigan singing their silly songs. When we got there we had to unload our exhibits out of the van and into the convention centre. After that we had to wait a while before we got interviewed. When we were waiting to get interviewed we had to wait by our exhibits. To pass time we were allowed to bring a device. We had to wait for Mr Hawkes becuase he was a judge because each school had to donate a judge. On the way back we stopped off at Manawhae bay to have some fresh air. If you scroll up the page you will see the results of the BOP science fair.
Yesterday had the first read through of our Valley Of The Voodons production. On Monday and Wednesday next week is the kapa haka intensive. Kapa haka people will get a notice about it tomorrow afternoon at their practice.
20 August We have some more news about staff leaving... Mr J has got a promotion with a job at the Whakatane Intermediate School. Good luck Mr J, Room 11 will miss you. Mrs Robbie is leaving to work fulltime at the Berry Farm. It will be hard to replace all her knowledge about the computers and all he extra things she does. Good luck Kate!
Production rehearsals start this week. Woohoo! BOP Science Fair on Thursday and Friday too.
Welcome back to Rooms 12 and 9 from their camps at the snow. Sounds like they saw a LOT of snow!
17 August Here is a link to the words of all this year's kapa haka items. It opens in a new tab. Learn ... practise!
Check out the cool latest ideas from Margo on the Library page. Poem in Your Pocket day is coming up next week!
14 August Good luck to Room 12 heading off on camp today. Let's hope the snow is welcoming! Room 9 head down to camp on Wednesday, with Room 12 heading back.
10 August Today the year sixes were given two brochures about their upcoming time as year 7s next year. One was from our school, click here to have a read(opens in new tab). The other was from the tech department (see news below, on 8 August). Any further queries, please call in and see us.
A reminder too about the Events Centre meeting tonight, 7.30pm.
9 August Welcome back to Peter and Cathy Fitz! Farewell to Sarah Plews and family, all the best for their move to the Hawks Bay.
Sadly the soccer/hockey day this Friday has been cancelled, for obvious reasons!

8 August Today all the year 6s were lucky enough to go visit tech at Edgecumbe College, so they know what to look forward to for next year. Room 14 was there, the year eights were doing electronics, making some speaker systems that can be plugged into a cellphone, tablet etc to play music. They had all personally designed them. This was the last of their three days making the project. The year sevens were doing biotech. Today was all about carbon dioxide. They had made lemonade scones and were about to make ginger beer and hokey pokey. Amber, Jessica and Ben, our ex-pupils showed us around and gave us something to eat and drink.
Edgecumbe College's technology is so good that the Ministry of Education made videos of them at work as an example to other schools! Check them out here, here and here. Quite a few Awakeri kids are in them too.
6 August Wow, after a big day of judging on Thursday, the winners of our science fair were announced at prize giving. Congratulations to Elijah Wetting-Davidson and Liam White who won their sections. Here are the photos and all the results!
Don't forget school photos on Wednesday.
2 August There is a new cool message on the Library page. Check it out!
Science Fair judging tomorrow. There is a great variety of science and technology entries. Everyone is welcome to come and view the fair in the Events Centre lounge tomorrow from 5pm till 6.30pm, and Friday 8.15am to 9am. Prize giving is 12 noon Friday at the Events Centre. All welcome!
31 July The senior school had their Maths Celebration on Friday. It was really cool. The Maths extension people did a great job organising some cool maths challenges, which everyone got to do for an hour and a half. Well done to Mr Sheather and the maths extension students, especially those who had to replace the ones who were sick. Click here to see some cool photos of the activity!
28 July As most of you know we had a group of eight students fly over to Singapore in the holidays. One of those people was Oscar Mahy. He is a year seven in Rm 14 and he wrote a recount about his travels. Here it is:
'I went to Singapore for 8 days. It was an exchange trip for our school with Wellington School. Awakeri School has a trip to Singapore every two years. It was great, we did loads of interesting activities. We all went to a cool science centre. This person showed us how to use microscopes. We looked at our own spit mixed with ink. We saw lots of weird shapes and different sized blobs! There was a mirror maze, which was really difficult. There was a lazer dodge challenge. We had to deactivate the lazers to escape out of the room! Some of us went to the Zoo, the Aquarium and a water park. At the zoo there were big snakes and white tigers. One of the snakes was 5 metres long! We got to touch a little brown and black snake. There was also a yellow snake of the same breed. We had to stay with billets. The billets were staff members from the school. In my opinion that was the most fun part. The billets were really cool people. They were very different from us. I really liked them, they were kind. The food was really nice. My Indian family had naan and some delicious sauces that you dip the naan in. I made some new friends through the billets and the school. The school had six storeys of classrooms! We went into their classrooms. They were doing maths, mother tongue (language) and some English. They have about 40 students in each room. For my first experience going to a different country, I really liked it!'
27 July We always have a few queries about what our school offers our year 7 & 8 students. There are of course lots of things, but sometimes these are taken for granted. We are planning an information brochure about our Yr 7&8s and also a trip for our current year 6s to visit the technology that our yr 7&8 students do at Edgecumbe College. We think the technology learning that our students receive at Edgecumbe is outstanding. More information soon. We are very proud of our year 7&8 students and their achievements, but we are not after enrolling extras. We have had a lot of inquiries this week for out of zone students to be enrolled, however, our classes are full!

24 July Welcome back to Term 3. This term, there is a lot going on with the seniors. Firstly the annual school science fair. The school science fair happens every year and the senior children have to pick if they want to do Science or Technology. The science fair starts next Tuesday the first of August. Another major thing happening this Term is the school production this year it is 'The Valley of the Voodons' you can see some pictures from the last time we did it in 2011. We will be starting to learn the production in four weeks time. If you want to see the production look out in the news letter for when the tickets are on sale. The show is normally on the last Tuesday and Thursday night of term.
23 July It sounds like the trip to Singapore has gone very well for our group of students. One highlight was winning the international football game 3 - 2 in 33 degrees heat! Well done Awakeri! Another was having a meeting with the NZ High Commissioner to Singapore. No doubt we will hear of lots more highlights and what everyone learned when they get back.
| | |
| --- | --- |
| | |
| The High Commissioner Johnathan Austin has a meeting with the Awakeri School group. He talked to them about his job as a diplomat. He also heard about Awakeri's adventures as part of their relationship with Wellington Primary School in Singapore. | Wellington School hosts and Awakeri School guests are out and about in Singapore.Jamie, Fearghus, Ethan, Ollie, Liam and Oscar are in the front row. Charlotte is in the group and Vinnie must be hidden! |
7 July Today we had Miss CT, Mr J and Mr Fitz shave their heads to raise money to fight cancer. They started at 8 30 with Mr Fitz then Mr J and finally Miss CT, who went shortest of them all and shaved all her hair. She was left holding her pony tail. The Beacon came and took pictures and interviewed them. This all happened on the staff room deck. Well done to all of them for shaving their hair. They raised over $700, well done!!
Today was also Mrs Prodger's last day. We had a special assembly to farewell her. Lots of classes said poems or speeches and gave her things, like cards. Mr Fitz and Mr Grindrod made speeches and we sang a song to Mrs Prodger. Click here to read the words. Mrs Prodger made a speech too. Happy holidays everyone. Good luck to all the seniors who have got Science Fair projects to work on.
| | |
| --- | --- |
| | |
| Broc Young helps give Mr J a very short haircut! | Haylee Young shaves Miss CT's hair. It all comes off in one piece! |
| | |
| Mrs Prodger's farewell. Mr Fitz is the MC. The first room up to farewell Mrs Prodger is room 14. Kalib Schuler and Bonnie-Marie Wetting-Davidson read some memories. Mrs Prodger is sitting between BOT members Brett Grindrod and Rhonda Webb. | Mr Fitz surprised Mrs Prodger with some things he said in his speech! Click here to see a few more cool photos of the farewell. |
6 July Big congratulations to Mrs Laurent and the jump jam team for making it through to the national finals in Auckland in October! Today is the second day of teacher-parent interviews. We hope your ones go well!!
Here is a video that is being shared with our senior students about keeping safe with Snap Chat and other social media. Worth a look!
5 July Today the Rangitaiki Tai Mitchell rugby squad visited our school on their way to tournament tomorrow. Ethan Forbes and Vinnie Te Maipi spoke on behalf of the team. They then did a very strong team haka. Good luck Rangitaiki, for your tournament at Mt Maunganui!
Today and tomorrow are half days because of teacher-parent interviews.
Mrs White has some good Holiday recommendations on the Library page. Check it out!
REAP are running some pretty cool science holiday programmes these school holidays. Look out for them. Or email REAP.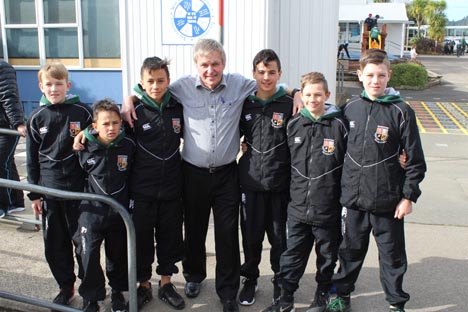 Rangitaiki Tai Mitchell team members from our school meet with Mr Fitz after their speech and haka. Fearghus Byres, Mikaere Te Maipi, Vinnie, Mr Fitz, Ethan, Jamie Julian and Liam White.
3 July Well done to all those people who auditioned today for acting, singing and orchestra roles for this year's production. Some people were really well prepared. They knew their scripts and were expressive. Some people were sick today, so there will be more auditions for them on Wednesday. Hopefully people will know on Friday if they have a role.
Don't forget, year 7&8s, if you need a science fair board, they are on sale for $6 at the office.
30 June Today is Room 6&7s's Matariki celebration day. They started early this morning in the frost. Check out Issy Lambert's version of events on Room 7's page. Today is also pie and doughnut day, raising money for the flood affected in Edgecumbe.
28 June Everyone is warmly invited to our last assembly of the term on Friday 7th July. We are saying goodbye to Melva Prodger. She is retiring after over 20 years of excellent work in the school office as our secretary. Assembly is at 2pm. There is an afternoon tea afterwards at 3pm if you want to stay for that.
Today names are being taken for auditions for this year's show. The auditions are on Monday. People can try out for singing and or acting roles, big or small, of the percussion orchestra. The show is a good one - Valley of the Voodons. People who audition for acting roles will be given a page of script to learn for Monday.

| | |
| --- | --- |
| | |
| The Beacon was here today, doing an article on Summer Jones in a series they are doing on young sports people. Summer, who plays football for Miss CT's team Awakeri United, was interviewed, videoed and photographed. The article should be in Friday's Beacon next week, with more footage on their website. | Also here today were a lot of Trident High School sports students, who had designed games using lots of different skills. They tested them out on the B Block classes. They had to teach the game, get the kids to play it, modify it if necessary, then get them to evaluate it. It was good to see ex-students Emily Robbie, Nicole Curtis, Robbie Perkinson and Tessa Dodson back here. |
26 June Reports go home tomorrow! BOP cross country tomorrow too. On Wednesday Constable Bicknell is doing cyber safety with the senior rooms, also Trident High School is here teaching the middle school some games. On Friday is the pie and doughnut day, raising funds for Edgecumbe people, also it is the seniors Maths Celebration day. It's a very busy week!
22 June Eastern Bay of Plenty Cross Country. More great results:
On Tuesday this week 29 children represented Awakeri in the Eastern Bay of Plenty Cross Country. This event was held under perfect conditions at Woodlands School in Opotiki. A big thank you to parents who were able to provide help and support on the day. We would not be able to participate in these events if it wasn't for you. Here are the results of the children who came in the top 5 in their race.
8 Year old girls Aramia Hanlen—5th
8 year old boys Archie Plews—2nd
9 year old boys Kobi Wetting-Davidson—3rd, Ryan Somerville—4th
10 year old boys Joseph Spalding—3rd, Joseph Bateson—5th
11 year old girls Teigan Nolan—2nd, Olivia Nolan—4th
11 Year old boys Elijah Wetting-Davidson - 2nd, Kalib Schuler - 3rd, Jamie Julian - 4th (this group were missed out of the newsletter - oops!)
12 year old boys Cody Hall—5th
We also had Teigan Nolan, Joseph Spalding and Elijah Wetting-Davidson represent the Rangitaiki Cluster in a tough 4 by 1.5km relay. The Rangitaiki team came first in both the boys and the girls relays. This was a tough effort at the end of the day. Well done to these runners. Here are some nice photos of the day.

20 June Good luck to our 30 runners going to EBOP cross country at Opotiki today. This Friday is a pizza lunch day, raising money for the group going to Singapore. Orders need to be at school Wednesday or Thursday. Friday is too late! Friday assembly is the final of Awakeri's Got Talent. Good luck to the finalists.
14 June Speech Finals
| | |
| --- | --- |
| | |
| Bonnie-Marie gets the special old shield from Mr Fitz. Her name is the 39th one on it! | Jamie, Bonnie and Cody were the place getters. |
Congratulations to the seven finalists who all delivered excellent speeches last night.
1st was Bonnie-Marie Wetting-Davidson, who spoke about the point of Fitness
2nd was Jamie Julian, who had the same topic
3rd was Cody Hall, who spoke about Self Confidence
Our other finalists were Kieran Butler (keeping a healthy liver), Ayla Rowe (body image), Frank Butler (earthquake safety) and Asha Stevenson (skateboarding safety).
Many thanks to our independent judges: Alison Barr, Jill McLeod and Peter Fitzgerald.
19 June A couple of photos from the Singapore group disco on Friday night:
| | |
| --- | --- |
| | |
| Joy at the photo booth: Charlotte, Danielle, Sonny, Acacia, Mikaere and Vinnie. | One of the games at the disco. Ollie is supervising the Lolly Pong. |
9 June Today was the senior speech semi finals. The 14 semifinalists did a great job. We aklso heard from year year 6 speakers, who spoke on their dream careers. Kennedy Annan, Joseph Spalding and Radha Carrington did a great job of that. There will be seven in the Speech Finals on Wednesday night. Congratulations to Ayla Rowe, Asha Stevenson, Frank Butler, Jamie Julian, Kieran Butler, Cody Hall and Bonnie-Marie Wetting-Davidson. You are invited to hear them speak on Wednesday at 7pm. They are excellent.
The hundreds board on the concrete outside the library has been repainted. The 9 is no longer upside down!
8 June A brilliant day at the interschool cross country yesterday. Place getting results and photos are here! Special congratulations to Bailey Le Prou, Elijah Wetting-Davidson, Teigan Nolan and Ayla Rowe, who all won their interschool races. Great team efforts too with Awakeri teams coming first in 6 of the 8 races. An amazing result in the 10 and 11 year boys where Awakeri runners filled all the first seven places!
Have a read of Margo's very thoughtful article on reading that can help children deal with the difficult world situations that seem to be happening so often these days. It is on the Library page. Good work Margo!
6 June The space net was very popular before school today. Rooms now have a timetable when they can use it in break times, including before school. Some classes will use it in school time too for fitness and phys ed.
Congratulations to these year 7&8 students who have got into the semifinals for the speech contest: Marshall Foxx, Sophie Peat, Ayla Rowe, Kieran Butler, Bonnie-Marie Wetting-Davidson, Isabel Lambert, Cole Hendl, Jamie Julian, Megan Dreyer, Elijah Wetting-Davidson, Frank Butler, Cody Hall, Jake Webb and Asha Stevenson.
2 June The space net is now open! Thanks very much to Craig Robbie, John Chelley, Leigh Carter and rooms 11, 14, & 15 who spread bark around and to Neil Bragg who built the fence. There will be a timetable next week for which age groups can use it in break times.

| | |
| --- | --- |
| | |
| After Room 14 , 15 and 11 had spread bark under the space net, they were a free climb to try it out. This is Room 14. | On Teacher Only Day, the teachers took their chance to try it out too! |
1 June A reminder about Teacher Training day tomorrow June 2nd. School is closed for children. Queens Birthday is on Monday. Happy long weekend! The junior end of the school put together a lovely farewell assembly for Mary Guest yesterday. She heads to her new job in Rotorua next week. We wish her well. Emma Munn is taking over room 2 till the end of the year, welcome!
| | |
| --- | --- |
| | |
26 May The results from cross country are on our Cross Country photo page. Congratulations to everyone who ran at their best, especially those with high placings. We will now be training a squad to go to interschool, which is back at Manawahe this year, so any hill training you can do might be useful! New records were set by Teigan Nolan and Bailey Le Prou. Check out all our sports records.

24 May Cross country day. The races went very well today. The weather was thinking about raining on us, but it was fairly kind in the end. Well done to our record breakers. More details coming soon. Here are some cool photos, thank you photographer Kate Robbie.
22 May Last Friday Rm 14 held their fundraiser to help pay for their camp. They had been planning for ages and they wanted to do it last term but Cyclone Cook had other ideas. So, it was postponed to Friday which gave the groups more time to plan. There was 3 food stalls and three activities. The activities were The barnyard where you got to pat animals and brush them, The haunted house where you went into the spooky house a.k.a the canteen and finally the Challenge Games where you had to test your skills on the different games. The games consisted of dart throwing, fishing for cups and sack races. It was a great afternoon with The Kai Kings food group making $408.90. In total the whole of room 14 made $1132.90. Check out these cool photos!!
In other news the frost has started to set in and this morning people had their rulers out scraping it off the picnic tables!
18 May Cross country is on next Wednesday, we are walking the course tomorrow. The course has changed a bit because of the boggy ground. Seniors are starting speeches next week too. Good luck, be brave and confident!
12 May Kapa haka starts today, in the Events Centre from 3.15 till 4.15pm. Please make sure your child is collected promptly at that time.
11 May Last night the Awakeri Kids Lit Quiz teams travelled over to Hamilton for the Waikato/Bay of Plenty final. It was a huge night with over 60 teams competing. The teams were sitting very close together so every thing had to be hush hush. It was a very hard quiz with topics like Amphibians, Cattle, Accidents, etc. The Awakeri teams did well with the A team: Sam, Sophie, Jake and Kieran coming nineteenth and the B team Shaun, Olivia, Isabel and Oscar coming 32nd. These were very good placings considering that there were 65 teams. All in all, a good night had by everyone. Well done to the winners Southwell School, with Cambridge Middle School second.
The teams next year will be a bit different with Jake and Kieran leaving but this opens the opportunity for lots of new kids to come in and give it a try. You can check out our fantastic past history of Kids Lit Quiz on the Academic Archives page.
You can practise or test yourself out on the official Kids Lit Quiz app, costs about $3. Follow the link on their web site.

9 May Good luck to our two Kids Lit Quiz teams travelling to Hamilton tomorrow for a very tough regional! A long trip back late at night as well!
7 May Kapa haka starts this Friday, after school 3.15 to 4.15pm. Open to year 4- 8. Enrolment notices were given out on Friday. If you missed one, see Mr Hawkes or the office. Please hand in your enrolment by Friday. Nau mai, haere mai! All welcome!
4 May May the fourth be with you....... This weekend is Bayday the start of the football season and all the teams have been training. Bayday starts at nine and finishes around one.
1 May Welcome back to the new term everyone. Congratulations to Miss Hardy who got married in the holidays, she is now Mrs Guest! Miss Moore became Mrs Morris, a big congratulations to her too! Also welcome to Miss Dennis who is a student teacher in Room 13 for the next eight weeks.
The virtue for the school for the next five weeks is Kindness. Hopefully the weather will be kinder to us all this term! Cross country is only four weeks away, so most classes are going to be practising every day. On Tuesdays, Wednesdays and Thursdays, the school will start the day with Jump Jam out by Room 3. This year we have groups of students who will be leading jump jams.
Today lots of people noticed that the lines on the big hundreds board on the concrete have been repainted in the holidays, then they noticed that the 9 was upside down! At assembly Mr Fitz said people could stop telling him now because he knew!
13 April Awakeri School is closed again today. Hopefully everyone got the message in plenty of time yesterday.
Let's hope the impact of the coming weather system is less than last week. All the best for the holiday break, specially to those displaced by the floods. Kia ora tatou katoa.
Last night Awakeri was due to have three teams competing in the Kids Lit Quiz regionals in Tauranga. These were eventually cancelled and the school is now invited to compete in the Waikato regionals in May.
9 April We have our own water supply, that is tested and clean, and our effluent system and toilets are working well. If you live on the plains you are welcome to fill up water containers at the school. There is a tap on the pool fence that faces the car park.
Thanks to all those who helped out at the welfare centre based at the school on Saturday and Sunday.
Room 13 & 14 fundraiser that was to be held on Thursday has been postponed till next term. People have enough to worry about.
Best wishes to all.
Kia kaha.
Peter Fitzgerald

7 April Yesterday afternoon we had to close the school, a big thank you to parents for coming to collect their children. We are sad to see the flooding and the massive effects that it will be having on some of our families. Our best wishes to everyone affected.
Today school is open again, but the buses are not running today (because of Whakatane District Council direction). The buses will be running again next week. We have a bit over half the students at school today. Room 13 will be arriving back from camp at Waitomo early afternoon.
6 April Because of Cyclone Debbie and heavy rain today most of the schools in the EBOP are closed. Lots of children are leaving to go and check on their houses and animals. But Awakeri school is still open. At the back of the field near the maize paddock has been flooded by the Mangaroa drain. At school we have talked about the flooding lots. Some children went kayaking on their back lawns, some went swimming in their paddocks. Room 14 wrote some poems:
Cyclone Debbie's fault
Evacuating the chooks
A shock to us all
(Isabel Lambert)
It was funny because cyclone Debbie (Ayla's mum Debbie) turned up to collect her children. Even the bus driver was funny about the flooding because Steve was driving past the hot pools last night and he said "and to your right you'll see Lake Awakeri!"
5 April Rooms 10 and 11 made it back safely from camp. They managed to do most of their activities, even with the rain. Room 13 has had to adapt their plans a lot because of the rain, but they are still in the Waikato. The Waitomo Caves are closed which is a shame for them.
Only one week to go till the Kids Lit Quiz regionals. The teams have been training hard, lots of reading, quizzes etc. This year we have three teams:
The A team: Jake Webb, Sophie Peat, Sam Smith and Kieran Butler.
B team: Oscar Mahy, Shaun Snow, Issy Lambert and Olivia Nolan.
Junior team: Addie Dodson, Caitlin Eivers, Radha Carrington and Mary Bragg.
Awakeri School has an extremely proud record in the Kids Lit Quiz, one of the best in New Zealand. Check it out on the Academic Archives page!
3 April Three rooms are going on camp today. Room 13 is going over to Waitomo, to go in the caves, stay on a marae, get muddy etc. They just heard that they will have to change maraes because their main one has a tangi on for the first day. Rooms 11 and 10 are going to Tui Ridge at Ngongotaha where they will do lots of outdoor challenges. Hopefully the rain leaves them alone! The playground will be quiet without all those students!
29 March Sadly the interschool touch day tomorrow has been cancelled. Our fields are still very wet and muddy in some parts after Top School. We will be having lunches on sale still: Sausage and bread $2.00; Candy Floss $3.00 a bag (because there are just a few left over from Top School they will be limited to only 1 per person, senior and middle school only. To be taken home and eaten there. Not at school.)
Check out an interesting before-school challenge on room 14's page.
On our library page is a great list of picture books about the weather, lots of NZ authors in Margo's top ten.
27 March Yesterday was the annual Awakeri Top School and there was so many things to do like, Support all our teams, get some food, play some gala games, buy some plants, grab some bargains at the garage sale, and shelter from the RAIN. The Awakeri Top School team did great coming third in their section with Kawerau South winning overall, after winning section C. Whakatane Intermediate year 8s won our section, while Ashbrook won section B. The cheerleaders did amazingly as well, even through the rain. They also came third, with Tarawera and Thornton coming first equal in the cheerleaders. Check out these cool photos (no photos after lunch in the rain sorry!).
24 March On Tuesday our swimmers did really well at the EBOP swim sports. Two of the relay teams (the 11 and 12 year old boys and girls), featuring Awakeri children won their relays. We also had a number of swimmers get good placings in their events. Jamie Julian won all six events for his age group.
23 March Today the building of all the Top school events have started. The up up and away has alreasdy been built. Mr Kirby has been at school all day helping children with their cricket skills like batting, catching and bowling. Hopefully the weather is good for Sunday.
22 March Today we have eight swimmers representing the Rangitaiki schools at the EBOP champs. We know they will do well.
If you want to see our benchmarks for what your child should be able to do at the various year levels, go to Helping Your Child (the link is on the left) and choose to look at the benchmarks. They have just been updated. Your child is also assessed against these benchmarks on the final written report.
21 March Sponsors of Top School 2017
1XX, Opotiki New World, Sun FM, JA Russell Ltd Whakatane, Kopeopeo Lions, Floatron, GF Builders Ltd, Heikell Transport, AB Contracting & Fencing, Watchorn Transport, Horizon Services, Professionals Rural Real Estate, Focus Chartered Accountants Ltd, Julian's Berry Farm, Haddocks Spray Painters & Panel Beaters, White Cross Orchard, Ultra Scan, Affco NZ Ltd, Silver Fern Farms Ltd, Whakatane New World, Whakatane Pak'n'Save, Coastline Electrical BOP Ltd, EBOP Plant Services, Christie Electrics, Harbour View Electrical Ltd, Inghams Chicken, Fonterra Edgecumbe, Farmlands Whakatane, New World Kawerau, Jewelz Whakatane, Rangitaiki Home Kills, Red Barn Bakery Café & Gift Shop, Jacks Machinery Whakatane, Bay Milking Equipment, Baxter's Café, The Good Garden Company, Husqvarna Chainsaws & Mowers Whakatane, Tony Rees Motorcycles, Stirling Sports Whakatane, Poppy's Café, Life Pharmacy Whakatane
Thank you again for your continued support.
PLEASE SUPPORT OUR SPONSORS WHO SUPPORT US!

17 March Today is St Patrick's day and there are a few kids and teachers walking around in green. The Inter-School touch tournament is soon and all the kids from year 4 up have been practising in their teams. Today there is an assembly and Room 14 are going to share some of their creations from tech. They have some great woodwork and sewing work. They will tell us all the skills they learned to be able to make the boxes and swimming bags.
15 March Top School advice from Margo, backed up by research.... check it out on the Library page.
Our Top School squad's first training today. The squad did some fitness, then worked hard at throwing and catching under pressure. The girls struggled badly in the first round, but managed to beat the boys in the final round.
10 March Very sad news today that our pianist from the last few school productions, George Hannah, passed away. He had been ill for a few months. George was always a very positive accommodating person working with the children and staff on our musicals. He also taught piano to several students recently. Our best wishes to Marie and family.
8 March Rain, lovely rain. No beach trip for room 1 and 2 though. The Top School team squad was named today. Congratulations to the following people who got in, well done to all the others who tried out.
Ethan Forbes, Ollie Forsyth, Jamie Julian, Elijah Wetting-Davidson, Cody Hall, Kalib Schuler; Ayla Rowe, Sammy Neale, Teigan Nolan, Mikayla Jamieson, Leanna Roebuck, Taya Hori.
Also parent teacher interviews are tomorrow, and start at 1:30 so make sure you have booked a time slot with your teacher.
Photos of room 15's camp at the Lions Hut are here.
7 March The Rangitaiki Swimming Sports went very well today, after a cool start. Lots of Awakeri students gained places. These people won events: Ryan Somerville, Layla Rowland, Mikayla Jamieson, Jamie Julian, Charlotte Paulsen, Fletcher Nolan, Teigan Nolan. Sadly there was no time for the inter-school relay.
3 March A reminder that Monday is teacher training day. No school for students. Awakeri Football Club notices have been given out at school. If your child is keen to play, please make sure they enrol, follow the directions on the notice or on the club web site.
Yesterday was the 30th anniversary of the Edgecumbe Earthquake. Quite a few students were talking about their parents being at school during the quake and their grandparents' memories of it. If anyone was at Awakeri School during the quake, they might remember things like climbing the hill behind the old Awakeri hall because of fears the Matahina Dam was going to break, 60 people sleeping in the school library that night, seeing the teachers all knocked off their feet by the quake (we were all outside sitting in our class lines). They might even remember a song about it: Earthwuake Rock. The lyrics are on Room 14's page.
1 March There are some Fabulous reading ideas on the Library page. Check them out! Tomorrow is an important day in Awakeri School history..... 30 years since..... where were you on that day?
Today Tom Bayliss came and gave the rooms from 9 - 14 a demo for the Whakatane Music School. They are having enrolments this Saturday at the Intermediate School. 9 - 11am. We have enrolment forms.
Here are some pics from room 8's camp last week.
28 February Here are some pics from room 14's camp last week.
27 February Swimming sports was a big success today. Well done to Tawa for winning the house relay. Kowhai were second. Everyone did well in the heat and the sun.
Rooms 8 and 14 had very successful camps last week. Watch out for reports, photos etc coming soon. Tomorrow Room 15 are off to the Lions Hut for their camp. Many thanks to all the parents who make time to go and help on the camps. Well done to Rodney Lambert for providing the most hard fought case in room 14's mock court!
17 Febuary Today is a wet and cloudy day so there will probably be no assembly. There are also lots of classes getting very excited for their camps in a few weeks, Room 14's is next week and they can't wait! By room 5 there is a massive nest at the bottom of the agipanthers and hundreds of wasps. The exterminator came today in a full suit and has dealt to them. It looked like he was pouring something onto them and had cans of Raid at the ready. If you see this, stay away they are dangerous!
15 February There is a cool new message from Margo on our Library page, with some very useful links. Have a read.
14 February A big congratulations to two of our ex-pupils who have had tremendous success at Trident High School. Moana Lengkeek was the Top Scholar in New Zealand and Outstanding Scholarship in the 2016 NCEA Scholarship examinations in the Earth and Space Science Scholarship Examination. Katy White achieved Scholarship In Classical Studies in the 2016 NCEA Scholarship Examinations. Both Moana and Katy were only year 12s and still have another year to achieve even more!
The principal of Trident emailed Mr Fitz and said "I would like to congratulate you and the staff of Awakeri for lighting the flame of learning in both of these students."
10 February Today the web site monitors were selected. There are 19 of them. They have put their first entries on their class pages. Today also were the House leader elections. There were some great speeches and it was hard to choose the four leaders. Here they are:
Kowhai: Ethan Forbes, Tawharangi Davis, Sophie Peat & Ella Forbes.
Rata: Ollie Forsyth, Fearghus Byers, Maddison Short, Cate Robertson
Rimu: Isaac Clements, Summer Bailey Reece, Vinnie Te Maipi, Shaun Snow
Tawa: Kieran Butler, Cody Hall, Ayla Rowe, Jamie Julian
There were promises of help and encouragement whenever it is needed, knock knock jokes, raps and rhymes, dramatic moves and a lot of new ideas.
One liners:
I'll take the s and h out of school and make school cool.
I'm not that good at running but I'm good at swimming and I will always try my best. I'll run beside you little fellas and you big fellas too
I want to make the most of my last year by being a house captain for you.
I'll run beside you and cheer you on the loudest
Shaun Snow's speech was pretty cool:
Hi I am Shaun as some of you probably know. Well for starters I wasn't always this confident. I had help from teachers and friends, for example Josh here has been loyal and is always beside me ready to give a helping hand whenever I need one. So with me as house captain I can do the same for you. I will find a solution to any problem, I will encourage you in the darkest of times, I will provide a helping hand for those who seek one. We will make Rimu great again! In races when you can't run any faster and you are just about to give up, I will teach you to break the barrier.
Imagine it like this: we are the light in a light bulb, but we can't reach past the glass. Well I say grab that hammer and smash the glass but if you can't reach the hammer, I will reach it for you.
Together we can reach many goals.

9 February House leader elections tomorrow. Web site monitors application forms in today please. First Top School team trial at lunchtime today.
7 February Barbecue / meet the teachers & BOT tonight from 5pm. Come and have a game of cricket or football with your kids, have some kai and meet people!
3 February Wow our first week is already over! It is great to see lots of seniors trying to participate in extra things, e.g. 36 people have put their names forward to stand for House leader elections, 32 people have put their names down to try out for the Top School team.
Have a great long weekend everyone!
1 February Our library page is up to date with a great message on it. Check it out!
31 January Welcome back everyone. Congratulations to Laura Duncan who got married on Friday and is now Mrs Edgecombe! Welcome to our new teachers Mrs Derbyshire and Miss CT.
Individual class pages on this web site won't be updated until we have new web site monitors in place.
26 January Quite few people came and sorted out their stationery this morning. The updated class lists are on display at the start of school, so you can get the required stationery. Stationery shop open again tomorrow (Friday) from 9am till 12 noon. Happy last days of holidays everyone!
23 January 2017 Happy New Year everyone! This week the teachers have training days on Wednesday and Thursday. Welcome to our new teachers! School starts for students on Tuesday 31st January, at 8.50 am. Try and be here by 8.45am at the latest!!
A reminder that the stationery shop is open at school this week, Thurs and Friday 9am - 12 noon, and next week before school. They know the requirements for each particular room.
Good luck to our ex-year eights as they get ready to start high school next week.
16 December School is all over for another year! Happy holidays everyone! Last night the senior social went well. Check out a few photos here. Today the seniors did their traditional wrestling. Jamie Julian managed to stay undefeated in the year 6 boys. After that was the whole school water fight. Mr Fitz again had the help of 4000 litres and a fire engine! Then it was sad goodbyes and off on holiday. Good luck year eights! Come back and visit!
Check out room 13's page for a farewell song to Miss Reeve. It's even got the guitar chords!
15 December Fancy Dress went really well last night. The dances were cool, trophies were handed out, e.g. Amber got the trophy for biggest contribution to School production, the year eights were farewelled, Mr Fitz named the Principal's Award winners: Lucy Knott, Ella Jones, Ben Olifiers and Tayla Jones. Congratulations!! Finally there was the year eight slideshow and haka. Here are some photos of fancy dress.
Today we are tidying up rooms, then tonight the year 7&8s have their senior social.
Tomorrow we finish with the traditional water fight. Will Mr Fitz cheat like last year?
12 December We had a practice of the Fancy Dress today. It went well. The Glee Club open the night with a cool version of Dynamite, organised by Alex Robbie. Looking forward to seeing everyone on Wednesday night.
7 December Loads of people came to the Junior syndicate picnic today. They had lots of fun and some yummy food!
Check out the very interesting Christmas ideas on the Library page! All the way from Iceland!
Room 14 have a link to some cool Christmas maths puzzles sent to us from Trident High students. Nice!
5 December Today at Lunchtime something amazing happened. We were just playing Two Cone Soccer and the ball came to Campbell Forsyth, he kicked it, first touch, and up it goes, it curls a bit to the left and smashes the cone over. Next Thursday is the Yr7 and Yr8 social. Yr7 have to bring a plate of Party Food and a Large Drink. It also costs $6 to enter and is only open to Awakeri Yr7 and Yr8's. Next Wednesday it's Fancy Dress, and kids are practising their dance routines.
1 December Don't worry if your child comes home and says they have been playing Detention at school. It is a pretty widespread game at the moment, similar to 1 2 3 Home. Hopefully it doesn't mean your child actually is on detention! Also popular at lunchtimes is Master Tag, Two Cone Soccer and Cricket.
26 November There are photos of the year sevens at leadership training last week.
Good luck to teachers trying to get reports written and rooms 6 & 7 & 15 having camps this week.
25 November The Year 7&8 leadership intensives went very well. Here are some photos from the year eights today. There are more coming of the year sevens. A big thank you to the parents who came to help us: Simon Fort, Nikki Cameron, Peter Olifiers & Di Wilson.
23 November Great tips for summer reading on the library page. Help boost your child's reading levels over summer!
Good luck to the middle school athletes as they compete at the interschools today! There are a few photos from the senior interschool athletics added here.
Year 7&8 leadership intensives start tomorrow. The year sevens are getting ready to be the leaders of the school next year. The year eights are doing some fun activities to recognise their contribution this year.
News flash!!!! In from the middle school athletics... Awakeri won the boys relay and came second in the girls relay.
Stand outs:
Jake Laurent - a 1st and two 2nds.
Jamie Julian - two 1sts a 2nd and a 3rd
Joseph Spalding - two 1sts and a 2nd
Layla Rowland & Ella Murphy - 1sts

16 November Earthquakes in the South Island. We feel sorry for all those people with houses wrecked, those cut off from other places. Bad weather too. Even up here we had our 9 & 10 year old athletics postponed, or cancelled. The older age groups did well, with lots of good performances and we cleaned up the 11 year old relay.
Today the president of NZ Football, Deryck Shaw, called in when he was passing, and said he appreciated the strength of football at our school. Very nice of him!
13 November Tomorrow we have 32 senior students going to the interschool athletics in Edgecumbe. Good luck to them. On Tuesday we have a group going to the middle school interschool athletics. Let's hope the weather is fine for them.
After the marae stay was called off we have done a number of activities that we would have done at the marae. We had a series of powhiri to welcome all the different groups of the school. Senior students did the karanga and whaikorero on behalf of their groups. Whaea Andrea did flax weaving with quite a few classes, several classes have done some rakau games.

10 November WE'RE ALL DOOMED!! Donald Trump was elected the 45th president of the United States last night after Hilary Clinton conceded. The result was a massive shock as most people thought Hilary Clinton would win. - Ethan F.
Hopefully Ethan is wrong, and we will survive! - Mr H
10 November Check out the survival stories on the Library page. Awesome stories!
9 November Check out the photos of the Jump Jam teams.
8 November Sadly, the school visit to Wairaka Marae this week has been cancelled, due to a tangi. A tangi always has priority, and this is the first time in 16 years of going to Wairaka Marae that a tangi has occured, apart from our own one when Siri passed away when we were on the marae four years ago. At that time Wairaka Marae was very supportive towards us in our loss. We wish them well and hope to visit again next year.
7 November What were the highlights for you on Saturday: Alex? Tayla? "Walking out onto the stage and everybody cheering! The adrenaline! St Mary's were really polished. They were all in time. The costumes looked like they cost a million dollars. Their movement into lines and out of lines. They were always changing formations.
Waiting for prize giving. We were all hyped, happy and upbeat.... and roasting. The lights were so hot. We just wanted to keep jumping around and talking lots and lots...."
Some of the team certificates the groups got were: merit and excellence in technical execution, sportsmanship, creativity, costuming, motivation & communication; verbal & visual communication and visual cueing (leaders).
6 November Excellent news from the Jump Jam North Island Regionals yesterday. Our leaders team (Tayla, Ella and Brodie) came 2nd and the boys crew came 3rd. There were also team awards to the girls yr 7&8 team and the year 3 & 4 team. Congratulations!!!!
Will Mr Fitzgerald, with his Irish ancestry, be claiming a great win in the rugby today?!
4 November Athletics and Sprints days went really well. We had 10 new records which is really good. Sophie Peat got a new Shot Put record with an amazing throw of 6.70m. Katie Mahy got 2 new records Shot Put and Discus. She threw 9.70m in Shot Put and threw 28.8m in Discus. Rhianna Rowe beat the 8 year old girls 200m girls record with a stunning time of 35.78 seconds. Sophie Growden beat the 9 year old girls 200m ecord with a time of 35.19 seconds. Rhianna Rowe got another record, she beat the 8 year old girls 100m record with a time of 15.91 seconds. Bent Peat beat the 8 year old Boys 100m record with a time of 15.54 seconds. Sophie Growden also beat the 9 year old girls 100m record, with a time of 15.40 seconds. Dayyan Van Veen beat the 10 year old boys 100m record with a time of 14.25 seconds. And the last record, Ben McBeth beat the 13 year old boys 100m recored with a very quick time of 13.12 seconds. Kowhai won the house relay as well. It was an amazing day and Well Done to the children for their efforts. Check out some photos of athletics sports here.
This afternoon we had brilliant performances from our 5 jump jam crews, before their North Island finals tomorrow. They were amazing and should do very well tomorrow in Tauranga. Well done to the teams and their coaches.
1 November Everyone is excited for our Athletics tomorrow. We open with the 1500m and then everyone splits into their age groups to do sports like Vortex, Discus, Shot Put and Long Jump. On Thursday we have Sprints which is a very exciting event to watch. We have races like 800m, 400m, 200m, 100m and shorter races for the Juniors.
31 October Well done Amber Fort who took out the 12 year girls high jump with 1.20 metres. Hopefully the weather will be kind for our sports this week.
A reminder that children need to bring either $2 or $8 to school for the marae visits next week, depending on whether they are staying the night (Rooms 13, 14, 15) or not.
28 October Congratulations to Cody Hall, Katie Mahy, Codi Laurent, Caden Laurent and Tayla Jones who won their high jump age groups. Brodie Nathan is leading the 12 year old girls so far, but more people need to have turns on Monday. They were away at music school practice!
27 October Although most athletics is next week, the senior high jump finals are on tomorrow at 11.10am, starting with the 11 year olds, then 12 year olds, then, if time, 13 year olds.
Want some scary reading? Some people love it! All you need to know on the Library page.
16 October Here are a few photos of Ag Day. It was a good day. Thanks to all our helpers! Now a lot of kids can go to Otakiri tomorrow for Group Day. Good luck!
14 October Ag Day has dawned fine. So far, so good! The indoor show looks very colourful, let's hope the kids, lambs, calves, dogs and pets all behave themselves!
If the news hasn't got to you yet, Mr Fynn has left to take up his old job in Saudi Arabia. Room 15 are now being taught by Mrs Cass for the rest of the year. Many thanks to Tony for doing a great job in Room 15 and good luck to you and Jayne back in the Middle East.
12 October Welcome back for the final term! This term is always busy and we have Ag Day on Friday. Other events this term include: Fancy Dress, the marae stay, Yr 7 and 8 intensive, the water fight and lots of other great things to look forward to.
Check out the Library page for Ag Day related reading and wet weather activities (in case it keeps on raining!). Murphy's Law might come into play here.
23 September Here are some photos of the middle school production Around The World. Rooms 6, 7, 8 and 9 showed the seniors that they have lots of talent coming up for their turn in production as well.
22 September More cool photos of the production have been added to our Conundrum page. These are from Wednesday's matinee show. Break a leg for closing night tonight!
This afternoon Rooms 6, 7, 8 and 9 put on a very cool miniproduction. The Awakeri Airlines plane took us around the world in a story of song and dance. We saw African animals, penguins, American dancing etc etc. The travellers got their passports stamped. The plane took off and landed safely each time. There were some very long flights. A big crowd of parents turned out to watch. The rest of the school enjoyed the show and joined in with some of the singing! There may be some photos of the miniproduction on here tomorrow.
21 September Opening night and today's matinee of Conundrum went very well. Only one show to go!!
This week could be the last days at school for Mr Fynn as he and Jayne head back to Saudi Arabia. Tony has done a great job teaching in Room 15 and he will be sorely missed by everyone. Tony painted the excellent backdrop for the production if you want to look at the standard he sets for himself!
Margo has a really good rundown on the Kids Lit Quiz on the library page in her last message for the term. Check it out.
The Awakeri soccer break up is Saturday, 10am. Children have been given invitations to it.
20 September Break a leg everyone! Not literally, Tiaki! Opening night tonight. Not many tickets left. BJM was a big surprise yesterday, who is it? What a costume! People enjoyed pieing other people. Sometimes they weren't even meant to, eh Miss Reeve!
Here are some cool photos from dress rehearsal yesterday, thanks Kate Robbie.
15 September All you need to know about next week, especially to do with production is in today's newsletter, or go to the Principal's page.
14 September Dress rehearsal today was pretty good. People looked colourful in their costumes. The kapa haka were strong. Here are some pics of Book Character day yesterday.
12 September This week is pretty crazy. We have a props rehearsal today for production. Haylee and Ryann are selling Conundrum tickets before school.
Tuesday: Some room 14 people are going to tech at 9am, because school is closing at lunchtime. Some year eights are going to the Whakatane High open day (remember to bring a note if you're going!). People are wearing costumes because it's book character day!
Wednesday: Dress rehearsal! Also Trident open day at 9.20am. Be back for rehearsal as soon as you can!
Thursday: Props rehearsal at 11am.
Friday: We are taking all our gear into the Little Theatre to get set up over the weekend. No kapa haka this Friday!
Last Friday we had a cool afternoon. Our Olympics ambassadors, with the guidance of Mr Sheather had organised an Awakeri Olympics. We had ten countries, a march past, with flags, anthems, greetings in the languages. Then Ben White and Alex Robbie sang the national anthem. Lucy Knott read the Olympic oath. Tayla Jones ran in with the Olympic flame, which luckily was not blown out by the strong winds! Even more lucky was not getting her hair caught alight by the flames! Then our youngest pupil Joe Ferguson released helium balloons and we were into the games. The ambassadors had organised a rotation of games for older kids and one for younger. They were really good. Look at some photos of our Olympics.
Today the ambassadors of the winning countries got medals at assembly. Sharaya Rangiaho got the gold medal for Spain for the younger kids, and Campbell Forsyth got the gold medal for France for the older kids.
7 September Love Roald Dahl? It is almost his 100th birthday (that's Tuesday). Check out the cool stuff on the Library page about him. He is one of the best ever writers ever ever ever.
6 September Tickets for the Conundrum production are going on sale at the end of this week. $10 adults, $5 children. Evening shows on 20th and 22 September at the Little Theatre.
The Awakeri soccer break up is on Saturday 24 September, from 10am. Watch out for an invitation newsletter soon.
The Ag Day Indoor programme is now up to date for this year.
5 September Our cross country team did very well at the AIMS Games yesterday in Tauranga. Codi Laurent was our best place with 24th, Caden Laurent and Tayla Jones also got in the 50s in fields of over 150 of the best runners in New Zealand. All the year eights beat their times from last year. Cambell Julian is also in quite a few swimming events in the next two days. Good luck!
Today our Olympic country ambassadors are having meetings with their fellow countrymen. We also have our older girl footballers having time out of rehearsals for a bit of football. Lucky them!
1 September Kapa Haka intensive was yesterday. The group of 62 did really well in their concert and the large audience enjoyed it. Boy Leaders Ben Olifiers and Tawharangi Davis did amazingly, as well as Girl Leaders Tayla Jones and Taylor Skipps. Ex Kapa Haka tutor Virgil Hills was at the show and enjoyed it very much. She congratulated the group on their pronunciation. Here are a few photos of kapa haka, more to come.
All of the Jump Jam Groups got through to the North Island champs and are going to perform at Tauranga in November. Our 5 groups were The Boys, The Leaders, Yr 7/8 Girls, Juniors and Yr 5/6 Girls. The teachers were very happy and didn't expect every group to get into the finals. Well Done Jump Jammers!!!
28 August Congratulations to Matthew Reihana-Asquith who won $120 in prizes at the BOP Science Fair. His was the Best Food Related entry and was highly commended. Matthew's investigation was on whether providing information with sugary foods had any effect on their consumption. He did lots of cooking yummy slices, then selling them. He then surveyed customers on whether having information about ingredients, photos of diabetic consequences etc had an impact on them buying and eating the slice. It seems there was little effect! People eat what they want!
Kapa haka intensive Monday and Wednesday. All welcome to a dress rehearsal on Wednesday at 6pm in the Events Centre lounge.
Girls football mini tournament. Awakeri School's girl football players are invited to a mini tournament on Monday 5th September at Awakeri, run by Juan Propato. Bring your boots.
From 12 noon to 12.40: Girls in 11th and 13th grade teams.
From 12.45 to 1.30pm: Girls in 8th and 9th grade teams.

26 August Production practices are well underway, and so far the singing has been pretty good. The read-through went really well, and lots of people were able to deliver their lines without looking at the script.
25 August Our eleven students acquitted themselves very well at the BOP Science Fair, being interviewed well by the judges. The standard of our work was well up there with the other schools, from as far away as Taupo and Tauranga. Prize giving is tomorrow.
Whakatane High Open Day
A change to the notice that was given out to all year eights: The time for the WHS Open Day is now 10.55am till 12.15 on 13 September.
Please note!! (Due to Stop Work meeting)
24 August Poetry Day on Friday. Check out the ideas on the Library page.
18 August Room 2 is now online on our website.
Year eights are being given a notice with information about open days, enrolments etc at the local high schools. All three schools have a lot to offer. See which one would suit your child the best!
We have 11 entries in the BOP science fair. It is at the Rotorua Convention Centre next Thursday and Friday. Public viewing from 1pm on Thursday and up till the prize giving which is 1pm on the Friday. It will be interesting to see how our EBOP standard measures up over there. Good luck to Matthew Reihana, Liam White, Ryan Mapu, Cambell Julian, Charlotte Paulsen, Lucy Knott, Amber Fort, Olivia Sheaff, Tayla Jones, Corban Toone, and Kieran Butler!
Yesterday the senior syndicate enjoyed an excellent Maths Celebration after noon, put together by our Maths extension students with Mr Sheather. In keeping with the Olympics theme, the students created sports related activities which also involved Maths problem solving. The rest of the students were put in teams and rotated around the activities. It was great! Here are some photos.
12 August Hockey and Soccer day has been cancelled and hopefully we can have a sports afternoon for the senior children. Olympics News: Hamish Bond and Eric Murray won our first Gold of the 2016 Rio Olympics in the Rowing event this morning. Lukka Jones also won a medal which was Silver in the Canoe Slalom.
10 August Check out the award winning books on the Library page. A reminder that class photos are on tomorrow. Come to school looking handsome! We have got our top science fair entries into the BOP Fair, which is on 25th and 26th August at Rotorua Convention Centre.
9 August Today some hot air balloons were launched. Mr Hawkes and Mr Sheather helped to launch them by blowing hot air into them. A few balloons floated quite well but the majority crashed and burst into flames. A lot of people came to watch the spectacle as it was very exciting. Check out the photos on Room 13's page. In other news: The NZ womens' sevens team won a silver medal this morning. They lost to Australia 24-17 in the final.
7 August Science fair went very well. The judges from Fonterra, Oji Fibre Solutions and Whakatane Mill were very impressed. The winners were: Technology -Liam White; Science - Matthew Reihana-Asquith. Both entries were amazing. Congratulations too to place getters: Olivia Sheaff, Cambell Julian, Tayla Jones and Kieran Butler. All the results and some photos will be on our science fair page too in a couple of days.
In disappointing news, the EBOP Science Fair that was meant to be this week has been cancelled for lack of entries. Only five schools (including Awakeri of course) had entered. We are investigating whether we can get entries into the BOP science fair.
3 August Everyone has handed their science fair boards in and there are some really amazing ones! Judging begins tomorrow. Today the deputy principal of Edgecumbe College came and talked to all the year 8s who were eligible to go there. He gave everyone their prospectus and told people why they should go to Edgecumbe. It sounded great.
2 August Sadly Maths Celebration was postponed because of the rain! Science Fair this week. Entries are due in this afternoon or tomorrow before school. Judging day is Thursday. We have judges from Fonterra, Oji Fibre Solutions and the Whakatane Mill. There is public viewing in the Events Centre lounge Thursday 5- 6.30pm and Friday from 8.15 - 9 am. The prize giving is Friday at 12 noon. All welcome. Entries need to be collected after prize giving.
28 July Senior School Maths Celebration tomorrow, from interval to lunchtime (weather permitting). The Maths extension group are making sure their activities are all ready to go. It is usually lots of fun, plus learning of course!
27 July Sick of the wet grey weather? Margo, our librarian, has put together a great list of Snuggle Books. Books to snuggle up in the warm and dry and read until the sun comes out again! Check them out on the library page.
25 July Welcome back! Hopefully everyone has lots of energy after the holidays because this term is going to be very busy with Science Fair, Production, Soccer/Hockey Day and the Olympics. The builders have finally finished and everyone was very impressed with the shiny new roofs.
14 July The builders have nearly finished working on the alterations to B Block (rooms 8 - 11) which was mainly reroofing, some new ceilings and covered areas. They are now getting ready to reroof the admin block. Their tarpaulins luckily stayed in place in the gales last night!
A lot of seniors are probably busy doing their science fair projects, which are due in in the second week of next term. Kia kaha!
7 July Mr Fynn was attacked by a police dog! Michael S' dad is a dog handler and he came to school and talked about police dogs. He gave a demonstration and his dog Jacko got to bite Mr Fynn's arm. Mr Fynn was wearing a protective arm guard, but he still got bruises!
Today we also had a visit from the Rangitaiki Tai Mitchell team, who are heading off to their rugby tournament tomorrow. Quite a few Awakeri kids are in the squad this year. Ethan Forbes spoke to everyone about the team and tournament, then the team backed him up with their haka. It was strong! Vinnie Te Maipi, Liam White, Keiran Butler and Regan Henderson are also in the team. Good luck Rangitaiki!
6 July Great excitement this morning. The speaking parts for the school production were given out! They all got scripts to learn over the holidays. Congratulations if you got a part! Just before lunch the teachers played the winning football teams. The teachers won 2 -1. It was a very entertaining game. After the teachers scored the first goal, some kids on the sideline changed who they were supporting and cheered for the teachers! Ref Tayla Jones kept everyone in line!
Also today Mr J's class launched some water rockets. One went amazingly high. One parachuted back down and ended up in a tree!
Check out the Library page for cool holiday ideas!
5 July Middle School had a fun afternoon in the Trident High School Olympics. We had some ex Awakeri Students including Tawari Stanley and Finn Spod from the Sports Leadership class come to organise games that they had designed. Our students had a great time. Thank You Trident for coming, we had a great time.
| | |
| --- | --- |
| | |
| Jemma Snow about to throw a dodgeball | Ani Doherty dodging a dodgeball |
| | |
| Ex Student Ngaio Wilson helped organise this game. | Ex Student Finn Spod had to modify his game to make it work. |
4 July Well done to the 100 students who auditioned today for a role in the production. Especially well done to those who were well prepared and knew their lines and to those who sang. The parts should be given out in the next couple of days. Orchestra auditions tomorrow.
Any parent / family member out there who can play piano / keyboard and would like to do so for us in the production, please contact Barrie Hawkes!
Real Madrid beat Man City in the final of Awakeri School's Champions League at lunchtime. Now the two teams combine to play the teachers on Wednesday at 12.10pm! Caden Laurent scored with a great volley for a 1 - 0 win.
30 June Well done to our runners at the BOP cross country champs: There was some very tough competition! Our best result was Codi Laurent, who came 2nd in the 12 year boys. Codi actually ran nearly two minutes faster than his winning time at the EBOP champs last week! Wow! Caden Laurent came 4th (12 yr boys), Dayyan Van Veen 5th (9 yr boys), Elijah Wetting-Davidson 7th (10 yr boys) & Joseph Bateson 10th (9 yr boys). Lots of other people came in the10s, 20s and 30s.
It has been great to see the school's Jump Jam teams leading jump jam for the whole school this week. The boys team were very enthusiastic this morning. All the teams are looking very sharp.
If there are any people out there who would like to be involved in judging our school's science and technology fair, early next term (4 August) please contact Barrie Hawkes. People who know about science or technology processes preferred!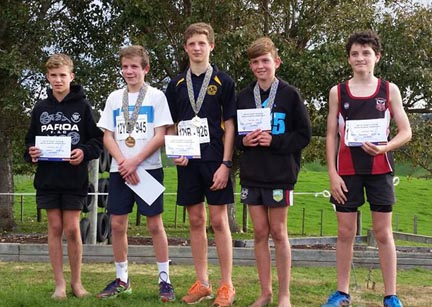 Caden Laurent on the left, Codi Laurent 2nd from right.
28 June Good luck to our runners at the BOP cross country champs today. Reports are also being given out today. Good luck with that too! Also, scripts for those who wanted to audition for our production are being given out. Students should learn the script, ready to play either character at the auditions on Monday. They can also choose to sing a song of their own choice if they want.
Year 7 & 8 students should already be working hard at their science fair entries, or may be they are doing it in the holidays. Science fair display boards are at the office for $5. No IOUs.
26 June Congratulations to Jade Rika, whose Be Ignited Studio group Switch Dance Crew won the Kids Division at the Battlegrounds Hip Hop Competition on Saturday. This means that she will have the opportunity to represent New Zealand in September. As a member, Jade will aim to help raise $14,000 for the group in two months! She would appreciate any support.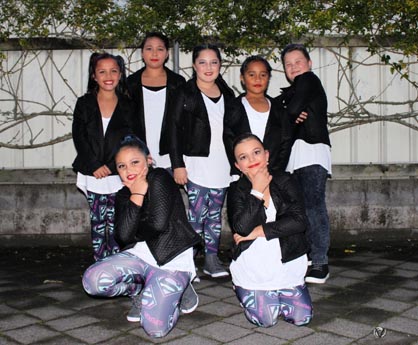 Switch Dance Crew.
22 June Like to be scared??! Like horror stories??! Go to the Library page.
21 June Some great placings at the EBOP cross country today. Codi Laurent beat cousin Caden to win their race and Tayla Jones came second, so they are wearing cool medals around their necks. Now for the BOP cross country next Tuesday!!
Our netball page is being kept up to date with results.
20 June Good luck to our 33 runners going to the EBOP cross country champs tomorrow. These runners have got in the top ten at our school race, then the top ten at the interschool race. Onwards and upwards!
The science fair display boards are now available for $5 at the school office, to students in year 7 & 8 doing science or technology fair.
15 June Congratulations to the Speech finalists last night. Everyone agreed the standard was very high! Lucy Knott came 1st, Matthew Reihana-Asquith was 2nd and Ben White came 3rd. Here are some cool photos.
10 June Wow the speech semifinals were great. Congratulations to the 17 people who got in. The judges had a hard job selecting these orators for the speech finals this Tuesday night: Cambell Julian, Ben White, Alex Robbie, Ayla Rowe, Lucy Knott, Matthew Reihana-Asquith, Olivia Sheaff & Tayla Jones. You are all invited to hear them on Tuesday, starts 7pm in the library.
9 June Great results at the Interschool cross country yesterday. We had four individual race winners (Kaia Skipps, Regan Henderson, Tayla Jones & Caden Laurent) and five teams race winners. Go to our photo page for some cool photos plus all the place getters.
Also, we need those STRONG characters in our books, both male and female. Go to the Library page for Margo's insight about this.
Congratulations to Whakatane High School on their show Rock Of Ages. Our senior students loved it today. The dancing was a real highlight, some great singing and 80s music too. Well done ex-pupils Emily Julian, Georgia Leonard-Cobb on your lead roles. Terrific! Tickets are on sale opening this Saturday night.
To book your teacher/parent midyear interview go to https://www.schoolinterviews.co.nz, the event code is v9n6s
6 June Happy Queen's Birthday!! There is lots on this week. On Wednesday we have 14 teams going to the interschool cross country at Onepu. Let's hope the new venue works out well. Be careful crossing that main road! On Thursday rooms 12, 13, 14, 15 are going to see a dress rehearsal of Whakatane High School's Rock Of Ages show. It should be great. Students need to have brought $4 to school to go. On Friday the Year 7 and 8s have the semifinals of their speech contest. It is not open to the public, but the finals are. All welcome to the speech finals on Tuesday 14 June at 7pm at school.
In case you haven't heard... Mrs Wardell is now Mrs Harvey. Helen and Quentin got married in the holidays. Belated congratulations!
2 June Click here to see some cool photos of cross country and the place getters for each age group. Interschool cross country is Wednesday, at a new venue, Onepu.
29 May Cross Country was amazing! Everyone ran really fast and the houses were a sea of colour. Loads of parents came to watch it, and their cheering made the whole school 20 decibels louder. Well done to everyone who got 1st, 2nd and 3rd. This week work begins on Mr Sheathers' classroom roof, and there will be fences around it.
26 May Check out the library page. Bad Books!
The Singapore group would like to say thank you for supporting their sausage sizzle yesterday. Thank you to all the parents who did the cooking. The group raised about $600 towards their trip next year. They will also be doing fundraising at the soccer / hockey day too, and outside Bunnings.
We now have a netball page on the web site, with results on it. There is a link on the menu to the left. If it's not up to date blame Lucy and Aleisha!
24 May The school cross country has been postponed from tomorrow until Friday 1.30pm, because of the bad weather forecast. The sausage sizzle is still on tomorrow, with lunch at the usual time.
22 May Congratulations to our Kids Lit Quiz team who came 3rd in the national finals in Wellington yesterday! They had a slender lead until the last round on Legendary Heroes. Wellesley College came first with Southwell second. Well done coaches Margo White and Peter Fitz and team Ben White, Alex Robbie, Tayla Jones and Jake Webb.
19 May We had a really good interschool rugby / netball day on Monday. Here are some very cool photos of the rugby at Matata, including of two ex-pupils.
18 May Rooms 12 and 10 headed off to camp at Tui Ridge yesterday. Good luck!
13 May The Champions League football competition is up and running, with riveting results! at lunchtime today, Arsenal held Manchester City to a goalless draw, Barcelona beat Bayern 3-1, Benfica beat Manchester United 4-0 and PSG drew with Chelsea 0-0. This morning The KLQ A-team practiced with buzzers in the staffroom.
12 May Congratulations to our Kids Lit A Team!!! Last night they won the BOP regionals and are now off to the NZ final next Saturday in Wellington. They had a good battle with Taupo Intermediate's A team through the ten rounds but ended up winning by 4 and a half points, with Mt Maunganui Intermediate A team 3rd. Ben White, Alex Robbie, Tayla Jones and Jake Webb were coached by Margo White and Peter Fitzgerald. The B team (Riley McDonald, Cate Robertson, Kieran Butler and Sophie Peat) also did well.
There were 26 teams at the BOP contest. There were some interesting categories: Aliases, Bears, Beverages, Hats, etc. Our A team doubled points on the Aliases category and scored 9 out of 10, so they scored 18 for that round. Our B team doubled on Horses. Click here for some photos.
10 May This week Kapa Haka starts up on Friday 13. The next two weeks Kapa Haka will not be in the Awakeri Events Centre because of Flooring. There will be no badminton as well.
5 May Sick of bad habits, manners, grammar, you name it?! Go to the Library page for some fixes!
3 May Kapa haka enrolment notices are being given out tomorrow. It is open to year 4s and up. Practices are Friday after school. Names have also just been taken for the interschool rugby netball day. We have a few girls playing rugby, which is good to see.
2 May Welcome Back everyone!! A special congratulations to Ms Wardell who got married in the holidays, she is now Mrs Harvey!! All kids are back and are ready to learn. We have Cross Country coming up in 4 weeks time so classes will be practising for that. Rugby and Netball day is in week 3 as well. Rooms 12 and 10 are going to Tui Ridge for their camp soon!!
15 April The fundraiser saw many kids attracted to the food groups. The Rm 14 groups were Food, Flying Fish, Scare House, Gutterboard challenge, Candy Crush and Mix Up Madness. Rm 13's groups were Jump Out of The Window, Funky Sweetz, Fear Factor, Nerf Shooting, Hippie House and Throw sponges at Mr. Fitz. It was a big sucsess. Today Ethan's team played THE MIGHTY TEACHERS and the Teachers won by 6 runs!!
14 April A big thank you to everyone who supported Rooms 13 & 14's Fun Raiser at lunchtime today. The rooms made $1900 towards their camps.
Great to see an Awakeri ex-pupil on TV3's Story last night. Sytse Tacoma, who now lives in Blenheim, has built himself an electric motorbike that can reach 100 km/hr in 4 seconds! It drag raced against a Harley Davidson and another large bike and beat them comfortably! You can see it on TV3 On Demand.
12 April Here are a few cool photos of the touch day last week.
8 April Yesterday was Touch Day! Well done to everyone who played and refereed. We had some former students from Whalatane High School referee, and they did really well. At lunchtime the auditions were held for the Jump Jam team. Everybody danced really hard, and the coaches will have a hard time deciding the teams. Only one week of Term One left!
Check out the Library page for notes about exciting holiday opportunities.
24 March Yesterday we had Constable Maree come to talk to us about Internet Safety. Now everyone in the senior Syndicate is safe online. She reminded us about keeping our privacy settings and identity safe. Today the student council have their first meeting in Room 2 with Miss Manderson and Miss Hardy, so hopefully that goes well.
21 March Top School was a big success yesterday. Congratulations to Kawerau South School who won the title again (the 6th time out of the 31 years it has been running!). They won section C, with Whakatane Intermediate Year 7s and Te Teko winning their sections. Awakeri School won the cheerleading competition in a close contest. Lots of people worked hard for the school, making things like the garage sale, the hangi, the gala games, the food stalls, etc run well. Novelties this year included car smashing and donkey rides. Check out Kate's cool photos of the day.
18 March Check out the Top School and Reading For Fun advice on the library page. Great work Margo!
Everyone is getting ready for the big day on Sunday. The fields are being set up for the events, the food stalls are getting ready, the garage sale is getting sorted, raffles are running, judging sheets are being prepared.... It's all a little bit crazy! Check out the firms who sponsor us so willingly here. A big thank you to them!
15 March Our Top School team has been training hard! Will they be able to defend their title? It will be very tough, with 29 other schools trying to win. Mr Holland from Te Teko says that his school will win! The cheerleaders have been training hard too. Good luck girls and boys!
Our Top School team has just been named:
Boys: Caden Laurent, Cody Hall, Cambell Julian, Codi Laurent, Campbell Forsyth, reserve Troy Wilson.
Girls: Tayla Jones, Ayla Rowe, Amber Fort, Katie Growden, Alex Robbie, reserve Brodie Nathan.
10 March Our swimmers did very well at the interschool sports yesterday, with both Awakeri teams winning the relays. Individual first place getters were: Sam Smith, Joseph Bateson, Jamie Julian (3) and Cambell Julian (4). Others to get placings in finals were: Ani Doherty, Layla Rowland, Sophie Peat, Ollie Fort, Katie Mahy, Kalib Schuler, Charlotte Paulsen, Ryann Kelly and Matthew Reihana-Asquith. Congratulations!
Room 13's camp at Waitomo has a cool page of photos.
8 March On Thursday and Friday this week, we will be holding our first parent-teacher interviews. School will finish at 1.40 on both these days and interviews will run from 1.30 to 8pm on the Thursday and 1.30 to 5pm on the Friday. Children are welcome to attend and take part in all or part of the interview.
There is an error on the Awakeri Football Club notice that many children got. Because of interviews on Friday, the enrolment day is now Monday 14 March, from 3pm till 4.30. However, children can just be enrolled directly from the soccer club website (opens in new window).

6 March A reminder that tomorrow (Monday) is teacher training day. No school for students. Rooms 13 and 9 will have to wait till Tuesday to share memories of their successful and drama filled camps!
3 March Room 8 are back from their camp, tired, happy and a bit damp. Here are some photos.
2 March There are some exciting new books in the library. Have a look at them!!!
1 March It's the camp season! Room 14 had their camp at Aongatete Lodge last week, they were lucky to get blazing sunshine. This week: Room 8 are at the Lions Hut, Room 13 are at Waitomo, Room 9 are going to Matakana Island tomorrow, but sadly Room 15 have had to call off their camp because of concerns about the road and the rain.
Check out room 14's camp photos.
21 February Swimming Sports tomorrow!
18 February The Library page has some excellent tips on reading aloud to your child and why it is so important. Plus links to useful sites. Want to help your kid's reading? Don't miss it!!
Reminders:
On Monday 7th March the school will be closed for instruction as staff attend a training session.

17 February Cricket! Cricket! Cricket! Our school's cricket competition got underway on the 12th and Tayla Jones's team played Tiaki Hori's team and the winners were Tiaki's team. On Monday Ethan Forbes's team played Tayla's Team and Ethan's team won!! There is also Caden Laurent's team who are yet to play a game.
Room 14 are heading away to Katikati for their camp next week. We also have lots of other camps coming up too.
15 February News flash! Room 8's camp at the Lions Hut has been postponed because of the poor weather forecast for later in the week. The students have the new details.
On Friday was the big announcement of house captains: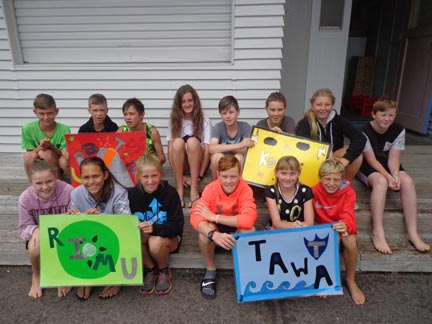 Rata: Codi Laurent, Caden Laurent, Campbell Forsyth, Amber Fort.
Kowhai: Liam White, Ben White, Aleisha Boyce, Ethan Cavey.
Rimu: Ella Jones, Brodie Nathan, Tayla Jones, Isaac Clements (absent).
Tawa: Cambell Julian, Ayla Rowe, Cody Hall, Troy Wilson (absent).
Congratulations! Also, today the Top School squad was announced: Cody Hall, Troy Wilson, Cambell Julian, Codi Laurent, Caden Laurent, Campbell Forsyth, Ayla Rowe, Amber Fort, Katie Growden, Brodie Nathan, Tayla Jones, Alex Robbie. Congratulations!!
11 February Today the web site monitors were selected.... Sharaya Rangiaho is Room1's; Savanah Stewart Room 3's; Ben White has room 4; Ethan Forbes room 5; Kieran Butler room 6; Isaac Clements room 7; Mia Sutton and Brodie Bishop room 8; Elijah Wetting-Davidson & Joshua Brown room 9; Jamie Julian room 10; Kaylia Best room 11; Shaun Snow room 12; Kalib Schuler & Ayla Rowe room 13; Ryann Kelly room 14 & Jake Webb room 15. Also Ben and Ethan will be the news reporters to keep this page up to date.
Now we eagerly await the house election results and the Top School trial results. Time to bite some finger nails!
9 February There is lots happening at the moment... people are applying to be web site monitors, trying to get into the Top School team, trying out to be cheerleaders, trying to be elected as house leaders, classes are getting ready for camps (Room 8's is next week!), Room 14 is at tech at Edgecumbe College, etc. See you all at the barbecue tomorrow night!
4 February Welcome back everyone! It is great to see lots of keen happy students, most people are well organised with stationery etc. There is a good chance to meet the teachers and BOT next Wednesday. Come to the barbecue, play some games if you want and meet everyone. Our first library column is on the web site for the year. Well done Mrs White!
28 January The teachers are almost ready to welcome their new students. Welcome to Miss Manderson, teaching in room 12 this year. Mrs Howard is back in room 8. Miss Duncan has moved to room 10. The class lists have been keenly looked at, so students can check which room they are in.
Rooms' pages on this web site won't be updated till we have some website monitors selected and trained. We'll let you know when.
27 January Be aware there are new school hours this year. School starts now at 8.50am, so students need to be at school at 8.45am. The first block now goes for two hours with interval at 10.50. Lunchtime starts at 12.40 and ends at 1.35pm, with school finishing at the slightly later time of 3.05pm. The stationery shop is open from tomorrow.
18 January 2016 Happy New Year! Here are some cool photos from last year's Fancy Dress. Reminders that school opens Feb 2. Stationery shop open mornings of Jan 28 & 29. Our calendar is now fairly up to date for 2016. Remember, if your child is not returning, please let us know so classes can be finalised.
Good luck to our year eights as they get themselves sorted for high school. They are sure to follow in the footsteps of the 65 or more ex-pupils who received awards at their various high schools last year.
Old News Do you want to look at the news from last year and before that? It is reeeeaaallllly cool. Click here to find that interesting old news from 2015, 2014, 2013, 2012, 2011, 2010, 2009, 2008, 2007, 2006, 2005, 2004, 2003 or even 2002 and before.