Awakeri School

We have moved!
This website will remain hosted so you can explore our school archives, but you can find our new school website at www.awakeri.school.nz.
Thanks!

Here was the News in 2019
21 December 2019 Happy holidays everyone. Best of luck to all our people leaving! The prize giving went really well on Wednesday night. Congrtatulations to all the prize winners, especially the five who got the principal's award: Ella Murphy, Kendall McKane, Summer Jones, Caleb Hanlen and Jade Rika. There was a moving send off to Mr Hawkes as well.
On Thursday night there was a fabulous senior social to send off the year eights. The Gay Gordons was heaps of fun at the start of the night, then it was party, rage, party! Check out these photos to get an idea of the social!
The water fight yesterday was hard fought. Bruises, wetness, fun. Some sad goodbyes before everyone left to go their different ways.
This website will not be updated .... All the best everyone, Barrie Hawkes retiring webmaster.
17 December Today Room 11 is having a retirement party. They must have earned enough money on Banqer to be able to retire. Every child has come dressed up looking like they are old enough to retire. Miss Ulrich has all of a sudden got grey hair too. There are walking sticks, lawn bowls sets, newspapers to read...
In other news, the school pool is closed for the rest of the week, after it went green! Room 9 are planning to do robotics and Room 14 are going to play the Pirate Game with Mrs Harvey.
School reports and school magazines are being given out this afternoon. Students won't know their room for next year till Thursday though (because it's not on the new report form). On Thursday they will get to meet their new teacher and class for next year. A big thank you to Kate Robbie for putting the school magazine together.
Click here to have a read of what our senior students think about why people should do their Year 7 & 8 Years at Awakeri School! It's all true!
| | |
| --- | --- |
| | Room 11's retirement party! Can you spot their teacher?? |
15 December A couple of pictures from the farewell on Friday. Click here to see some more cool photos of the assembly.

| | |
| --- | --- |
| | |
| Mrs D plays guitar while everyone sings a song about Mr Hawkes. His class, Room 14, do the actions. | Mr and Mrs Hawkes enjoy the poem from the junior school, all about a bus! |
| | |
| The kapa haka put on a great farewell performance. Whaea Andrea in yellow, the four leaders - Jon, Zealia, Jade and Jose - in front. | Kerry Hawkes does a Ngai Tahu haka to his father, who is holding the lovely hoe (paddle) given to him by the kapa haka. |
13 December This morning started off with a school assembly, where we stood in silence thinking off all those affected by the Whakaari tragedy this week. Whaea Andrea said a karakia, Mr Mac spoke and then we did a waiata.
Today lots of people are dressed in yellow for the assembly to farewell Mr Hawkes.
| | |
| --- | --- |
| | |
| Whaea Andrea leads the waiata. | Everyone stood still and queit while we thought about the people involved. At the moment the recovery operation is happening for the missing people still on the volcano. We hope the bodies are safely brought bac. |
11 December Marbles has turned into a huge craze at school at the moment. Every break time there are loads of kids playing marbles under the trees by the school house. There haven't been too many arguments about the marbles, so that shows everyone has been sensible.
We interviewed Joel Jones about the marbles craze. He said the game Bonk is the most popular. A marble gets thrown in the hole. You can flick or hook your marble. If you get it in the hole, you get the other marbles in the hole. The last marble that goes in the hole wins all the marbles.
There are lots of different kinds of marbles. Large ones: Dragon (very large), Godfather, Moon, Titanic, Mini-Titanic, Overgrow and Bonk.
Some little ones are: Peewees, Minis, Half-a-Bonk.
Joel says about eight students have Moons. You can win them. 1 Moon equals about 25 Overgrowns. You can also buy them from shops like Hello Banana.
One boy played a Titanic for 12 Overgrowns and he lost his Titanic. He was very sad. Some people are kind and give other kids marbles if they win marbles off them.
This afternoon we had the last round of Arts Rotation as the band practised for Prize Giving next week. Miss Ulrich had her group doing a technology challenge, making a wedding dresses out of newspaper to fit one of their group. It was very appropriate, because Miss Ulrich is getting married in the holidays. We are sure her dress won't be made of newspaper though!
Kohen has his wedding dress worked on by Reghan and Phoebe. Miss Ulrich has come to see how their group is getting on.
Further along the deck Jose is having his dress made by Cade, Kieran and Talan.
10 December Our best wishes go to anyone affected by the terrible events on Whakaari yesterday afternoon. We know that quite a lot of Awakeri family members have worked for White Island Tours over the years.
Today there were lots of parents here for the junior and middle school picnic. We are also hearing about lots of our ex-pupils doing well at the high school junior prize-givings today (to go with Linette Lengkeek being named dux of Trident High School a couple of weeks ago.) Shivaun Burgess was named year 9 dux today.
We had an exciting package delivered to school on Friday, the first batch of our new piupiu. Here they are:
A big thank you to the One Foundation for sponsoring new piupiu for the school. We are very happy to receive the first batch of ten piupiu, with three more batches still to come. A big thank you to Lara Akers-Douglas for her help in getting the funding for the piupiu too.
Next year's kapa haka are going to look very handsome in their new gear. Modelling the new piupiu are mostly our departing year 8 kapa haka people ( Joseph and Sonny aren't leaving!):
Joseph Spalding, Jon Tiwha-Smith, Kenna Baker, Ella Murphy, Phoebe Carter, Celeste Grimes, Jade Rika, Mikayla Bailey-Reece, Zealia Peretini and Sonny Tiwha-Smith.
8 December We have added some photos of the second day of intensives to the page. The seniors had a very good day, the year 7s did team building games at Thornton, while the year eights either played golf at Te Teko or went to Tauwhare Pa site and the skatepark, before joining the year 7s at Thornton for a swim.
5 December The year 7s and 8s had an awesome day of intensives yesterday and hopefully they have another great day tomorrow. Click here for a sneaky look at all the new house chants for next year. They were created by the year 7s yesterday afternoon, along with new flags and signs. The house chants look excellent! The flags and signs are really good too. Have a look at some cool photos of the first day of intensives.
29 November Yesterday some rooms were very lucky to get to interact with ten beautiful eight-week-old hound puppies. Katelyn and Tara's mum Gillian brought them to school. Go to Room 14's page to see some cool photos. Also today we say good bye to Guan Yu Liu. Good luck in Matamata Guan Yu.
Today Room 7 went to visit the Mary Shapley Rest Home. The people there loved interacting with our kids. Well done Room 7.
Have a read of Margo's latest message on the Library page. She always has a good message for us.
27 November Yesterday's visit from Science in a Van was very cool. Alan and Emily did a whole school session on balancing objects and forces for a bit. They did a session for all the older classes on States of Matter. We saw gas being made and dry ice going straight from solid to gas states with some impressive displays. Lots of kids were up involved, acting as atoms, molecules etc. Then they did a show for the younger classes, all based on bubbles. It sounded great!
| | |
| --- | --- |
| | |
| Alan has some volunteers up to guess what materials things are made of. They have to use their senses, which is why most are blindfolded. | Now some volunteers are acting like atoms, dancing around. Go Sophie! |
21 November Read the message about the changes to our end of year Prize Giving. It's quite a big change: no dancing or fancy dress. It's all explained in today's newsletter.
On Tuesday we have a visit from Science In A Van. It starts with a science spectacular, then there are sessions for younger and then older students. It costs $4 each, please bring it by Tuesday. It sounds awesome!
19 November The school swimming pool is open. Hopefully the temperature will come back up to where it ws two weeks ago. Some classes have been enjoying a swim anyway. Here are some room 14 and 15 students testing out the water temperature yesterday!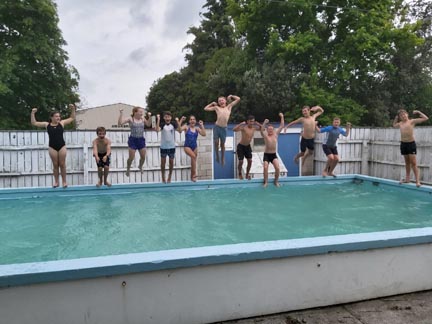 15 November Happy Birthday Mr Chelley!! Today our excellent caretaker John has reached a huge birthday. He was born in 1949. Can you work it out?? Yes he is whitu tekau rau!
13 November Loads of cool photos from last week. Have a look!
Now that the swimming pool is open, the temperature has dropped again! Good luck to our athletes going to interschools today. The athletics records page has bhad the running new records added. Have a look at our sports records. Some of them have existed for 20 years!
There's a new Library column. Thanks Margo.... Birds. Have a look. Tweet tweet!
10 November Well the marae noho is all over. It went very well and was a wonderful opportunity for all our students to experience some marae protocol, learn some local history, have some fun, take chances to be a leader or a teacher, test yourself etc. We have lots of great photos coming. Check out the first few here.
From Mr H: a massive thank you to Whaea Andrea for her tautoko and teaching, also to all the parents who came to support us and who stayed over, especially Karine Peretini, Tamati Edwards, Jo Baker and Tania Bruning for all their extra work, all the staff members who came, especially to Naomi Courtney-Tennent and Julie West for their extra work, to the Wairaka Marae for having us there and supporting us to run our programme, to the Mataatua Marae who gave rooms 14 and 15 very special visits, to the Southern Trust for supporting our noho, and finally to all the students who visited and stayed, especially those who did karanga and whaikorero, led karakia and who were great tuakana to our younger students. Ka nui te mihi ki a koutou katoa!
2 November What a great day of track athletics we had yesterday. Lots of excellent competition and efforts. We had a number of records broken on the track too, these will be updated on our records page next week. It is a top achievement, because our athletics records are at a very high standard. We still have nine records that go back to 1999, when we first started keeping records, that have never been broken. Rata house won the 4x100m relay in a terrific finish from Kowhai, then Tawa. It was great to see Sophie Growden of Kowhai powering down the straight trying to catch Jon Tiwha-Smith at the finish line. A BIG thankyou to Louise Howard and Naomi Courtney-Tennent for organising the athletics sports. It was excellent. Check out the cool photos of our athletics action.
31 October Here are some photos of the first day of athletics yesterday. Today was also James Shailler's last day at Awakeri. All the best at your new school James.
30 October Wow, what a great day of athletics. The day started with the 1500m races. There were lots of entries. The rest of the day was field events. We were very grateful to have the help of lots of Whakatane High School students, nearly all of them ex-Awakeri, who came to assist at the events. They also hung out with our kids during the breaks, played 2 cone football with us, etc. One highlight was Jon Tiwha-Smith breaking the 12 year old boys discus record that was set way back in 2002 by Kakara Ratema of 30.2m. Jon threw 30.6m today. Kakara must be aged around 29 these days!
25 October Many thanks to Suzi Tetenburg of Family Planning Rotorua, who has been taking our health lessons on Sexuality, focusing on puberty, with the senior students. Suzi does a brilliant job teaching our kids.
Congratulations to our high jump finalists, especially Jake Laurent who equalled the 13 year boys record of 1.49 metres today. Check out all our amazing athletics records here.
24 October Check out the scary items on the Library page! If you're looking for the map of our school's enrolment zone, here it is.
Congratulations to Matiu Te Maipi who set a new 10 year old high jump record today after a great competition with Callum Hathaway, 1.29m. Wow.
21 October Wow things are busy. Everyone is getting ready for athletic sports next week and the marae stay the week after. We are practising jumps, throws, running, our pepehas, learning waiata. Some people are learning karanga and whaikorero even. This week the seniors have the puberty lessons with an educator from Family Planning. The orchestra are getting ready for one more concert.
16 October Today turned out to be fine for Ag Day!! After thunder and rain, we had a good day and even needed sunscreen and hats. There were all the usual events for lambs, kids, dogs and pets. Mrs Derbyshire also did a special demonstration of dog agility. Caleb H reports: "She was running around and the dog followed her. Which ever direction her hand pointed, the dog followed that command. For example, she swung her hand up and the dog jumped over a post. She swiped across ways and the dog went through a tunnel. She was amazing at it."
15 October Welcome back to the new term. Everyone is getting ready for Ag Day tomorrow. The Events Centre gym is full of indoor show exhibits by all children. Make sure you have a look. Hopefully it won't be miserable tomorrow when the animals are here. The ducks might do well!
Our computer problems are starting to get sorted, so hopefully next week we can start having our class pages updated.
| | |
| --- | --- |
| | |
| The whole school has been making these indoor show exhibits, from the juniors to the seniors. Here are some Room 3 kids. | Ashlee from Room 14 gets her Flowers in a Novelty Container ready. Glass milk bottles... wow! |
25 September Oh no!!! We still have technical difficulties at school with our server at the moment. This makes it extremely difficult for our students to update this website at the moment. Sorry, we can't upload the usual helpful pages, like this year's Ag Day information, or the class news and work. Hopefully it will be sorted out in the next few days.
A big congratulations to everyone involved in the Awakeri Showcase matinee today. The school symphonic band was excellent with their items. The Junior School production was very cool. The kapa haka finshed the showcase off in great style, with their haka prompting a lot of junior kids to want to sign up next year! It was lovely to see children there today from Edgecumbe Kindergarten and Awakeri Playcentre.
Come and see the final show tomorrow (Thursday) night, starts at 7pm in the Events Centre.
We have also updated the Library page. It tells you about a readers club you can join at school - The Bookateers! (n.b. because of our difficulties, it is a different file from the one that is on the links bar at the left of the page.)
Yours sincerely, Barrie Hawkes.
Here are a couple of pics of the kapa haka from last week:
Our kapa haka 2019. Tino ataahua!
We practice out of school hours every week, so we are very commited. We get two school days a year of intensive as well.
This is us on our second day of intensive.
Pukana mai!
Back row: Joseph, Aaron, Ari, Pacey, Jon, Jose, Javaal, Ryan, Whaea Andrea Maru.
2nd back row: Mr Hawkes, Mikayla, Emma, Kenna, Jess, Ella, Celeste, Phoebe, Talia, Katelyn.
2nd row: Wilson, Joshua, Keith, Sonny, Zealia, Jade, Tyler, Taylor, Blake.
Front row: Zoe, Danielle, Addison, Khloe, Karma, Brooke, Jayda, Harmony, Millie.
Our kaitataki kotiro: Zealia Peretini raua ko Jade Rika
Our tane are: Jose Rika raua ko Jon Tiwha-Smith
17 September This week we have lots on. Year eights have open days and information evenings at Trident and Whakatane High Schools. The kapa haka have two days of intensive, getting ready for the Awakri Showcase next Thursday. The juniors school production is rehearsing hard for the Showcase too. Life Ed's last day here is tomorrow, all the classes have learned a lot from Whaea Rhonda and Harold. Harold even joined in jump jam this morning! The AIMS players are back. The hockey won their B section, coming 29th out of 56 teams, and the rugby sevens won their last three games.
11 September Our AIMS hockey team are very competitive, they lost their game against Aquinas College 3 - 2 last night and this morning they lost against Otumoetai Intermediate 2 - 1. Their next game is at 10am tomorrow (Thursday) against either Rototuna Junior High or Wainui School.
Our rugby sevens team have had a series of losses, but it sounds like they are still having fun and scoring the occasional try.
Next week, the kapa haka has two days of intensive work, on Monday and Wednesday. They are getting ready for the Awakeri Showcase on Thursday 26th.
Ko tenei te wiki o te reo Maori. No reira, kia ora tatou! Classes have been learning this cool little waiata E Minaka Ana. You can find the words and tune on Whaea Andrea's Youtube channel. It's very catchy and it will stay in your head!
10 September We have had the Life Education caravan here for the past week and another week to go. All classes are getting learning sessions in the caravan, on a variety of topics, as selected by the class teachers. Harold the giraffe is helping teach the lessons.
Good news from the AIMS Games that our hockey team won their first match and then got a hiding from a top team in their second match. That game started at 8pm last night, so hopefully our team stayed awake! The rugby sevens team competed well in their two games on the first day, and led for most of their first match before being beaten at the end.
Stop press: Our hockey team won their final pool game this morning and finished 2nd in their pool. Well done!! They now get to play Aquinas College at 4.40pm. Aquinas finished 2nd in their pool too. They are playing off for places between 17th and 32nd out of 64 teams!
8 September Good luck to our two AIMS teams competing in the AIMS Games this week. We have a rugby sevens team and a hockey - mixed 6-aside team. Both have two or three games a day. Tomorrow the first rugby game is at 11.18am against Devon Intermediate from New Plymouth. The first hockey game is at 1.20pm against Strathallan College. Go Awakeri! There are four live streaming channels of AIMS Games on the internet, maybe we will see bits of our teams in action.
6 September Today our school cat Dexter went to live at a new home. He is now going to live at Mrs Sandra James's house, so it will be nice that he has company even in the weekends and after school hours. Good luck Dexter.
Coming up in the last week of term is Awakeri Showcase. This is a performance night of our school symphonic band, a junior school production and kapa haka items. It's on Thursday 26 September, in the Events Centre, starting at 7pm. All welcome. Free admission.
5 September Today Chloee Munn of Room 11 set a new record. She sat, balanced on a balance board for one hour and 31 minutes!!! She even sat there all the way through her class's maths lesson! Well done Chloee, you've beaten Room 14's record.
4 September Check out Margo's message about the success of the book fair, book awards and next week's focus. It's all on the Library page.
3 September Wow, congratulations to Margo and Jo Elliot, who organised the book fair. A lot of books were sold and the library now has a lot of extra money to spend on even more books! Life Ed is here this week. The educator is Whaea Rhonda. All classes have two sessions in the caravan with her and Harold. Room 14 loved their session on the first day. Theirs was about making healthy choices, especially considering the influences of peer pressure. Harold the giraffe was going through puberty when room 14 were in their session, he needed to have a shave!
27 August Our school book fair starts today. It opens from 3pm to 4pm today, and the next two days it is open till 7pm. Come and look at a great range of books for your kids! A wide range of prices too.
We have Life Education here next week. All children are asked to bring $4 to pay for the sessions. The lessons in the Life Ed caravan are always very informative, plus Harold is in there!
Here are some pics of the Book Character dress up day on Friday.
25 August On Friday most kids and teachers got dressed up as their favourite book character. We had a parade to view all the costumes. We also carried around poems in our pocketses, and we shared our poems with other people. Thanks to Mrs White and Mrs J. Elliot for organising the day.
Monday is Mrs Petersen's last day at our school, although she might come back and do relieving. Ann Petersen has taught here for 25 years and done an amazing job, whether in her own class, or as a release teacher. She started off the school science fair back in 1996 and our Kids Lit Quiz teams, where she coached them to NZ finals, World Finals and even World champions in 2012. Have a look at the photos of that here. She is well known for being an expert in English language and a great teacher, especially of art and writing. Farewell and thank you very much Mrs Petersen!
22 August Feedback from Mrs D in Te Awamutu... "The band did so well and I am happy with the way they played. We got a special mention at prize giving for our first performance and how well we played. Silver award. Only beaten by Southwell - worthy opponents!"
20 August If you are interested in the school's audited financial statement from 2018, here it is. There is also a link to it on the Principal's page. Welcome to the two new BOT members, who attended their first meeting last night: Dermott Sweeney and Lara Akers-Douglas.
19 August The updated BOP Science Fair awards are on our science fair page. Nathan John won $500 altogether!!
18 August It sounds like Rooms 9 and 10 camp was a big success. It was very busy with lots of students pushing their limits.
On Friday we had four of our ten entries in the BOP Science Fair get awards at the prize giving in Rotorua. Full details of their awards are still to come, but we know Nathan John got the 2nd over all technology award and Summer Jones got best female science award. Joseph Spalding and Nathan Reihana-Asquith also got awards. Congratulations!! Also well done to the other six entries in the BOP fair. It is a big achievement just to get there. It also shows how different judges can select different projects, compared to our own fair.
A big event this Thursday, Mrs Derbyshire is taking our school band to Te Awamutu for their first ever band music festival. Best of luck!
This Friday is an exciting day- Book Character Dress Up, plus Poem in your Pocket day.
14 August Today the senior syndicate all did the twelve minute run. The track was fairly muddy in one part, so some of the scores were a bit below their best. However, some people did set personal bests, so they must be super fit at the moment.
Margo has exciting news on the Library page. Fun days, dress ups, sales...
A big congratulations to Kate and Edward Dowzall. Their little baby girl arrived - Brooke - on Thursday.
This week is Maths week. There are very cool activities on the NZ Maths Week web site. Miss Ulrich has also been sending out activities for the classes to do every day., e.g. on Monday we had to estimate how many time Mrs Howard would blink! Today Mr S and Mr H had to try and shoot baskets. We estimated how many they would do in three minutes. The result was fifteen.
13 August Good luck to rooms 9 and 10 on camp today at Tui Ridge. Yesterday afternoon we had a visiting group of actors perform for us. It was an amazing show Capital E, fast moving, lots of visible sound effects and a great message about embracing differences.
| | |
| --- | --- |
| | |
| The actors were excellent. Everyone was tuned in. We had to think about whether NZ was a fair place for everyone. Mr Mac even got to play a role. | Everyone is watching the sound effects being made at the other end of the hall. There were some serious moments, especially when James the Giant was having trouble fitting in. |
8 August Sadly, the sports day tomorrow has been cancelled. The weather forecast is for periods of rain.
Science from the seniors to the juniors. On Room 1's page there is a science experiment going on, and on Room 14's page there are interviews with our students about the science fair.
7 August Yesterday afternoon three of the BOP Steamers rugby team came to school to present our AIMS games rugby sevens team with their new jerseys. Then the Steamers did a training session with the team. Today the team went to play a pre-tournament tournament in Whakatane. What was it like? "Sore!" said Joel. It was great practice for working as a team.
| | |
| --- | --- |
| | |
| Steamers player Abe presents Jamie Hawkes with his jersey.The Beacon's photographer is there too, so watch out for photos in the paper. | The team is very happy. Thanks very much to Body In Motion physios who are sponsoring the team. |
6 August Science Fair prize giving... some awesome entries. Well done to Vaughan Hathaway and Kaleb Grindrod who won the technology and science sections. We have twelve students who have qualified for the BOP Science Fair next week. Here are the full results and some nice photos.
29 July This week is Miss Grundy's last week for now as she is about to take maternity leave. All the best Josie and Logan as you prepare for the arrival of twins! Mrs J. Elliot is going to be teaching in Room 10.
25 July The year 7 & 8 students are busy getting ready for the science and technology fair that is on next week in the Awakeri Events Centre lounge. Entries are judged by people who work with science and technology at Fonterra, Whakatane Mill, Comvita, Oji Fibre Solutions and REAP House of Science. We are very grateful to these businesses for giving us these people's time. Our students are interviewed by the judges, as well as having their entries looked at.
The fair is always worth a look. It is open to the public next Thursday (1st Aug) from 5 to 6.30pm and on Friday 8.15 to 9am. All welcome to the prize giving at 12 noon on the Friday. Our best entries go through to the BOP Science Fair in Rotorua. Our science fair has been running every year since 1997. You can check out all the past winners on our Academic Archives page.
22 July Welcome back to the new term and to our new students. A special welcome to Mr McDonald, our new principal. Click here to see some photos of our powhiri for Mr Mac, his whanau and his old school Opotiki Primary.
15 July Last Friday 5th we farewelled Mr Fitz. We had a special assembly at 11 oclock, where all the children were involved. Click here to see photos of the farewell assembly. In the evening there was a community farewell too.
Our group going to Singapore have been doing lots over there, with Mr Fitz, Mrs S. Elliot and Miss C.T. No doubt we will here all about it next term.
Don't forget the powhiri for Mr McDonald-Brown on Monday at 10.30am. School starts at the usual time though.
3 July Today the Rangitaiki Tai Mitchell team came to visit on their way to their rugby tournament. Awakeri School has three members in the team :Jon, Sonny and Matiu. Jon did a speech to the school about Tai Mitchell, then the team did a haka. They sounded good!
| | |
| --- | --- |
| | |
| Jon in the centre front performs the Rangitaiki haka. | Sonny, Matiu and Mikaere do their haka too. |
2 July A big week for our school as we get ready to say goodbye to Mr Fitz. We have a farewell assembly for him on Friday at 11.15am in the Events Centre (all welcome) and there is an evening on Friday starting at 6.30pm in the Events Centre, but registrations for the evening have now closed.
Farewell too to Kate Dowzall, who is going on maternity leave and Rebecca Smith who is leaving her teacher aide job.
Today we are having class photos taken (thank you Kushla!). Children have all been given photo order envelopes.
Tomorrow and Thursday are the teacher-parent interviews. A reminder that buses are running at 12.45 and 1.15pm on those days.
Kapa haka are thrilled to hear that One Foundation has approved funding for us to buy a new set of piupiu. We can't wait to see them and wear them! A big thank you too to the Fundraising committee - Jimmy, Lara and Kim who kept applying for funding until they were successful.
Congrats to the Mural painters who won the competition and the $500 prize. Scroll down to June 14 to see a pic of their award winning painting.
There will be a powhiri at school on the first day of term, at 10.30am, to welcome our new principal Craig McDonald-Brown. All welcome.

| | |
| --- | --- |
| | |
| Kate Dowzall enjoys opening a jack-in-the-box at her staff baby shower. Beside her is Josie Grundy, who is also off on maternity leave soon. | A display from our wonderful Awakeri School Library. Empathy Day. Great messages and books from our librarian Margo. |
26 June Have a look at all the cool info on Matariki on the Library page (thanks Margo!). There are also some cool Holiday Tips.
Great work at the BOP cross country yesterday. Joseph and Joshua Spalding both came 3rd in their events. Congratulations! Now they are aiming for AIMS!
Three times a week, the school does jump jam for fitness, or some people choose to go to straight running practice with Mr H and Mr S. Lately they have been playing Pursuits on the artificial turf. Today Danielle BC, who came 8th in the BOP cross country raced against all the boys in Pursuits (there were about 60 boys). She was the only girl there and she managed to catch them.
A big thank you to everyone who supported the disco last week, it was a huge success. Over $3000 was raised towards the Singapore trip.
Today Mr McDonald-Brown, who will be the new principal, is visiting the school. It's his third visit. Mr Fitz is telling him lots of things he needs to know.
Next term we have two teachers who are taking time off to have babies. Good luck to Mrs Dowzall and Miss Ulrich! Miss Manderson and Mrs J Elliot are going to be taking over their rooms for the rest of the year.
20 June Today was the third frosty morning in a row, as always the kids are scraping up ice, printing their hands in the frost, feeling the pain, some kids still wearing bare feet! Reminders that tonight is the school disco ($2 entry, things on sale, 6pm till 8pm), tomorrow is teachers only day, so no school for kids.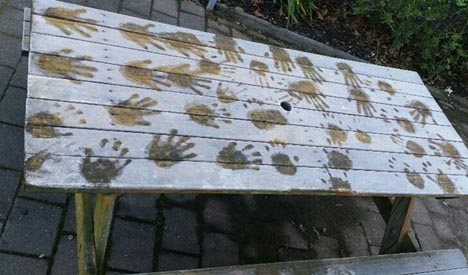 Hand prints in the frost. Who can keep their hands on longest? Can you feel the blood pulsing in your hands?
19 June Rooms 6 & 7 had a special Matariki celebration this morning.They all turned up nice and early, in the frost, kept warm by the brazier burning, ate some kai and did some cool sharing with their parents. Ka pai! The start of a new year. Watch out for Matariki appearing in the sky in the next couple of days.
Fantastic results from the EBOP Cross Country at Opotiki on Tuesday: Josh Spalding 1st in 8yr boys; Bailey Le Prou 1st, Bryan Leitch 2nd and Alex Whiteman 3rd in 9 year boys; Danielle Bach Christensen 2nd, Aramia Hanlen 3rd in 10 year girls; Sonny Tiwha-Smith 3rd in 10 year boys; Ryan Somerville 2nd in 11 yr boys; Joseph Spalding 1st 12 yr boys. Wow!! We have about 30 runners who have now qualified for the BOP cross country next Tuesday.
14 June Today was the last day of hut building. Mr Fitz judged the huts and it was a tie. Paper scissors rock! Then everyone helped pull the huts down and pile up the branches for a bonfire. Have a look at some photos of the huts and the ending.
Today the Beacon came to talk to Mr Fitz about his retirement and take some photos, we will watch out for that in the paper.
For the last few weeks, the enviro team have been painting a mural for a recycling competition. It looks amazing. Well done to the artists and Joanne Elliot who organised them. It is about 2m tall. Here it is:
| | |
| --- | --- |
| | The artists are: Jayda Smith, Ryan Ashton, Henali Patel, Isla Thompson, Summer Jones, Cade Mitchell, Sam Smith, Sophie Spod and Kenna Baker. |
13 June A reminder to book your teacher interviews. Go to https://www.schoolinterviews.co.nz (opens in new tab) and use the code akjqu
They are on Wed & Thurs 3 & 4 July. One day before the farewell to Mr Fitz on the Friday.
12 June There was a big turn out last night for the senior speech finals. The library was overflowing. Many thanks to our judges: Peter Fitz, Louise Howard and Margo White for choosing between the eight fantastic speakers: Brooke Nolan, Caleb Hanlen, Ella Murphy, Jade Rika, Joseph Spalding, Kaleb Grindrod, Leah Rowe and Summer Jones. The standard was very high. The winner was Leah Rowe, who taught us about looking after our teeth, second was Summer, who taught us about the digestive system and 3rd was Jade, who made us think about why we need self confidence. If there was a prize for the funniest, it would have been Brooke, the most powerful might have been Ella, best use of a prop might have been Caleb or Joseph... Check out these cool photos.
The Library page has some awesome ideas on developing empathy and tolerance - virtues our world needs lots of. It is well worth a read. Thanks Margo!
Coming up on Thursday 20th is the Awakeri School disco. It is fundraising for the Singapore trip. It's the night before teacher only day. 6 to 8pm, $2 entry, food on sale, games to play, glow sticks on sale... Should be heaps of fun!
10 June Some great results in the Manawahe cross country. Huge congratulations to four of our students who won their races: Joseph Spalding, Aramie Hanlen, Bailey Le Prou and Ryan Somerville. There were lots of other great placings too.
5 June The interschool cross country has been postponed till Friday because of the forecast weather. Good luck to the runners for the challenge of the Manawahe course.
For the last few weeks, Mrs S Elliot has been training up some year 7 & 8s to do CAT (be cross aged reading tutors). Today they have their very first lesson with their students (year 5 & 6). This reading programme helps both the tutor (generally children who need to sharpen up their reading skills) and the tutee (generally children who need extra reading milage). Our CAT tutors have to be able to listen to reading, help work out tricky words and check that their student is understanding what they are reading about.
4 June Lots of kids are having fun building huts with the sticks and branches from the row of gum trees that were felled. Unfortunately there have also been some fights and arguments, so several children are now not allowed to play there!
Tomorrow we have the semifinals of the senior (year 7 & 8) speech contest. Congratulations and all the best to: Belle Warner, Brooke Nolan, Caleb Hanlen, Cole Broadmore, Ella Murphy, Jade Rika, Joseph Spalding, Kaleb Grindrod, Leah Rowe, Phoebe Carter, Rhianna Rowe, Ryan Somerville, Sophie Growden, Summer Jones and Zealia Peretini. The semifinals are not open to the public, but the finals are. The finals are next Tuesday at 7pm in the school library. All welcome. We had 70 people there last year! You can check out all our past winners (it goes back to 1949) on our Academic Archives page.

30 May Results and some awesome photos of the School cross country are here. Congratulations to the two new record holders: Bailey Le Prou and Paige Horner. You can check out other cross country record holders on our school sports records page.
Lots of happenings in the Library at the moment. You can check them out on the Library page.
By the way, Awakeri School IS OPEN tomorrow. We are not part of the teacher only day that the Whakatane schools are having. Please come to school!
28 May The seniors are all doing speeches or debates for their English topics at the moment. There have been some very entertaining speeches and strong debates. Room 12's page tells you their latest. Watch out for the senior speech finals coming up in week seven. Everyone invited! The past winners are listed on our Academic Archives page, and photos of some of the speech finals are on our Photo Archives page.
Remember... teachers are on strike tomorrow. No school. Sad.
26 May Check out the strange goings on on Room 14's page!
Congratulations to the winners of our school cross country races and the two new record holders. More details and photos to come.
22 May Congratulations to both our Kids Lit Quiz teams. Last night they did really well against 23 other year 7 & 8 teams. The A team came 3rd, only 3 points behind the winners. Aquinas College and Tauranga Intermediate came 1st equal and had a sudden death question to sort out the winner: Aquinas! The B team came 18th, only two places behind Whakatane Intermediate's A team. A highlight was Ashlee Jennings of our B team answering one of the open questions for all the 100 competitors. She completed the telling of an Aesop's fable, using the microphone to the whole audience. Well done Ashlee! Check out all our past placings and championships on the Academic Archives page. Here are a few photos.
21 May Kids Lit Quiz tonight. Go teams!! It's at Tauranga Intermediate School. Yesterday we had a good walk through of the cross country course. There were a lot of prickles and blackberry in places, but luckily most people had listened to instructions and had shoes or gumboots on.
The enviro team is hard at work today, supervised by Mrs J Elliot. There are people painting a large mural, which is starting to look really cool. There are people planting seedlings. They had research to see which plants would do ok growing with the winter coming. They have done a great job over the last few weeks repainting all the lines on the concrete areas: hopscotch, map of NZ, chess squares, number grids... It took a while for some of the paint to dry, so we do have a few extra yellow painted patches too!
16 May The Kids Literature Quiz BOP competition is on next Tuesday. Read all about it on the Library page. Our teams are: Team A Addi Dodson, Belle Warner, Leon Mahy, Sam Smith; Team B Ashley Jennings, Cole Broadmore, Finn Smith, Katelyn Bach-Christensen. We are past NZ and World Champions at Kids Lit Quiz. How will this year's teams go??
If they go as well as the teams at the rugby and netball day did yesterday, they will do well! The netball team won all their games, and the four rugby teams won many of their games too. Lots of tired and sore bodies afterwards though! Check out these cool photos of the rugby taken by Miss CT and Miss Mills.
13 May Rooms 11 and 12 have returned from their camps at Rotorua, with both groups having great things to say about their activities and their time getting to know each other better. A big thank you to both sets of parents!
This week some junior rooms are off to do Kiwi walks. There is a national Fungi convention at the Awakeri Events Centre this week, and the senior rooms are invited to have a look at their exhibits, on Tuesday & Thursday afternoons. Any adults are welcome on Wednesday to join them to hear presentations on fungi research. On Wednesday we have rugby and netball teams playing in the Rangitaiki Schools tournaments at Matata and Te Teko. On Friday there is a fund raising lunch by the Singapore group. It's another busy week!
8 May Today Room 12 head off on camp to Rotorua. Room 11 will be arriving back later today. We look forward to hearing all about the camps. Today and tomorrow we have Sports BOP here doing badminton with the middle and senior school. The Kiwi Trackers are here teaching the junior school about our national bird.
2 May Welcome back to the new term everyone! Mr Fitz's last term! This week there has been lots of work done on our school environment. Mrs J Elliot has had her enviro team out painting activities on concrete ( like redoing the four square and hop scotch lines) and gardening. There are lots of things happening at school. Next week Rooms 11 and 12 are off on camp, Rooms 13 and 15 have tech at Edgecumbe College this term. Badminton people are coming in to organise sessions on that sport, football kicks off this weekend, kapa haka starts this Friday....
11 April Check out the great holiday ideas on the Library page. Thanks Margo, our super librarian!
5 April Touch Day was a big success yesterday. The attitude of all the players was excellent. Lots of seniors also refereed, as well as played. We also had twelve students from Whakatane High School here reffing, quite a few were ex-pupils. They did a great job too. Here are a few cool photos of the day. The Singapore group cooked and sold food for the day, they made a very good amount of money towards their trip - over $2000. There are 13 of our students going to Singapore, all year 7 & 8s.
Awakeri football players have had their team lists given out this week. Make sure you got yours, or see Barrie Hawkes at school if you didn't. We are still looking for a coach for one of the under 7 teams. We have space in our two under-11 teams for a couple more players (you would need to be turning 10 or 11 this year).
Today the Top School raffle was drawn. The results:
| | |
| --- | --- |
| 1st prize $1000 | Karen Childs |
| 2nd prize Air Chatham Flights | Brian Grindrod |
| 3rd prize $300 | Te Auta Anderson |
| 4th prize $200 | Liz Howard |
| 5th prize $100 | Mapihi Tinsley |
1 April Winter sports are getting organised for the year and some have even started. We have ten hockey teams and it looks like we will have twelve football teams. Today our senior netball team anounced at assembly that they had been put in B grade after grading, which is a whole grade higher than last year. They started off with a win against Waimana, 18 - 8.
This Thursday we host the Rangitaiki touch day. Everyone has been practising playing touch in their teams.
There was a cool photo of Phoebe Carter and Ella Murphy in Friday's Beacon, doing the Stitch In Time event at Top School.
Good luck to Room 15 heading off on camp tomorrow. They are going to Waitawheta Camp near Waihi.
It's interesting what pages people look at on our school web site. In the last two weeks, there have been 2135 views of the News page (this one!!), 404 views of the Photo Archives page, 105 views of the How To Make a Poi page (that was made in 2004 and always has lots of hits), 74 views of the School Newsletter, 67 views of Room 14's page, and so on.
27 March Check out some nice photos from Top School on Sunday. They are in the Photo Archives, with pics from lots of other events.
25 March Wow, what a weekend! Mr Fitz's last Top School. It went very well, despite a damp morning, a good crowd turned up to be part of the colourful entertaining scene. The Dragon Boats was the mystery event. In a very tight contest, Awakeri School won their section by one place from Whakatane Intermediate and then beat the other two section winners - Thornton and Edgecumbe to take the shield. Awakeri's fabulous cheerleaders won that competition too, so it was wins all round. Watch out for photos coming soon. A very good amount of money was raised, but we won't know the amount for a while yet.
Check out all the history of who won Top School over the last 34 years on our Sport Records page.
21 March Everyone is getting ready for Top School this weekend. There are tractors out on the field setting up events, the garage sale people are getting ready to set up from this afternoon, the gear for the mystery event is being organised, the food team are testing their coffee machines, the sun is practising shining...
20 March Margo has written a very relevant piece in the Library Column, following the horror events in Christchurch last week, and helping people move forward. Lots of good books that help deal with these issues.
Nice photos in the Beacon today, of some of our students attending the community gathering re Christchurch, and also of the Top School cheerleaders and team preparing for Sunday.
18 March Because of the tragic events in Christchurch the teachers have called off their Stop Work meeting tomorrow. School is normal tomorrow, all day! Room 14 will go to tech at their normal time. Today most classes will be observing one minute's silence at 1.48pm to respect the victims and their families.
Tonight's BOT meeting has been postponed till next Monday (25th) because of peoples' wishes to attend the community gathering in Whakatane tonight at 7pm.
14 March It sounds like this week's camps at the Lions Hut (Room 8) and at Manawahe Eco Trust (Room 7) are going very well. The cheerleaders and the Top School team are training hard for Top School, which is only 10 days away. A reminder about football enrolments closing this weekend.
Today at lunch time, the Beacon photographer was here, taking photos of the Top School team training and the cheerleaders practising. Gooo... Awakeri!
6 March Room 13 are halfway through their camp at Waitomo. Room 6 have their overnight camp at Ohope today and tomorrow, good luck to both groups. Room 14 have safely returned from Aongatete Lodge near Katikati. Have a look at their cool camp photos. Interschool swimming sports were yesterday. There were some very good placings. Sadly no time for relays.
Check out the Margaret Mahy Madness on the Library page! A reminder that school is closed on Monday 11th for a teacher training day.
22 February Yes!!! We have some web site monitors. Many thanks to these students who will be responsible for keeping the classes' pages up to date. Have a look at what they have done today.
| | | | |
| --- | --- | --- | --- |
| Room 1 | Henali Patel & Joel Jones | Room 9 | Henali Patel & Joel Jones |
| Room 2 | (not started yet) | Room 10 | Celeste Grimes |
| Room 3 | Trista Baker & Emma Newport | Room 11 | Trista Baker & Emma Newport |
| Room 4 | Devon McCormick & Kaleb Grindrod | Room 12 | Ella Cowdery & Alexis Ogle |
| Room 5 | Ella Cowdery & Alexis Ogle | Room 13 | Cole Broadmore |
| Room 6 | Kenna Baker | Room 14 | Henali Patel & Joel Jones |
| Room 7 | Brooke Nolan | Room 15 | Devon McCormick & Kaleb Grindrod |
| Room 8 | Sophie Growden | | |
Stop Press!! The Awakeri Top School squad has been named, after five rounds of trials. Congratulations to Jake Laurent, Joseph Spalding, Jon Tiwha-Smith, Kyan Edwards, Ben Peat and Cody Neale; Phoebe Carter, Sophie Growden, Ella Murphy, Reghan Harrod, Kendall McKane and Leah Rowe. Well done to all the 24 others who missed out too.
21 February Margo tells us all about the librarians' job on the library page. It's worth a read.
20 February News out today that Awakeri's new principal will be Craig McDonald-Brown. Craig is currently deputy principal at Opotiki Primary School. He will take up the position at the start of term three and we look forward to meeting him. We have two terms left to enjoy / harrass / joke with Mr Fitz!
Hopefully on Friday we will have some new web site monitors selected and trained, so the class pages will start to have some interesting things on them.
19 February Today Rooms 12 and 13 are off to do beach education, it should be a great day, learning important things at the beach. Tomorrow and Thursday are parent-teacher interviews, so school closes at 12.40pm. The teachers and parents will talk about what is important for each child. Friday is a "normal" day. Monday is swimming sports for the middle and senior school. This year we are going to be at the Whakatane outside pool. On Tuesday Room 14 head to Katikati on camp. School is a rather busy place!
15 February The house leader elections were today! There were lots of good speeches, some included personal chants and raps, before all the children voted on their new leaders. The new leaders were announced at assembly today. Congratulations to all the children who were brave and stood for election. Here are the new leaders:
Rata: Ollie Fort, Jake Laurent, Addison Dodson, Caleb Hanlen
Kowhai: Jasmine Kerdemelidis, Ani Doherty, Lucien Horn-Christensen, Ella Murphy
Tawa: Phoebe Carter, Odin Herrick, Kenna Baker, Leah Rowe
Rimu: Zealia Peretini, Joseph Spalding, Jade Rika, Summer Jones.
| | |
| --- | --- |
| | |
| Before the election, all the year eights had to teacher their houses the new chants for the year. Here are the Rata year eights at work. | And, under the blue shade sail, the Tawa year eights |
| | |
| Now all the leaders have been announced. Summer, Jade, Zealia and Joseph lead Rimu for the chant at assembly. | Odin, Phoebe, Kenna and Leah lead Tawa. |
10 February Applications for the principal's job have now closed. There was quite a good turn out for the Meet the Teacher and BOT evening on Thursday. Hot sunny weather coming this week. Make sure you have your hats and swimming togs!
7 February Check out the welcome back Library Column. Margo gives a good run down of our wonderful library. We are very lucky!!
4 February Yes!! School's back. We have pretty full classes. Most people are well organised with stationery bought, children with their swimming togs and sun hats. Students are putting their names in for cheer leaders, Top School trials, librarians, book club members and house leaders. It's great to see lots of children taking their opportunities.
Two reminders: Waitangi Day holiday tomorrow, Meet the teacher and BOT on Thursday 5pm. Free barbecued sausages and a lucky draw for free stationery.
31 January The class pages on this website will take a little while to get up to date, so they will still have last year's info on them. We will be looking for website monitors for this year to be responsible for them, once school gets underway.
A change for swimming this year, with all children being able to swim every day. Those classes, who are not rostered on for class swimming, will be able to have a short swim in the lunch break if they want.
21 January Good luck to our departed year eights who are probably now gearing up for high school. Uniform sorted? Start date, time? This year 22 of our ex-year eights are going to Whakatane High, 10 to Trident High and 2 to Edgecumbe College.
A reminder that Awakeri School is starting later than some other schools, we start Monday 4 February. The stationery shop is open Thurs and Friday (31st and 1st) in Room 2. Swimming timetables will be emailed to parents next week.
A preview of this year's house chants, some look easier to learn than others! Thanks to the year sevens in our intensive late last year, who wrote the chants. They will have to teach their houses them before the leaders elections. Click here for a look.
16 January 2019 We hope you are all having a happy and safe holiday. Who will be our new principal??? Mr Fitz has half a year to go and hopefully people have been applying for the job. Awakeri would be a great school to be principal of! Applications close quite soon. You can check out all the info about the job, or even apply, see all the details on our Vacancies link.
Getting tired of the beach... make sure you do some reading, you can even keep up your maths skills on Mathletics, or be on to it, like one Room 14 girl, who is planning a science fair project already.
Old News Do you want to look at the news from last year and before that? It is reeeeaaallllly cool. Click here to find that interesting old news from 2018, 2017, 2016, 2015, 2014, 2013, 2012, 2011, 2010, 2009, 2008, 2007, 2006, 2005, 2004, 2003 or even 2002 and before.