Awakeri School

Here is the.....News

24 May Princesses! No...no...noo.. But Yes, check out the Library page!
23 May Today cross country has been postponed till Monday. The weather is wet and cold.
Last night our two Kids Lit Quiz teams made us proud at the regional finals in Tauranga. Our A team came second and our B team came 14th out of 28 schools! Well done! 1st was Tauranga Intermediate A, 2nd Awakeri A, 3rd Taupo Intermediate A, 4th Katikati College B, 5th Matamata Intermediate A. Congratulations to our coaches too: Margo White and Kate Dowzall. Great job!
The quiz had ten rounds, with literature questions on topics like Teenagers, Teeth, Superheroes and The Law. Our best topics were Insects and Superheroes (the A team scored 8 and the B team 6 in both of them). Check out our past history of results at the Kids Lit Quiz on our Academic Archives page. We have been World Champions!
Today Mr Hawkes is posting our letters to the school on France. The seniors have written 113 letters! Bonjour College Le Calloud!
Yesterday and tomorrow we are very lucky to have two teachers from St John's Ambulance teaching our children first aid. Max and Tina did a fantastic job teaching classes yesterday. Classes learned what to do in an emergency. Some classes even practised CPR. It was great learning.
17 May Nice to see our jump jam team in the Beacon this week. The netball teams did play at Te Teko yesterday and had a successful time. The senior team had two wins and one loss. Our senior students are getting ready to do speeches next week. The year 7&8 topics are health issues. They have a choice of three topics. Our letters are nearly ready to send back to the school in France. We are waiting for one more room to be finished. Hooray, today it is not raining!
Next week is a big week, with cross country and the Kids Lit Quiz both happening. The Kids Lit BOP regional final is at Tauranga Intermediate on Tuesday evening. We have two teams: A and B. Team A : Sophie, Asha, Sam and Oscar, team B; Issy, Addi, Olivia, Belle and Kaleb. There were 4 rounds of trials to get into the teams. The teams have been working hard, doing homework, doing practice quizzes, having morning Milo and biccie meetings, etc. One thing the teams have been doing is studying the topics that Margo secretly gave them (e.g. Issy's topic was villains, Sophie's was dogs). Each person thought of characters that were in their topic (e.g. Ursula - the sea witch, Hairy Maclary) and they went up against the two teams. We had to see who had the most original answers.
How are you feeling about the finals Sophie? "I'm nervous but excited!"
How do you think you'll do Issy? "I think we'll do pretty well. We've been practising. We've been reading lots of books and we've got a good team." Will you beat the A Team? "Hopefully! Last year we were in front of the A Team for a while."
Tell us about your coaches Sophie. " Margo and Miss Dowzall have been training us very well, giving us different homework and we know a lot more now."
15 May The netball is now on Wednesday at te Teko. No rugby though. Mrs Howard and Miss CT went to inspect the cross country course yesterday. Rather wet. However, when we look at the course this morning, it is more like a lake! Cross country swimming anyone?
13 May The rugby day tomorrow at Matata has been cancelled. However, we haven't heard about the netball at Te Teko. It could well be on.
9 May Yesterday and today groups of students have been repainting all the lines on our concrete. The map of New Zealand is now nice and shining in front of room 2 and 3. Unfortunately.... Mr Sheather didn't realise there was wet paint on the four square markings. After about six yellow footprints, he kindly helped the team clean up the concrete. Now, for the shoes!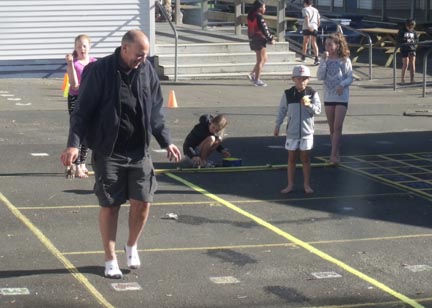 Mr Sheather getting rid of those footprints!
Mothers' Day is coming up this weekend. Check out the cool stories about mums on the library page. The whole range of mums are there!
8 May Try your French out on this article about Awakeri on the school website of College Le Calloud in La Tour Du Pin that the seniors are writing letters to. It opens in a new window.
2 May Welcome back everyone! Rooms 10 and 11 have headed off to Tui Ridge camp today. Good luck to them. Jump jam has started, three sessions a week for the school. Kapa haka are taking enrolments (year 4 up). We are training for cross country. Names are taken for rugby/netball day.
Seniors are starting to work on speeches (yay!) and they are getting some letters from 130 lovely students in France. They have had a lot of fun reading them. They are keen to write back. The school is College Le Calloud in La Tour Du Pin.
If your child plays soccer, see the info on the Awakeri Soccer website about this Saturday.
13 April Today we are having our school's Commonwealth Games. It is going really well. The main scoring is for sportsmanship, but some of the ganes have exciting scores too.
The Library page has some cool news. Check it out!
Have a happy holiday everyone!
12 April Congratulations to Laura and Dan Edgecombe on the arrival of their baby girl... Matilda.
We are excited too for our Commonwealth Games day tomorrow. Everyone has been put into countries, the seniors have had to tell us a bit about our countries. Some of them we don't know much about, like Namibia, Ghana, Vanuatu...
Room 15 have been on camp near Waihi, it sounds like it has all gone well so far.
At schol we all learn our pepeha (family tree, in Maori), but Room 14 have gone a step further, writing some fantasy pepeha! Have a look on their page!
Results for the Awakeri School Top School Raffle drawn under Police Supervision.
1st $1000.00 1501 Willie Cairns
2nd $400.00 2681 Nikki Wana
3rd $300.00 1178 Peter Grimes
4th $200.00 1230 Sophie Sutton
5th $100.00 1859 Paul Braaksma
Congratulations!!
6 April The interschool touch day went very well yesterday. There was a great attitude out on the fields, with all games played in good spirit. It was very hot but people played hard right till the end. A big thank you to everyone who refereed, including those 13 Whakatane High students who came along. They were mostly ex-Awakeri sudents keen to come back for the day. Well done to Mr Fitz who organised the day and to Miss Grundy and Mrs Petersen for sorting out the refereeing.
| | |
| --- | --- |
| | |
| Henali Patel runs across field to get away from Joseph Spalding in their game. Will Henali pass to Celeste Grimes or Mia Sutton? | Kobi Wetting spots a gap in the Otakiri defences and shoots through it. Go Kobi! |
3 April A big thank you to every one who supported Rooms 13 and 14's Fun(d) Raiser on Thursday. They made $1148 in the lunch break, which went towards their recent class camps. The food stalls were very popular, but so were the activities, like Jumping out Room 13's Window, the Games Kiosk and the Very Scary House. Here are some photos of the happy customers and the activities. There was lots of learning for both organisers and customers... things like money handling, decision making, communicating, planning, organising....
28 March Check out New Zealand Heroes books on the Library page. Some cool suggestions from Mrs White.
Congratulations to our cricket team yesterday. They were unbeaten and got to play in the final. Mr Sheather said they played very well as a team.
27 March Already a lot of schools have entered for next year's Top School! Wow it is popular.
Today Mr Sheather's year 5 & 6 cricket team are competing in a tournament.
On Thursday Rooms 13 and 14 are having a camp fundraiser in the lunch time. Everyone is invited to bring a few dollars (in coins preferably) to spend. People still need their own lunch. Food on sale is not guaranteed to be nuts, gluten or dairy free.
26 March Congratulations to everyone involved in Top School. Despite the weather, we had a very good day. Although takings were down by about $4000 on the day, there was still a good amount of money spent. Well done indeed to the Awakeri Top School team who won the year 7&8 section, beating rivals Whakatane Intermediate. Well done too to the very professional cheerleading squad, first place! Here are some photos of the day.
Results:
| | | | | |
| --- | --- | --- | --- | --- |
| | Large Yr 7&8 schs | Small Yr 7&8 schs | Yr 5&6 schs | Cheer leaders |
| 1st | Awakeri | Te Teko | Kaw South | Awakeri |
| 2nd | WIS Yr 8s | Tarawera | Matata | Thornton |
| 3rd | WIS Yr 7s | Waiotahe | Otakiri | Tarawera |
22 March The fields have lots of activity on them as the Top School gear is set out. Make sure you get your Top School helping roster. All children were given the rosters to take home today. Check out Room 14's camp photos too.
18 March This is the start of one of the busiest weeks of the year: Top School week. Hopefully everyone will be involved to do their bit to help the school have a very successful day on Sunday, raise lots of money and help everyone have a good time.
Rooms 6, 8 and 14 returned from their camps last week, no doubt you will read all about them on their class pages when they have updated them. Many thanks to those parents who gave their time and energy to help the camps happen.
7 March Tomorrow we have 27 students going to the interschool swimming sports. Good luck to all those swimmers. At the moment the Top School team and the cheerleaders are practising hard every lunch time. The attitude of the team has been one of the best ever. They are organising practices and working on their skills even when no staff members are available.
5 March Lots happening this week: Room 13 are off on camp at Waitomo this week (let's hope it isn't interrupted by a cyclone like it was last year!), Room 7 goes on camp tomorrow at the Lions Hut. The Life Ed caravan, complete with Harold the giraffe is here for the seniors this week. Visiting today we have the Trillians Trust Trek vehicles at about 2.30pm. That should be entertaining, as well as making it interesting getting into the out of the car park at 3pm!
Thanks you to everyone who came for interviews with the teachers last week. Hopefully we are now all on the same wavelength.
Big congratulations to Jamie Julian who came back from the national surf life saving champs with six medals, 4 of them gold!
If you want your child to do Te Reo Maori extension classes this year with Whaea Andrea, please send her an email andreamaru@awakeri.school.nz, with the child's name and room. Extension classes are in school time, so they would be missing some other curriculum work.
1 March A pinch and a punch for the first of the month! Check out the new library update on the Library page, specially if you are into farming stories!
We are looking forward to the parent-teacher interviews today and tomorrow. Nearly everyone has booked a time. Well done!
The dental caravan is in its last day at Awakeri. The dental team has worked hard and seen everyone either late last year or this year. They are off to Thornton School next.
This is Mrs Edgecombe's last week with us as she heads off for maternity leave. We wish Laura and Dan all the best for the arrival of their baby. The staff have been full of helpful ideas about dates of arrival, possible weights and names. The best one so far is Brenda's suggestion of Jemima Whetumarama Constance Muriel. We are sure it will be considered!
Last week we farewelled Dannis Manderson. She is off globe trotting, first stop Egypt! Her love of Harry Potter will no doubt go with her!
26 February Football (soccer) enrolment forms were handed out at school today. See Mr Hawkes or the office if your child missed theirs. More info on the Awakeri Football web site.
The school pool is going nicely. Make sure your child has their gear for their swim days.
Rather late, we know, but there are some pics here of the senior social at the end of last year. Most of these kids are now in high school uniforms!
25 February A few photos here of swimming sports last Thursday. Spot the biggest splash!
21 February Top School Team. After days of trials, our squad for this year's Top School team has been selected. Congratulations to: Mikayla Jamieson, Teigan Nolan, Isabel Lambert, Sophie Peat, Olivia Nolan, Phoebe Carter, Jamie Julian, Kalib Schuler, Elijah Wetting, Dan Rowling, Jake Laurent and Ollie Fort.
The squad will now be training daily in their lunch times to do our school proud on the 25th of March.
Remember swimming sports tomorrow!! Togs, food, drink, sun protection, warm clothes, house colours...
19 February Because of the approaching bad weather, Room 8's camp has been postponed. At the moment, our swimming pool is out of action. The pump broke down and it is taking a while to get it swimmable again. Hopefully those people going to swimming sports on Thursday will still remember how to swim! A reminder that there is a collection at the start of school tomorrow raising money for guide dogs for the blind.
15 February Here are our new house leaders... what a handsome lot!
14 February Do you enjoys thinking, puzzles, challenges, mysteries? Go to the Library page to read Margo's latest message / challenge. She has set up a Thinking Zone in the library. Cool!
13 February Today sees our first group of students off to technology at Edgecumbe College for the year. They go one day a week for half of the year and learn skills in wood, materials, metal, food, biotech and electronics. The Edgecumbe unit is one of the best in New Zealand, so we are grateful that our students get to go there.
9 February Congratulations to our new house leaders, listed below and big ups to all those seniors who put themselves up for election. It takes courage and self confidence.
Kowhai
Ella Forbes, Sharlee Davis, Sophie Peat, Myles Ashton
Rimu
Asha Stevenson, Summer Jones, Londie-Lee Rika, Josh Broadmore
Rata
Ollie Forsyth, Caleb Hanlen, Mia Sutton, Jake Laurent
Tawa
Mitchell Du Toit, Jamie Julian, Phoebe Carter, Teigan Nolan

7 February A reminder about the Meet the Teachers evening tonight. Teachers are in their rooms from 5 to 5.30pm, then there is a barbecue. Come along!!
Web site monitor applications went out today. They are due in tomorrow by interval. Year 6, 7, & 8s can be web site monitors.
5 February If you want a preview of the new house chants, before the houses learn them on Friday... Click here.
2 February Top School is coming up in six weeks. If you don't know what Top School is... have a look at the photos of last year's one. It's an amazing day. On the Photo Archives page you can go to see photos of lots of other year's Top Schools.
Today 35 people put their names down to try out to get into our Top School team for this year, and today the cheerleaders are taking names too. The trials will be in the lunch times.
This web site is maintained by the senior students. We are selecting students to do this important job next week. The various classrooms' pages will be up dated after that.
31 January School is back underway with everyone working hard and settling in. Classes are swimming, our pool is nice and warm! There was lots of enthusiasm for being librarians, Margo's meeting today had 40 people turn up, that's to go with the 30 that are already librarians!! There is lots of enthusiasm to be house leaders too. Mrs Howard had lots of year 8s and some year 7s who were keen to be leaders. The elections are next Friday.
Talking about the Library, Margo has a very nice message to start the year, on the Library page. Check it out!
27 January 2018 Happy new year everyone! School starts on Tuesday! Lots of people have been in to get their stationery sorted so their children are ready to go on the first day. Welcome to our new teachers: Carrie-Anne Dennis (Rm 12), Rosie Ulrich (Rm 11) and Josie Grundy (Rm 10).
Good luck to our ex-year eights who are starting high school next week. We are sure you will do well and enjoy it!
News of and congratulations to a former Awakeri student Quest Tipping who recently played for the first ever Maori Football team. They beat the indigenous Australians 3 - 2 in a hard game.
Quest was a top athlete and footballer here around 2008.
Old News Do you want to look at the news from last year and before that? It is reeeeaaallllly cool. Click here to find that interesting old news from 2017, 2016, 2015, 2014, 2013, 2012, 2011, 2010, 2009, 2008, 2007, 2006, 2005, 2004, 2003 or even 2002 and before.