Awakeri School

Here was the News in 2013.
19 December 2013 Well, school is over. The reports have gone home, Fancy Dress was fancy (and hot!), the senior disco was a big success, the C Block rooms managed to move their stuff so the builders can get even busier enlarging the rooms, other people had to move rooms too, so it was like a colony of furniture removal ants, the last day wrestling and water fight were massive and everyone's gone home happy. Well, after a lot of tears and final hugs as the year eights said goodbye. Merry Christmas and happy holidays every one!!!
18 December Congratulations to winners of the Principal's Award.... Alex Coventry, Elana Spod, Keely Forbes and Georgia Leonard Cobb. Also congratulations to the follwing, who made it into the Awakeri Kids Lit Quiz teams for next year:
A team: Finn Spod, Alex Robbie, Ben Whitye and Emily Robbie
B team: Amelie Clements, Linette Lengkeek, Tayla Jones and Ella Jones.
They will hopefully be doing lots of reading over the holidays!!
10 December Here are some awesome photos of the Junior Picnic! Quite a lot of parents turned up to eat with their kids, and there was so much food. They played lots of games like egg and spoon races (with a tennis ball!!), sack races, filling buckets with water and an ice cream container and ball skills! The Middle School Picnic is tomorrow!
6 December Today at assembly we had the final challenge for the General Knowledge quiz. The finalists were: Ben White (Room 10), Amelia Howe (Room 12), Alex Coventry (Rm 14) and Finn Spod (Rm 14). Mr Fitz was the quiz master. Each person started off with ten points. They got +1 for a correct answer and -1 for a wrong answer. There were six rounds of 5 questions. Finn got out to a good lead, but Amelia started catching up. With one question to go it was tied at 18 all between Finn and Meli. Ben got the final question, so it went to a sudden death play off. Amelia won it in the end, but it was a great battle.
4 December Interesting gift ideas on the Library page. Simple but valuable. It is heading to the end of the year and we are all go with Fancy Dress practice and that. We are getting there though thankfully. The seniors are doing the best with their dancing that we have had in years which is awesome.
2 December Last Friday/Thursday was the Year7/8 intensive. The Year 7s had to work with the juniors for most of the Thursday, with the year 6s. They played games with them, read to them etc. They also did building technology and leadership activities, like making house flags and posters and chants, for them to prepare for next year and being Year 8s. The Year 8s caught the bus to the stadium next to the Little Theatre. They played 2 games of basketball, bibs and no bibs.After a break they played indoor soccer. A trainer came and made them do a whole lot of bootcamp activities. She even made the girls do 90 push-ups and the boys 120!! They learned about being strong! After that they went to pools. On the Friday the Year 7s traveled to Thornton for teamwork activities. They had to: Fill a bucket that had holes in it with water (some of us got totally drenched!), Find a way to cross "shark infested" waters with only 2 planks and 3 pieces of wood and have a bucket full of water travel along a rope that went around tables etc with losing much water. The Year 8s either went to the golf or the skatepark. Elana Spod and Amelia both had pieces of cardboard to slide down the bowl! Some of the boys had scooters. Some of the girls brought rollerskates. Georgia couldn't get out of the lower bowl so she had to "seal jump".They walked up to the pa site which took only two minutes.. everyone was still tired! Mr Hawkes told them a story about 2 tribes. They were taught a game called pa wars. To win there had to be 4 people in one pit. They then met the Year 7s at Thornton and we all went for a swim. Click here for some cool photos of the two days.
22 November Well the end of the year is speeding along quickly enough. All the seniors are looking forward to their intensive next week. So we are hoping that they will all pay up because 'No pay No go!!!' The heat is extreme at the moment and it is compulsory to where hats when the UV Index is high. swimming is underway and we look forward to jumping in the pool everyday because of the heat!! We have the Kapa Haka break up at quarter past three tonight. So we are hoping it all flows well!! We will be having games and watching videos and having a kai at around Five o' clock and then some presentations!! Sounds like a night of nothing but fun!!
20 November Suzi Tetenburg from Family Planning in Rotorua has been doing an awesome job teaching puberty lessons with the senior school. It's her last day today. Room 12 are the lucky room today.
Want to be amazed??? Have a look at the Library page. Margo has some rather shocking information about hidden meanings in Nursery Rhymes. Learn them at your peril!
A reminder that the kapa haka break up is on Friday. It's at school 3 - 5.30 pm.
There are some photos of the interschool athletics at Edgecumbe on the athletics page.
17 November Tomorrow we have a presenter starting maturation talks in the senior school. A reminder to those parents who said they were coming to hear what she has to say, that the parents session is Monday (tomorrow) at 3pm in the school library.
Centenary photos..... if you haven't seen them here are a number of good ones!
14 November Yesterday the Year 5 & 6 kids did really well at interschool athletics. Both relay teams won comfortably. Luella, Emma, Kevin and Campbell were the 10 year old team and Michelle, Juliet, Cambell and Cody were in the 9 year old team. Kevin Paulsen had a very successful day, winning five events. Monique Ruiter and Cambell Julian also won events.
Today the 11 to 13 year olds are at their interschool.
13 November There are more goodies on the Library page from Mrs White. Be inspired! Here are some nice photos from athletics sports too.
11 November We just finished the 12/13yr old high jump finals. They all did really well. Sam Cook and Micheal Jones came 1st equal for the 12yr old boys, Nakisha Rangiaho came 1st for the 12yr old girls. Jamie Findlay and Alex Coventry came 1st equal 13yr old boys, they had a go at equalling the highest jump ever at Awakeri (1m 44) but didn't get it. Felicity Klein Ovink came 1st for 13yr old girls and equaled the record..
9 November Our school athletics records have been updated. Congratulations to those people who set new records. Check out our school records here. Katie Mahy and Emily Julian both set two new records.
7 November Rain cut short our athletics track races today, so we have some 200m and 100m finals and the house relays to run tomorrow. Weather permitting, we will try and complete them from 9.30 am, or later if we need to wait for the weather. There were some excellent races today, despite the windy, cool and damp conditions.
6 November Some interesting thoughts about poetry and its value on the Library page. Check it out!
4 November Athletic sports started today. We had two great 1500m races, with Jack Du Toit and Kevin Paulsen having a photo finish in the boys race. Jenae Brownless took out the girls race. After the senior field events we saw a great battle in the 11 year girls high jump, with Linette Lengkeek and Emily Julian both smashing the old record by 5 cm, before Emily took it out at 1.30m.
31 October Next week there is Athletics. We have been practising for athletics. Today we had all the senior syndicate running for their class in teams. It was the class relays. Room 12 won two and room 14 won one and room 13 won the overall race!! Congratulations!!

30 October In keeping with the school jubilee, Mrs White has some old treasures on the Library page. They are all available at school.
We had some more high jump eliminations today, so we only have a small number for the finals next week. Linette Lengkeek can fly!
It is amazing the way some pages on our web site are being read. We have a page about making a poi that is being read by people around the world 40 times a week. The How To Make a Poi page was created way back in 2004 by Ngahuia Leighton and Amy Falwasser.

29 October The jubilee went very well from what I know. Everyone enjoyed the Kapa Haka and Windust performance during the lunch! Click here to see photos of the Friday (meeting old friends, kids disco), Saturday (visiting the school, ceremonies, concert, entertainers) and Sunday (church service).
Athletics is coming up in November. Everyone is training hard for it.
Today is also Siri's 1 year anniversary since she died last year. Lots of us have been out to visit her memorial tree and to remember all the gifts she gave us.
25 October The Jubilee is tomorrow we are all very excited!! I hope that everything runs smoothly and that everyone has a great time!! I also hope that it brings back lots of happy memories!! Have a great time.
23 October There's some cool advice to parents on reading aloud to your children, go to the Library page. Thanks Margo!
22 October Most of the students at school are busy writing letters to the people who are attending the jubilee at the weekend. The letters will be part of the pack of things people get when they arrive. The letters tell what school is like at Awakeri these days. If you're coming to the jubilee you might get a letter from a 6 year old or even a 13 year old!
We are also practising hard out for athletics. Today the senior rooms were practising the 200 metre sprints. We had handicapped races too. Some people were given head starts. One race was just between Emily Julian and Korben Wilson, because they were the only two in their house in their class. It was a great race. Korben managed to snatch the win right at the end.
21 October We have had 106 entries in Group Day today and we are very busy as we are holding Group Day here!! It looks like everyone on the field is excited and ready for competition, good luck to those with animals!!
20 October Ag Day was successful on Friday. Check out some cool photos of the day here. Tomorrow it's Group Day. The place getters from all the Rangitaiki Schools are coming here to see how their animals rate.
16 October Registrations have closed for the jubilee. We have 452 registered!!!!
Today the Senior syndicate went over to the events centre to watch the Kahurangi Dance Troup. It was absolutely stunning. They are very very talented. We all learnt a lot about Maori myths and legends!! We are all gossiping over it and about how amazing it is!! Remember Indoor programme tomorrow!!
Mrs White has been busy in the holidays. Have a read of her latest blog on the Library page.
Today the kapa haka, Windust performers and choir have been practising for the jubilee. About 80 kids are involved.
| | |
| --- | --- |
| | |
| The Kahurangi group told us some great stories in dance and song. | They used lots of humour too. They were strong, intelligent, attractive..... |
| | |
| Then they called some volunteers to learn taiaha skills! Korben is keen. | Marco and Mr Hawkes tried their best as well! |
15 October Ag day is getting closer. According to Mr. Fitz there is hardly anyone entering this year. I reckon that's kind of sad. Since there is so few, its not a half day and everyone without an animal has to do a full days work. On Thursday everyone has to make pieces of art to enter like: Minature scenes, Aqua Jars etc. Here are the Aqua jar instructions if you want to make one: You will need a jar, the jar lid, blue tack or plaster scene, water, a flower and maybe some glitter or food coloring. First you put the plaster scene or blue tack on the bottom of the lid and stick the flower in the blue tack. Then fill the jar with water and put any glitter or coloring into it. Then hold the jar into a bucket of water and screw the lid on UNDER the water. Make sure there are no air bubbles and the flower isn't touching the sides. There you have it, your own beautiful Aqua Jar! The school centenary/jubilee is on labour weekend. There will be Kapa Haka performances and Production scenes too.
14 October School's back. Yay!!!! Ag Day this week. Notices have been emailed home about the activities and rules for it.
9 October The school jubilee is getting closer! We hear the registrations are now over 360. Closing day is Friday, just two days away.
On Monday older students will be given a notice about the possibility of them being involved in the jubilee concert on Saturday 26th or the church service on the Sunday.
Enjoy the last few days of holidays!
27 September The last day of term. Last night the final show of Windust was excellent. The kapa haka were awesome again, the leads all sang well: Georgia Leonard Cobb can hit the high notes, she's a soprano; Emily Julian has an amazing strong voice and she loves to wind the audience up; Cody Baker Bragg plays the Drongo Kid really well and sing the song half like a drongo so he's in role, Alex Robbie and Ben White were sweet in their duet, etc, etc. The only fault last night was when Alice (Luella Howe) was very late coming on to rescue her dad the professor. Poor Luella was sprinting off to find the bag she had to bring on. "Alice bring me my bag"......... Alice??? ..... pause... silence, then Cody says "We might as well have a cup of tea!"
There were lots of great comments about the show, along the lines of "the best ever", "one of the best", "best kapa haka". Well done everyone. Here are some cool photos of the show.
26 September Last production show tonight! It's going to blow the roof off! The Kapa Haka was so loud the past few days... the set behind them was swaying! They even made some little kids cry yesterday... they never knew they were so scary! The show has been going well, only a few mistakes: Mr. Fitz/Mr. Sheather kept firing the gun sound effect at the wrong time... hopefully they will get it right tonight! Professor Pecksniff's cart almost fell into the orchestra pit... only a bottle went in but the orchestra was almost flattened... Lets hope all goes well tonight! Check out some cool photos of the kapa haka performance.
Also... we lost the Americas Cup.. pretty sad for NZ.
25 September Award winning reading on the Library page. Go for it! Great opening show last night. Break a leg worked! (Well apart from Sam who managed to damage his leg!)
24 September Only 6 tickets left for Thursday night. Get your tickets now for the show!!!! Opening night tonight (Tuesday) 7 pm at The Little Theatre. Kapa haka and main leads be there at 6pm. All others 6.20 pm.
Here are some cool photos of the international football game last week, Awakeri v Wellington Sch of Singapore!
20 September Wellington School are now heading back home to Singapore. Yesterday Awakeri beat them in the international football game, but it was lots of fun with national anthems, flags, a haka, etc. Thank you to every one who helped make the Wellington School visit a most enjoyable experience. Now we are setting up for the production next week. Make sure you have your tickets, for Tuesday or Thursday night. Only $8 an adult, $4 a child. It's at the Little Theatre in Whakatane. The kapa haka is performing too. They are awesome.
17 September The Singapore people have arrived and we are having great fun meeting and working with them. It is amazing how different their country is to ours here in New Zealand (Aotearoa). Did you know that here in New Zealand there is a population of 4 million people and Singapore is the size of Lake Taupo and has the population of 5 million people!? We have 13 children and 6 adults visiting us. Our job is to give our visitors a true Aotearoa experience. They have been coming into their billets' classrooms and learning what life is like at school in New Zealand! Today they have gone to Hells Gate in Rotorua with their billets. Yesterday they came to watch the dress rehearsal of kapa haka and Windust, then they put on dance for us that showed all the different races in Singapore - Chinese, Eurasian, Indian, Malay and Others. Click here to see some nice pics of the dress rehearsal. On Thursday morning 11 am, we have an international football game, Awakeri v Wellington from Singapore. Can Awakeri win this time?? Singapore have won the last two games, home and away.
| | |
| --- | --- |
| | |
12 September Check out the Roald Dahl item on the Library page. Today we have our football team selection practising for their international game next week against Wellington School from Singapore. Lots of people wanmt to get into the team. We are also doing another full rehearsal of Windust. Tickets go on sale today!!
10 September Today some of the Year 8's are going off to the Trident High school open day! Tomorrow is the Whakatane High school open day!! At the moment there is this awesome game called Assassins going on in the playground!! It is where you are split into two teams and you have to try and tag the other team members. To tag them you have to be facing their back!! There is a watch which is the aim of the game for you to keep it a secret from the other team and gain that watch. It is a pretty cool game!!
8 September On Thursday the people who have been going to maths extension held a big Maths Celebration for the senior school. There were 8 activities to do like: Orienteering, Brain teasers, Battleships and more! Rooms 11 - 14 all participated. They were in teams of 5 with a mixture of kids from different rooms. Check out these cool photos!
On Wednesday night the Kapahakians had a run through of the kapa haka with a big AUDIENCE (probably about 150 people). Some of them found it quite nerve wracking, but it looked good and we are sure at least a few of them had loads of fun. They must have because they voted to have practice on Friday as well! The haka got a lot of compliments, so did the action song. Here are some photos.
2 September Kapa haka intensive started today. We had 57 people there, with one absent. Andrea did a great job, getting us looking and sounding good. Our programme is a tribute to Andrea's Mum Siri who died last year. Siri wrote or taught us all of the items in the past. There are some fun ones about Awakeri, including all the various waka that people arrived on from their various countries, their languages, etc. The kapa haka will perform at the school production, and at the jubilee. Today Poppy Rika, Amelia Howe, Tawari Stanley and Korben Wilson were named the leaders. Ka pai koutou.
On Friday we had the Dance Off finals at assembly. All three acts were really good. Today the winners were announced. They were..... Felicity and Elana. The other finalists were EJB and Awesomeness to the Extreme.
30 August Today the school raised $372 for the Daffodil Day appeal. Well done! Thanks to everyone who donated. Kapa haka intensive is next week. Kapa haka people will get a notice about it at practice today.
28 August Mrs White has words of wisdom for parents on the Library page. Help your kids by....
27 August Awakeri has joined the Fonterra Milk For Schools programme. In the morning at the moment someone from every classroom goes and gets some milk. If you want some milk you can get a carton of milk. It is icy cold and very nice!!

We are still hard out working on production and kapa haka. We have got kapa haka intensive next week on Monday and Wednesday. The kids involved will be sent home with a newsletter with all the details. The new Room 12 'Don't Miss a Loop' record is 143 with only 4 people!!
21 August Well it is all on for production and Kapa Haka! Seven weeks and we will be performing on stage. The people with parts should be busy learning their lines. It is awesome to see people swinging their pois and learning the actions! The winter sports are coming to an end and we are getting ready for our summer sports, such as touch! The touch forms were supposed to be in last Friday so I hope they are in!!
There has been quite a bit of skipping going on at lunch times and we have been practising 'Don't miss a loop'. It is when someone starts off and then the next person jumps in and out the other side and then, without missing a loop, the next person jumps in. It looks pretty cool once it is going!
16 August Today we had our first singing practice for the Windust production. Mr George Hannah is our pianist this year. We learned the first four songs. Georgia Leonard-Cobb is the Professor and she has to sing about bringing miracles. "I'm gonna bring you rain, from out of the sky...."
Here are a few photos from the Interschool soccer day yesterday.
15 August Congratulations!!!! Lots of awards at the EBOP Science Fair last night. GOLD to Jenae Brownless and Lucille Smits for their science entries. Four special awards: Best Road Safety - Georgia Robinson-Kearns; Best Food Related - Jenae Brownless; Best Sports Related - Alex Coventry; Best Baking Entry - Lucille Smits. Plus we got silvers and highly commendeds. Check out the Science Fair page for the details. Also ex-pupils Millie Patterson, Robert Coulter and Moana Lengkeek.
ALSO Well done Katy White who won the regional Spelling Bee yesterday and is off to the Nationals in Wellington. Good Luck!!
14 August Have you got issues to deal with?? Have your kids got troubles?? Go to the Library page and see some great kids books to do with all sorts of tricky topics, like peer pressure, parents being separated, etc.
Today we had our first read through of Windust and everyone got their scripts. Some people have a lot of lines to learn. Friday is our first singing practice.
Tomorrow is soccer / hockey day. It should be fun.
8 August Today we had Book character day which is a chance to have some fun and dress up as your favourite book character. The purpose of this was to raise money for the Kids Lit Quiz 2014. We raised $243.70. We had some very fancy turn outs with one of the favourites being Mr Fitz who was dressed up as Cinderella. We had triplets who were Miss C.T, Miss P and Miss Manderson who were all dressed up as Thing 1, Thing 2 and Thing 3 from Dr. Seuss. It was a total coincidence. In fact we had lots of characters such as Pippy Long Stockings, Robin Hood, The ugly step sisters, Cinderella, and fairies from the Rainbow magic series. Thanks to everyone who donated some money and came along and had some fun!!
Click here to see some photos.
After lunch we had a lock down practice. A lock down is when there is something dangerous in our school e.g A swarm of bees, and you have to run to your class room and lock all the doors and wait for the all clear!!! Everyone was running aroud like headless chickens!
7 August Today were..... school photos!!! A few boys in our class even dressed up!! That's something you don't see every day! Some people were nervous e.g. Me, but they were all looking forward to the funny photo at the end! Our class (Room 14) had a fake strangle chain. Toni C was strangling Georgia L, Georgia L was strangling me (Emma P), and I was strangling Tommy R. There was one awkward moment when Mr Fitz yelled out: TEACHERS UNDIES! To try and make us laugh... it didn't work, that only works for the little kids!
There is another cool entry on the Library page, all about non-fiction. Don't forget, good ideas on there too for Book Character Day tomorrow. Bring a donation for the KLQ team!
4 August Our centennial is coming up soon. Make sure you register! The cut off for cheaper registrations is 13 September, so get in!! The final closing date for registrations is 11 October.
2 August Here are the results from science fair: In Technology... 3rd Equal: Emily Julian and Finn Spod. 2nd: Ryan Magee 1st: Georgia Robinson - Kearns. Highly Commended Technology: Alex Coventry, Maania Roia and Renske Brabant Weitkamp. Commended Technology: Courtney van der Horst, Micheal Jones. In Science... 3rd: Linette Lengkeek 2nd : Caroline Paulsen and 1st Equal: Lucille Smits and Lachlan Butler. Highly Commended Science..... Sharni Goodman, Jacob Davis, Jenae Brownless and Felicity Klein Ovink. Commended science.... Chrystal Marriner, Emma Paine, Georgia Leonard Cobb, Tara Van Beekhuizen, Shardae Last, Elana Spod and Sarah Sheaff. Well done to all those people as well as those who participated.
When the seniors went over there this morning we tested out the land yachts that some of the Yr 7 boys made. Matthew Webb won; his went further than all the others. It was really quite funny when Nicholas' yacht went a little bit and then it back to us like a boomerang. So that is the Australian yacht. They were very creative designs. In the Science Fair section we had some interesting entries with some interesting names like: Strawberry Kisses, The Adventurer.
There was this very interesting design which was a toilet with a pedal that you push down with your foot and the seat opens! There was also another design which was 'The Adventurer' which was a bike and a canoe joined together. When Alex told Mr Hawkes he needed a little bit of room Mr Hawkes was not expecting such a huge thing. Also Georgia Robinson Kearns invented an app on her phone that could tell her where her school bus was every day of the week. Pretty cool. Ryan Magee made lights and indicators on his bike for in the night. I thought that was a very cool idea with all the people getting hurt on bikes at the moment. For example Ryan's teacher, Miss Sisam. The whole hall was filled lots of beautiful entries and I think that both the teachers and the judges were very impressed.
Click here to see some cool photos from Science Fair.
Some good ideas for Book Character Day next Thursday are on the Library page.
1 August Another month has passed! We all found out who we are in the production on Tuesday, some are townspeople, some are stinkers, who has the main parts!?! Today the seniors had to go over to the lounge, a few at a time, to get interviewed by the Science Fair judges, since we handed our science fair boards in yesterday and on Tuesday. In a few weeks time is Soccer/Hockey day! There are only a few hockey teams and A LOT of soccer teams!
30 July Science Fair!!! In the Awakeri Events Centre Lounge.
Entries in today 4 - 4.30 pm or Wed 8 - 9 am
Judging: Thursday
Public Viewing: Thursday 5 - 6.30 pm; Friday 8.15 - 9 am. All welcome!
School Viewing: Friday 9 - 11.45 am
Prize Giving: Friday 12 noon. All welcome!

29 July Welcome back to everyone who is back at school! All of the Singapore kids successfully got back safely, some of them were quite happy about their trip. Some people got their feet cleaned by fish! Matthew Webb and Isaiah Davidson told the class what their highlights were, they both liked it when the wolves started howling at the Night Safari. I wish I could've been there! Science Fair entries will start rolling in tomorrow afternoon, there will be lots of different entries like Which breads get mouldy the fastest etc, along with some Technology entries too! I wonder what the seniors will be inventing this year!
19 July Sounds like Awakeri lost the football match 4 - 1 yesterday. In the evening the Awakeri staff were invited to a reception at the NZ High Commission!
18 July Our group of ten students have successfully got to Singapore. They are now into their fourth day at Wellington Primary School over there. Click here to go to that school's web site. If you go to the Gallery, you can see the daily photos being posted, with quite a few of our group. They are going to be billeted for the next few days, so let's hope that goes well. They also have a rematch of the football game that Wellington won last year. Good luck Awakeri!
Quite a lot of year 7 & 8 students are working hard on their science fair projects over the holidays. Let's hope they're not waiting for a rainy day! The weather has almost been too good! The entries are due in by Wednesday 9am in the first week of the new term.

12 July Today is the last day of school!! This afternoon there is a Unity Hour when you can: Play with toys, Play Soccer games, etc. There were Parent-Teacher Interviews yesterday and on Wednesday. Some people (including me) were scared about whether they would be fed that night... Just Kidding! Yesterday was the BOP Cross Country! Jack Du Toit, Jana Longney and Kevin Paulsen all got 3rd in their groups! Congratulations to them all!
10 July The BOP Cross country is postponed until tomorrow. Same arrangements. Marco Turner got a great reception at the Rising Starlets concert last night. He sang brilliantly, unaccompanied as usual. Sadly, Emily Julian was sick and couldn't take her turn.
Shirley and Harold left yesterday, in the Life Ed caravan. A big thank you to them for all the learning about ourselves.
A challenge.... Go to the Library page and click on the link to Kids Lit Quiz. Have a go at the 20 questions about kids authors.
On the Library Page too is a gift from our librarian Margo White, if the holidays end up being rainy! Lots of great activities to keep kids busy and learning things.
9 July Parent Interviews are tomorrow and on Thursday. So remember half a day!! Most seniors will be getting their science boards for the science fair at the interviews. The science fair is in the first week of the next term! Last Friday the senior school planted trees at the back of the field where the shelter belt was cut down. We planted Kowhai and Gum trees.
4 July Check out a really cool poem in the Writers' Corner of the Library page, plus Mrs White's latest blog.
On Monday we will have all the hopefuls auditioning to get a part in this year's show. It's called Windust. It has great music and an entertaining script. We have 88 people trying out for a part! There are big and small singing roles and big and small acting roles and an orchestra. Good luck everyone! Learn your lines, put some acting and character into it!
If you want to check out what our last version of Windust looked like.... click here!
2 July The Life Ed truck is back and Awakeri School pupils are visiting Harold to learn all about our lives and how our body works and things like that. Everyone is excited about visiting Harold especially the little kids. The little kids are going and knocking on the door to see whether Harold is awake!! We are learning a lot with the help of Harold and Shirley! Thank you Harold and Shirley!! Here are Finn's thoughts about Life Ed after Room 14's first visit.....
Harold the Giraffe. Thats where I went yesterday. I also got to go to Paris. Plus I got $10,000 and I got to stay with the teachers. In Paris I got to eat a hamburger filled with information, consequences and influences. After this we dissected someone and I got to hold a lung. Then a lady called Shirley helped me stretch the lung over a tennis court. All while this was happening Mr Hawkes was playing soccer, sorry, football in England and Alex was riding horses in Dallas.
If you want to look at some cool photos of the insides of a deer go to room 7's page! It is quite disturbing though so beware.
27 June A challenge from our librarian.... to our parents..... How to help with Reading at home. Read it, I dare you!
26 June Yesterday 29 pupils from Awakeri School competed in the Eastern Bay of Plenty Cross Country. Well done to those who came in the top five, who are: Campbell Forsyth 2nd, Caden Laurent 5th, Jana Longney 3rd , Kevin Paulsen 1st, Kaya Hodson 4th, Jenae Brownless 2nd, Jack Du Doit 1st. Congratulations to everyone who entered and gave it a go!! Now these people and those who finished in the top ten are going to the BOP cross country champs on July 10th.
Today our year 5 & 6 debating team went into an interschool competition in Whakatane. Luella Howe, Ben White and Juliet Findlay, with reserve Stacie Martin, won their debate about homework being necessary. Ohope School A team won the overall competition. Already Ben and Juliet are keen to be in it again next year!
24 June The Junior School had an Africa day where they made masks, performed dances and made instruments.
20 June Read about being Brave on the library page! Check out the speech finals here.
19 June Congratulations to Emily Julian. Last night she won the 35th annual Awakeri Speech Contest. Second was Confident Caroline Paulsen and third was Felicity Klein Ovink. There was a good turn out of friends, family, class mates, teachers etc to see the seven finalists go for it. Judges Mr Fitz, Ross Macdonald and Jill McLeod had an interesting time trying to separate the speakers. There was humour from Matthew, Dog drama from Elana (hey that rhymes!), advice from Lucille, etc etc. It was a fun night. All the speakers were great. Check out all the past winners on our Academic archives page. Photos coming soon.
14 June Wow! Everyone did so well in the speech semi finals! And it was a miracle that the whole senior school could fit in Mr Sheather's room! Good Luck to: Elana, Amelia, Matthew, Lucille, Caroline, Felicity and Emily on Tuesday for the finals! It is open to the public and the people giving speeches MUST NOT BE LATE!!! 7pm start.
13 June Mrs White is running a competition in the library. Click here to see what it is!
Tomorrow the seniors get to hear the speech semifinals (not open to public), to see who will be in the Final on Tuesday evening (public most welcome!). We also get to hear two Year six speeches, from room 11 Jana Longney and from Room 13 Matthys Wessells.
Good luck to our 13 semifinalists: Emily J, Elana S, Matthew W, Poppy R, Finn S, Lucille S, Sharni G, Jenae B, Amelia H, Caroline P, Adele H, Felicity KO and Taryn F.
12 June Today the year 7 girls and boys all went to the library to have an Immunisation talk. We were told we had to fill out a form telling the school if we were going to have our injections at the doctors or at school. The Semi finals for the speeches are on Friday in Mr Sheathers class. The 13th grade soccer team are having interval training on Fridays, Wednesdays and maybe Mondays.
6 June Click here for photos and results of the Interschool cross country at Manawahe yesterday. Today I interviewed two people who had been to cross country yesterday. They described the hills muddy and hilly. Apparently there was one hill that affected the runners most!! It was a very steep hill! I know quite a few people practically crawled up the hills so they must of been pretty steep!!Well done too those gave it a go!! You should be proud!!!! Congratulations to Jack Du Toit, Kevin Paulsen and Campbell Forsyth for winning their events.
Are you into movies? Check out the Library page.
5 June Today we planted a Kowhai tree in front of the school for Siri. Siri was our Kapa Haka/Te reo teacher. Siri died last year of cancer. She was a GREAT teacher and we all miss her. Whaea Andrea is Siri's daughter and will taking over Siri's job. We all wish Andrea best of luck with her new jobs! The Kapa Haka group sang two songs while Andrea and the teachers planted the tree.

| | |
| --- | --- |
| | |
| PJ and Andrea are planting the kowhai tree to remember Siri. The whole school was there watching, apart from the interschool cross country runners. | Mr Chelley and Mr Fitz are going the kowhai tree a last minute check. |
| | The kapa haka sang waiata after Mr Fitz and Mr Hawkes talked about Siri and the tree. He Honore and Awakeri E. |
2 June Great tips from Mrs White about choosing books from the Library. Read them here.
31 May Last night was soooo exciting. Our A team had a great battle with Matamata Intermediate A team in the Kids Lit Quiz BOP finals. We came 1st equal after the ten rounds and had to have a sudden death play off for first place. Matamata beat us to the answer by a millisecond. It was a fantastic effort by the A team and the B team did well too, coming about 20th out of 30 teams. The Awakeri World Champion team of 2012 was there supporting our teams. They are featuring in the latest school journal level 4. Watch out for them.
30 May Nerve Wracking Time for Kids Lit Teams
It will be a nerve wracking time for the Awakeri Kids literary teams at Tauranga this evening.
Later today, two teams from Awakeri School will be travelling to Tauranga to compete against other schools in the Bay of Plenty. They have been training hard by practising the quiz and by reading books at lunch time and at home. There are four people in each of the teams. If they win they move on to the national competition which is held at Parliament in Wellington. If they win the national competition they get to go to South Africa to compete in the International competition.
Finn Spod, a member of the Awakeri 'A' team explained 'Reading is fun and it is cool to get together with friends and compete against each other. I'm a bit nervous because the Awakeri 'A' Team won the international competition last year!'
The news item above was written by Sune Fella, Ben White and Alex Robbie in an extension group learning about newspaper articles.

| | |
| --- | --- |
| | |
| This is the Kids Lit Quiz A team!!! They look good aye. | And here is our B team. Don't they look Fabulous? Good Luck to both Teams. Go and represent Awakeri School!!!! |

Woah!! First frost of the year! Everyone is outside with their rulers scraping all the ice of everything! They are all saying its SOOOOOO COLD! The windscreen on our car was all frosty this morning and it wouldn't come off!!!! Mum had to get a bucket of water and dump it all over the car! It looked so AWESOME!!!!! Some people are outside and trying to see how long they could keep their hands on the frosted tables.
| | |
| --- | --- |
| | |
| Amelia is timing Jacob, Caroline and Alisha to see how long they can hold their hands on the frost. | Look at all the hand prints on the table! Ten minutes was today's record! |
29 May It's the Kids Lit Quiz tomorrow night at Tauranga Intermediate. Lets hope our A and B teams do really well. They have been working hard, reading lots, training with Mrs Petersen. It starts at 6.30pm. Make sure you're there at 6pm to get a seat. It's fun. The audience can even win prizes! In the A team are Amelia Howe, Finn Spod, Elana Spod and Georgia Leonard Cobb. The B team are Courtney vander Horst, Ollie Clements, Amilie Clements and Emily Robbie. Go teams!
Next Wednesday, we are planting a tree at the front of the school at 9am, to remember Siri. It's a kowhai tree.
That's the same time the Manawahe team are leaving for the interschool cross country. Good luck to them. They have been training hard this week.
27 May There are some cool photos of the cross country day here, with the results. All school sports records, including cross country, are here if you want to check them out. A big thank you to Colin Carter for allowing us to use his property for the run.
Room 12 and 13's camp photos are here! Make sure you scroll down to the last one!!
24 May Tui Ridge camp went really well and with good luck it rained on the day that we were leaving, which was a bonus! All children from room 12 and 13 had great experience!! I think camp was worth it and I think everyone thinks that too. We put a lot work into camp but it all paid off! So thank you to all the parents who gave up their time to come and join in the fun! Also thank you to Mrs Cronin and Mr Sheather who came along as well and made Mrs Merry's job a lot easier!
23 May The school cross country yesterday went very well. There was some great running and three new records were set. A big crowd of parents came to watch. Watch out for some photos soon.
Today was the interschool sport day. Unfortunately, when the bus full of six rugby teams got to Matata, it was raining steadily and they called the day off. Netball were luckier. They got through all their games at Te Teko and the seniors even won two games.
Check out more great advice on the library page.
17 May Room 14 are having a lot of fun playing Detention before class with Mr Hawkes being in. Rooms 12 and 13 are on camp at the moment, coming back this afternoon. Cross Country is coming up next week, with Rugby/Netball day the next day.
16 May There's new Library news. A great message from our librarian Margo White.
14 May The weather is great for Room 12 & 13's camp starting today. Good luck to Mrs Merry, Mr Sheather and Mrs Cronin and students for the days at Tui Ridge.
Today Room 14 were lucky enough to have Mr Jeffares come to teach graphics. Mr J teaches technology at Edgecumbe College and we usually go to him but today he was in class here. Room 14 learned drawing conventions using T squares, set squares etc. Check out Room 14's page to see more, plus some photos.
10 May Room 12 and Room13 are heading off to Tui Ridge next week for camp! They are going to be gone from the 17th to the 14th of May! They will be experiencing lots of exciting activities like Abseiling, High Ropes, Mountain biking and lots more! Hopefully the weather will be fine and they will have a great time!!
9 May We have several students in Peter Pan, which opened in Whakatane last night. Break a leg Emily, Cambell, Jamie, Georgia and Ben. Awakeri School once did Peter Pan too. It was in 1997. We had a great time flying actors around the stage, using wires. Sorry, we have no photos on this web site, it was before the web site began. It is the same show as Theatre Whakatane are currently putting on. Here are some of our 1997 cast:

| | |
| --- | --- |
| Wendy | Abigail Cleland / Whiri Hills |
| Peter Pan | Sara Poananga |
| John | Nicole Hollowood |
| Michael | Tamar Rika |
| Mr Darling | Craig Petersen |
| Mrs Darling | Carmen Rapana |
| Tootles | Matthew Cossey |
| Curly | Liam Fitzgerald |
| The Twins | Sarah Habgood & Sonya Pettinger |
| Captain Hook | Dale Hitchcock / Maxine Marx |
| Smee | Emma Bradley |
| Cecco | Rachel Turner |
| Tiger Lily | Katie Gibson |
| Chief | John Collins |
8 May The Library page has news! Room 12 went to tech for the first time this year yesterday! Tech is awesome! You get to make lots of things like: Waterproof bags, cookie tins, baking and loads more! Its nice to see everyone practising for Cross Country which is coming up in week 3, most of us have to run about 3 laps of the field!
6 May Welcome back to the new term everyone! Our new wood pellet heating system is going well, so everyone should have warm classrooms to come and learn in. We have an exciting start to the term, with Room 12 & 13 camp, cross country, speech contests, rugby and netball day all coming up soon. Lots of our kids are playing winter sports, e.g. we have 12 football teams playing. They have their own web site.
Kapa haka starts this term, notices will come out this week to enrol. It's open to year 4 and up. And no, Mr Fitz, we are not looking to have even more in it than last year! Seventy was quite enough!
Miss Robb has had two new signs made, to help anyone who has a problem in the playground. They look cool and have in them suggestions from students in our school. They look like this: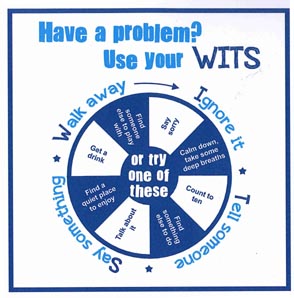 Of course, if we all use our virtues, there shouldn't be very many people with problems. The virtue to start this term is Tolerance.
18 April Tomorrow afternoon we are having a Unity Hour. In the old days we called it reward afternoon, but now it's about celebrating our school working together well for the term. There are lots of different activities that students, and families, can participate in at 2 pm. Hopefully it will be fine!
Next term Room 2 is starting up. Miss Reeves is getting ready to welcome her students. She does already know them well because she's been helping teach them in Room One!
Check out the Holiday Quiz on the Library page. It's in the Kids Lit Quiz section. Prizes! If you think you might like to have a go at getting into the Kids Lit Quiz team, have a go at this quiz.
Here are some cool photos of Room 11's camp too.
16 April The Library page is now underway. Visit it regularly to keep up with the news on Library, Kids Lit Quiz team, etc.
A reminder there is a netball meeting today at 6pm in the staffroom for all parents whose children are going to play netball this year!
14 April Check out these great action photos from the touch day on Wednesday.
11 April A big reminder there is a teacher only day tomorrow. Friday 12 April!! Yesterday we had touch day! It seemed to be a real success with everybody seeming to enjoy it! Thankyou to everybody who co-operated and helped on the day! Also a big thanks to Edgecumbe College for sending refs to help!
I thought it would be nice to interview some one who went to the Room 11 camp at Papamoa Christian Camp! I interveiwed Lilly Du Toit: "One of the funniest parts on camp was doing our skits. Our group did 'Jumbo the Elephant'. One of my highlights was the lava race. We had to get in our teams and make it to the finish line without touching the ground, only using three placemats! Also another fun part was going fishing and catching a shark that bit Jack Sim's finger!" It sounds like Room 11 had a lot of fun!!!
9 April An exciting game is going on in the school at break times at the moment, called Detention! The rules are: there is one person who is in and they have to go around and find the other players who are either running away or hiding! When the person in sees one of the other players he/she shouts "detention!" That person has to go to the base till one of the players frees them!! It is a fun and exciting game! Today heaps of the senior school played detention! One of the funniest parts was when the person in was coming round a corner or something, all the other players would come rushing in a group like a mother duck and its ducklings. They would all scream and yell!
We are designing a Library page for the web site. The link to it is on our menu to the left, or click here for a sneak look. Mrs Cronin, Mrs White and Mrs Petersen are all organising some exciting content to go on it.
5 April Touch day is on Wednesday the 10th of April and refs are needed on the day. A soccer ref is needed for the 13th grade mixed soccer team. Year 5 and 6 and 7 and 8 netball teams need coaches. There is a teacher only day on Friday 12th April, the teachers are going to a learning course in Gisborne. Term 1 ends on Friday the 19th and Term 2 starts Monday the 6th of May.
4 April Welcome back from the Easter break. Room 11 are off to Papamoa on their camp. Today they are going fishing for one of their activities. Fish for tea Mrs Wardell?
Winter sports are being organised. Today soccer team lists were given out for 6th, 8th and 13th grades. The others should be very soon! Check out more details on the Awakeri Football web site.
28 March At 2:30 there is an official library opening! Today we talked to Mrs Cronin, the teacher in charge of the library, about her opinion on the library, she said:" It was an outstanding success. It took long time but I am thrilled! The kids have had a lot of enthusiasm towards the new library! Librarians have something to be proud of while working in the library. My goal was to have more and more kids reading more books and enjoying them and also to have more kids having a passion for books and a love for books!"
Today we also talked to Mrs White the librarian: " I love working in the refurnished library! All the kids have been really lovely and it is great come to school every day and see so many smiling faces! There are lots of new books coming in to the library at the moment and it is great to see how excited everyone is about the new books! My goal is for everyone to find the kind of books they love to read and to be life long readers!"
Te Reo Extension with Whaea Andrea is going really well. We have been doing our pepehas and drawing patterns to represent our whanau.
Year 4 to Year 8 have been doing touch practice.

| | |
| --- | --- |
| | |
| Mr Looney, chairman of the BOT, makes a speech at the opening of the upgraded library. | Mrs Cronin cuts the ribbon to open it, Mrs White the librarian enjoys the moment too. |
26 March Top School was a great success raising over $20,000! Awakeri's cheerleading team came third and was the largest squad! Well done! Otakiri and Whakatane Intermediate School won the cheerleading competition this year! The Top School Champion this year was Galatea!!! The winner this year for the small schools Yr 7 and 8 teams was Galatea! Whakatane Intermediate won the large schools Yr 7 & 8 section. Our year 7 and 8 team came 3rd! For the year 5 and 6 teams Kawerau South came 1st. Our year 5 and 6 team came 2nd.
Here are some opinions on what the Top School Team thought about the day: Sam Cook thought that it was cool being in the team because everyone worked well together. "My favourite thing was the castle because we got wet from the sprinklers!"
Tama Wooldridge thought that the teams were very even and competitive but our team was the best because of our efforts and our team work! Thanks to all our sponsors and the people who made donations and helped on the day! Top School next year is on Sunday 23rd March.
Click here to see some cool photos of the day.
20 March Here are all our Top School sponsors. A huge thank you to them. Please support them.
19 March Only 4 more days till the big day.....TopSchool! Tomorrow 9 swimmers are competing in the Eastern Bay of Plenty swimming sports! Good luck to them! Yesterday the whole school went down to the back of the school to pick up sticks from the huts that were built! We had to clear the field for Top School. Scroll down to see a photo of the huts.
There will be an official opening for the library on the 28th of March!
14 March Wow the Fun Raiser was great, lots of stalls did really well, and we have a new record total!! $2324.90. Thank you very much to everyone who helped out. The best stalls from each room were Sugar Rush $256 (Rm 13), Sweet Tooth $264 (Rm12), My Kitchen Fools $207 (Rm 14). Well done everyone! There was so much learning... maths, talking , listening, trying out new things, advertising... Here are some photos of the day.
13 March Fun raiser tomorrow! YAY!!!!!! Everyone is looking forward to selling and buying from the stalls :D. The younger kids are looking forward to going to all of the stalls (COME TO THE AMAZING SCARY MAZE!!!) and getting enough courage to the Horror House for a lot of thrills and chills, sponging Mr Fitz (aim for the best spot you can find!) and getting lost in the scary maze!
7 March Congratulations to the following people who are going to the Inter- School swimming sports: Ryann Kelly, Michelle Grindley, Isaac Clements, Juliet Findley, Olivia Sheaff, Haylee Schuler, Cambell Julian, Caleb Mckenzie, Jack Young, Gene Brown, Emily Julian, Jenae Brownless, Taryn Forbes, Micheal Jones, Ollie Clements, Emma Paine, Linette Lengkeek, Sharni Goodman, Caroline Paulsen, Keely Forbes, Alex Coventry and Tommy Rosewarne.
The huts at the back of the field have finally been judged! The winners were Ella Jones, Brodie Nathan, Emily Robbie, Amelie Clements, Maci Bateson, Meadow Smith, Taylor Skipps and Sadie Van Beekhuizen! Congrats! Netball forms have been handed out so hand those in to Mrs. Andrews!
6 March Swimming sports on Monday went well. Tawa won the relay! Here are some photos. Don't forget, teacher-parent interviews tomorrow and Friday. School closes at 12.30pm.
Check out Room 14's camp photos too.
1 March Room 14 and Room 10 are coming back from camp today! Hopefully they had awesome fun!! Years 4 to 8 go to swimming sports on Monday in Edgecumbe! Parents are very welcome so come along!! Keep those Top School forms coming in too!!
26 Feb Room 14 headed off to camp this morning so we hope they have good fun! Rooms 9 and 10 are off to camp too, so good luck to them!! Top School forms have been coming in, but we still need more forms to make the day extra successful! So keep the forms coming in! Soccer enrolment forms have gone out so keep those coming in too!! Kids are able to make lucky jars as a donation for top school! Just get a glass jar and fill it with little treats and hand them into the office. They will be given out as prizes at top school! Whakatane Music and Drama school came the other day and told us all about what you will be taught at Mucic and Drama school! Children have been given forms! The Awakeri Top school team have been training hard at lunch times! They are doing well!
25 February Rooms 9, 10 and 14 all head off on camp this week. Rooms 9 & 10 are going to Whakamaru, and Room 14 is going to Katikati.
In the weekend an Awakeri Staff team took part in the Round Lake Taupo relay, with various other Awakeri people involved in teams as well....
| | |
| --- | --- |
| | |
| Sam and Naomi give Fitz his instructions. Fitz was first up, starting at 11 pm, finishing his 14 km walk after 1 am. | Many hours later, the team joins Jane Gordon as she crosses the finish line. The Awakeri shirts are so bright they could be seen in the dark and even be spotted from the air! |
22 February The Awakeri 110 Year Jubilee facebook page is growing
21 Feb Congratulations To those who made it into the Awakeri Top School team! The following people are the ones who made it in: Year 5 and 6 boys: Gene, Kevin ,Tylar, Kaya ,Callum and Cambell! Year 5 and 6 girls: Olivia, Jana, Katie, Nicole, Rhylee, and Luella! Year 7 and 8 Boys: Tama, Tawari, Sam, Jamie, Korben and Jacob. Year 7 and 8 Girls: Chloe, Emily, Jenae, Taryn, Lucille and Felicity! Well done to those who tried out for Top School but did not make it in!!
Soccer enrolment forms were given out today for the Awakeri juniors. More information on the Awakeri FC web site. If you didn't get an enrolment form, see Mr Hawkes or ask at the school office.
20 February The Top School teams have been selected. We will tell you who it is tomorrow.
19 February Room 8 had a great camp last week. Check out some photos.
15 Feb The library deck is looking fantastic. The lost property is out so if your child is missing anything come and have a look please!! Otherwise it goes to charity! The pool is so warm and we are having fun learning to swim. Class camps are coming up and Room 8 are coming back from camp today!! Parent Interviews are coming up so make sure you have received the form from your child. Top School is coming up on the 24 March. We need help to make the day possible. Top School forms are coming home and if you hand them back to the office you go into the draw to win a bar of chocolate. Mattys, Thomas, Tyler, and Campbell did well representing our school in the Onepu Strawberry Bike Jam!Congratulations!
14 Feb The new library is open but the deck is being painted and is still taped off. We are looking forward to being able to go there as classes and freely. There is a lot more space and the seniors have a shelf of books for themselves. There is also a projector instead of the old T.V.
Top School trials are going well too. They did pulling tyres and the playground today. The swimming pool is quite warm/cold at the moment, most kids are enjoying swimming. Room 14 and 13 have to go first thing in the morning... that can be quite cold.
13 Feb Top School trials for the Year 7 and 8 were today. They did the Confidence Course and shuttle runs. Good Luck to those who are trying out for Top School.Room 8 have gone to camp today. Hope they have lots of fun and learn lots. Whaea Andrea is doing well teaching Te Reo around the school, I hear lots of lovely singing. The huts are looking awesome!!! I went down the back of the field the other day and the girls huts are just about as good as the boys huts!!! Girls can do any thing!!!!!
12 Feb Check out the photos from the senior science field trip to Otarawairere on Friday.
At lunch time today people were having trials to try and get into the Top School team this year. Today they were doing the obstacle course and shuttle runs. The trials carry on every day till next week.
Good luck to Room 8, who go off on camp tomorrow.Room 14 are going off to camp in about 2 weeks and Room 9 and Room 10 are going to camp soon. The pool is really warm at the moment and Awakeri School is enjoying swimming!!! Today Room 14 and Room 13 are at tech. Well that is all for today!!!! Ka Kite Ano!!
11 Feb The new house captains were elected this morning. They are:
Tawa: Lara Wills, Emily Julian, Jack Du Toit (leader), Elana Spod.
Rata: Caroline Paulson, Tama Wooldridge, Chrystal Marriner, Felicity Klein Ovink(leader).
Kowhai: Tawari Stanley, Caitlin Heberley, Ruby Murphy, Amelia Howe (leader).
Rimu: Georgia Leonard, Poppy Rika (leader), Shardae Last, Sam Cook.
Congrats to all!
On Labour weekend Awakeri school turns 100! There will be a jubilee on Labour weekend 2013.
7 February The new web site monitors have been selected today. Check out their first work on the Rooms' pages!! Emma Paine and Shardae Last will be the News page reporters.
31 January (This is Katy from last year) The new library is being unveiled on Monday. The Kids Lit teams have had a sneak peek, but the rest of the school will be anxiously waiting for the big reveal. We have an excellent new librarian, this is Margo White and she will be in the library recommending books.
The library is great, it is really big and looks excellent. So everyone is looking forward to it. Watch this space for pics (OK Mr H?)
Bye from Katy.
31 January After a group of large trees at the back of the field were chopped down, lots of the kids at school were interested in building huts with all the left over branches! Mr Fitz made a competition for who could make the best hut. The prize is a crunchie bar. There are big huts that are stable enough for you to even stand on the roof of and some small cosy ones. There's a big group of boys from room 12 and 14 making one big one, and large group of year 3's, 4's and 5's making separate ones.
Today we also had the 12 minute run! It went really well... well it went really well for some people! We were so glad that we got to have a swim straight after! Rooms 12 and 13 had their 12 minute run yesterday and they did a great job as well. Room 11 had their 12 minute run after us and... Kevin Paulsen got 3,000 metres!!! So yeah, some people that are in room 14 have been trying for years to get up to 3,000 metres! Well done Kevin!
29 January School's back! Lots of happily nervous people before school, then lots of hot tired happy people after school! Students are signing up to be house leaders, librarians and we'll be offering web site monitors' jobs too. The individual class pages probably won't be going again till at least next week while we get organised.
23 January Looks like there will be quite a few changes to the classes listed on students' reports last year. Big numbers mean a new class - Room 2A - has been set up in the ITS Room (it's by the caretaker's shed) and most classes have been reorganised to some extent. Lists of the rooms students are in will be posted on a board when the stationery shop is open tomorrow (9 am - 12 noon) and Friday and of course on Tuesday. Apologies to those who have been changed.
Some teachers have moved rooms too. Mrs Wardell will now be teaching in Room 11, while Miss C-T takes over in Room 1, Mrs J Elliot is in Room 9, Mrs Laurent and Mrs Purchase share Room 5 and Mrs Davidson and Mrs Broadhurst share Room 2A.
16 January Happy New Year!!!! Awakeri School is turning 100 later this year. Let's hope everyone is having a great holiday. There's lots of work going on at school - a new wood pellet burner is being installed and hot water heating pipes are being connected to every room in the school, the car park is being repaired, new decks outside the library and rooms 6 & 7 are being built and the library is still being upgraded!
The calendar for this year has been updated. Check it out (from the menu bar on the left).
I hope the year eights have started thinking about their new year at high school!
Old News Do you want to look at the news from last year and before that? It is reeeeaaallllly cool. Click here to find that interesting old news from 2012, 2011, 2010, 2009, 2008, 2007, 2006, 2005, 2004, 2003 or even 2002 and before.