Awakeri School
We are Awakeri School in the Bay of Plenty of New Zealand. We are 12km south-west from Whakatane. This map shows the North Island of New Zealand.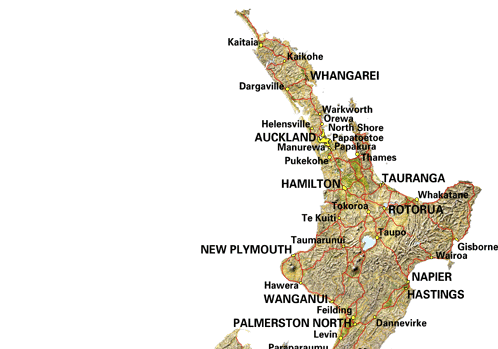 Our school has about 370 students aged from 5 to 13 years. The school started in 1913, so we are over 100 years old!!
Our senior students keep most of this web site up to date for you.
We are in the little community of Awakeri. Awakeri is a farming community also with lots of fruit growers and other horticulture. A lot of people have only heard of the Awakeri Hot Springs but Awakeri is a lot more than that. The village consists of a petrol station, automotive engineering shop, dairy, takeaways, and liquor store. It also has an Events Centre, which has a gymnasium, lounge and a kitchen/ bar.
Awakeri School is in a small community but we still hold many events. Such as, Top School held every year with all the schools in the area competing. Our school also has it own Ag Day, where students bring pet calves, kids and lambs to be judged. They also bring pets of many descriptions, and they enter exhibitis in the indoor show, anything from cooking to flower arranging.
One other thing that not many other schools do, we have a musical production every year. For example we have done: Joseph and the Technicolour Dream Coat, Florence, Peter Pan, Elvis and Windust........Check out the Photo Archives for proof!
We are also keen on kapa haka - Maori performing arts and a lot of our students train for this.
Students have many sports to choose from. The school is strong in soccer (110 out of 360 play soccer). The school also has hockey, netball and cricket teams, but no rugby teams at the moment! We are good at crosscountry running, touch rugby, swimming and triathlons.
We have buses running around the community to get the kids who live around the School. There are bus runs: White Pine Bush, Station Road, Macdonalds Road and Angle/ Putiki. Our senior students are bus monitors. They look after the little kids on the bus.
Over all, our school is really exciting so welcome to our website!
For lots more information about our school, e.g. our Charter, School Fees, Bus Runs, Enrolment Zone etc Click here.