Awakeri School

Here was the News in 2016
16 December 2016 School is all over for another year! Happy holidays everyone! Last night the senior social went well. Check out a few photos here. Today the seniors did their traditional wrestling. Jamie Julian managed to stay undefeated in the year 6 boys. After that was the whole school water fight. Mr Fitz again had the help of 4000 litres and a fire engine! Then it was sad goodbyes and off on holiday. Good luck year eights! Come back and visit!
Check out room 13's page for a farewell song to Miss Reeve. It's even got the guitar chords!
15 December Fancy Dress went really well last night. The dances were cool, trophies were handed out, e.g. Amber got the trophy for biggest contribution to School production, the year eights were farewelled, Mr Fitz named the Principal's Award winners: Lucy Knott, Ella Jones, Ben Olifiers and Tayla Jones. Congratulations!! Finally there was the year eight slideshow and haka. Here are some photos of fancy dress.
Today we are tidying up rooms, then tonight the year 7&8s have their senior social.
Tomorrow we finish with the traditional water fight. Will Mr Fitz cheat like last year?
12 December We had a practice of the Fancy Dress today. It went well. The Glee Club open the night with a cool version of Dynamite, organised by Alex Robbie. Looking forward to seeing everyone on Wednesday night.
7 December Loads of people came to the Junior syndicate picnic today. They had lots of fun and some yummy food!
Check out the very interesting Christmas ideas on the Library page! All the way from Iceland!
Room 14 have a link to some cool Christmas maths puzzles sent to us from Trident High students. Nice!
5 December Today at Lunchtime something amazing happened. We were just playing Two Cone Soccer and the ball came to Campbell Forsyth, he kicked it, first touch, and up it goes, it curls a bit to the left and smashes the cone over. Next Thursday is the Yr7 and Yr8 social. Yr7 have to bring a plate of Party Food and a Large Drink. It also costs $6 to enter and is only open to Awakeri Yr7 and Yr8's. Next Wednesday it's Fancy Dress, and kids are practising their dance routines.
1 December Don't worry if your child comes home and says they have been playing Detention at school. It is a pretty widespread game at the moment, similar to 1 2 3 Home. Hopefully it doesn't mean your child actually is on detention! Also popular at lunchtimes is Master Tag, Two Cone Soccer and Cricket.
26 November There are photos of the year sevens at leadership training last week.
Good luck to teachers trying to get reports written and rooms 6 & 7 & 15 having camps this week.
25 November The Year 7&8 leadership intensives went very well. Here are some photos from the year eights today. There are more coming of the year sevens. A big thank you to the parents who came to help us: Simon Fort, Nikki Cameron, Peter Olifiers & Di Wilson.
23 November Great tips for summer reading on the library page. Help boost your child's reading levels over summer!
Good luck to the middle school athletes as they compete at the interschools today! There are a few photos from the senior interschool athletics added here.
Year 7&8 leadership intensives start tomorrow. The year sevens are getting ready to be the leaders of the school next year. The year eights are doing some fun activities to recognise their contribution this year.
News flash!!!! In from the middle school athletics... Awakeri won the boys relay and came second in the girls relay.
Stand outs:
Jake Laurent - a 1st and two 2nds.
Jamie Julian - two 1sts a 2nd and a 3rd
Joseph Spalding - two 1sts and a 2nd
Layla Rowland & Ella Murphy - 1sts

16 November Earthquakes in the South Island. We feel sorry for all those people with houses wrecked, those cut off from other places. Bad weather too. Even up here we had our 9 & 10 year old athletics postponed, or cancelled. The older age groups did well, with lots of good performances and we cleaned up the 11 year old relay.
Today the president of NZ Football, Deryck Shaw, called in when he was passing, and said he appreciated the strength of football at our school. Very nice of him!
13 November Tomorrow we have 32 senior students going to the interschool athletics in Edgecumbe. Good luck to them. On Tuesday we have a group going to the middle school interschool athletics. Let's hope the weather is fine for them.
After the marae stay was called off we have done a number of activities that we would have done at the marae. We had a series of powhiri to welcome all the different groups of the school. Senior students did the karanga and whaikorero on behalf of their groups. Whaea Andrea did flax weaving with quite a few classes, several classes have done some rakau games.

10 November WE'RE ALL DOOMED!! Donald Trump was elected the 45th president of the United States last night after Hilary Clinton conceded. The result was a massive shock as most people thought Hilary Clinton would win. - Ethan F.
Hopefully Ethan is wrong, and we will survive! - Mr H
10 November Check out the survival stories on the Library page. Awesome stories!
9 November Check out the photos of the Jump Jam teams.
8 November Sadly, the school visit to Wairaka Marae this week has been cancelled, due to a tangi. A tangi always has priority, and this is the first time in 16 years of going to Wairaka Marae that a tangi has occured, apart from our own one when Siri passed away when we were on the marae four years ago. At that time Wairaka Marae was very supportive towards us in our loss. We wish them well and hope to visit again next year.
7 November What were the highlights for you on Saturday: Alex? Tayla? "Walking out onto the stage and everybody cheering! The adrenaline! St Mary's were really polished. They were all in time. The costumes looked like they cost a million dollars. Their movement into lines and out of lines. They were always changing formations.
Waiting for prize giving. We were all hyped, happy and upbeat.... and roasting. The lights were so hot. We just wanted to keep jumping around and talking lots and lots...."
Some of the team certificates the groups got were: merit and excellence in technical execution, sportsmanship, creativity, costuming, motivation & communication; verbal & visual communication and visual cueing (leaders).
6 November Excellent news from the Jump Jam North Island Regionals yesterday. Our leaders team (Tayla, Ella and Brodie) came 2nd and the boys crew came 3rd. There were also team awards to the girls yr 7&8 team and the year 3 & 4 team. Congratulations!!!!
Will Mr Fitzgerald, with his Irish ancestry, be claiming a great win in the rugby today?!
4 November Athletics and Sprints days went really well. We had 10 new records which is really good. Sophie Peat got a new Shot Put record with an amazing throw of 6.70m. Katie Mahy got 2 new records Shot Put and Discus. She threw 9.70m in Shot Put and threw 28.8m in Discus. Rhianna Rowe beat the 8 year old girls 200m girls record with a stunning time of 35.78 seconds. Sophie Growden beat the 9 year old girls 200m ecord with a time of 35.19 seconds. Rhianna Rowe got another record, she beat the 8 year old girls 100m record with a time of 15.91 seconds. Bent Peat beat the 8 year old Boys 100m record with a time of 15.54 seconds. Sophie Growden also beat the 9 year old girls 100m record, with a time of 15.40 seconds. Dayyan Van Veen beat the 10 year old boys 100m record with a time of 14.25 seconds. And the last record, Ben McBeth beat the 13 year old boys 100m recored with a very quick time of 13.12 seconds. Kowhai won the house relay as well. It was an amazing day and Well Done to the children for their efforts. Check out some photos of athletics sports here.
This afternoon we had brilliant performances from our 5 jump jam crews, before their North Island finals tomorrow. They were amazing and should do very well tomorrow in Tauranga. Well done to the teams and their coaches.
1 November Everyone is excited for our Athletics tomorrow. We open with the 1500m and then everyone splits into their age groups to do sports like Vortex, Discus, Shot Put and Long Jump. On Thursday we have Sprints which is a very exciting event to watch. We have races like 800m, 400m, 200m, 100m and shorter races for the Juniors.
31 October Well done Amber Fort who took out the 12 year girls high jump with 1.20 metres. Hopefully the weather will be kind for our sports this week.
A reminder that children need to bring either $2 or $8 to school for the marae visits next week, depending on whether they are staying the night (Rooms 13, 14, 15) or not.
28 October Congratulations to Cody Hall, Katie Mahy, Codi Laurent, Caden Laurent and Tayla Jones who won their high jump age groups. Brodie Nathan is leading the 12 year old girls so far, but more people need to have turns on Monday. They were away at music school practice!
27 October Although most athletics is next week, the senior high jump finals are on tomorrow at 11.10am, starting with the 11 year olds, then 12 year olds, then, if time, 13 year olds.
Want some scary reading? Some people love it! All you need to know on the Library page.
16 October Here are a few photos of Ag Day. It was a good day. Thanks to all our helpers! Now a lot of kids can go to Otakiri tomorrow for Group Day. Good luck!
14 October Ag Day has dawned fine. So far, so good! The indoor show looks very colourful, let's hope the kids, lambs, calves, dogs and pets all behave themselves!
If the news hasn't got to you yet, Mr Fynn has left to take up his old job in Saudi Arabia. Room 15 are now being taught by Mrs Cass for the rest of the year. Many thanks to Tony for doing a great job in Room 15 and good luck to you and Jayne back in the Middle East.
12 October Welcome back for the final term! This term is always busy and we have Ag Day on Friday. Other events this term include: Fancy Dress, the marae stay, Yr 7 and 8 intensive, the water fight and lots of other great things to look forward to.
Check out the Library page for Ag Day related reading and wet weather activities (in case it keeps on raining!). Murphy's Law might come into play here.
23 September Here are some photos of the middle school production Around The World. Rooms 6, 7, 8 and 9 showed the seniors that they have lots of talent coming up for their turn in production as well.
22 September More cool photos of the production have been added to our Conundrum page. These are from Wednesday's matinee show. Break a leg for closing night tonight!
This afternoon Rooms 6, 7, 8 and 9 put on a very cool miniproduction. The Awakeri Airlines plane took us around the world in a story of song and dance. We saw African animals, penguins, American dancing etc etc. The travellers got their passports stamped. The plane took off and landed safely each time. There were some very long flights. A big crowd of parents turned out to watch. The rest of the school enjoyed the show and joined in with some of the singing! There may be some photos of the miniproduction on here tomorrow.
21 September Opening night and today's matinee of Conundrum went very well. Only one show to go!!
This week could be the last days at school for Mr Fynn as he and Jayne head back to Saudi Arabia. Tony has done a great job teaching in Room 15 and he will be sorely missed by everyone. Tony painted the excellent backdrop for the production if you want to look at the standard he sets for himself!
Margo has a really good rundown on the Kids Lit Quiz on the library page in her last message for the term. Check it out.
The Awakeri soccer break up is Saturday, 10am. Children have been given invitations to it.
20 September Break a leg everyone! Not literally, Tiaki! Opening night tonight. Not many tickets left. BJM was a big surprise yesterday, who is it? What a costume! People enjoyed pieing other people. Sometimes they weren't even meant to, eh Miss Reeve!
Here are some cool photos from dress rehearsal yesterday, thanks Kate Robbie.
15 September All you need to know about next week, especially to do with production is in today's newsletter, or go to the Principal's page.
14 September Dress rehearsal today was pretty good. People looked colourful in their costumes. The kapa haka were strong. Here are some pics of Book Character day yesterday.
12 September This week is pretty crazy. We have a props rehearsal today for production. Haylee and Ryann are selling Conundrum tickets before school.
Tuesday: Some room 14 people are going to tech at 9am, because school is closing at lunchtime. Some year eights are going to the Whakatane High open day (remember to bring a note if you're going!). People are wearing costumes because it's book character day!
Wednesday: Dress rehearsal! Also Trident open day at 9.20am. Be back for rehearsal as soon as you can!
Thursday: Props rehearsal at 11am.
Friday: We are taking all our gear into the Little Theatre to get set up over the weekend. No kapa haka this Friday!
Last Friday we had a cool afternoon. Our Olympics ambassadors, with the guidance of Mr Sheather had organised an Awakeri Olympics. We had ten countries, a march past, with flags, anthems, greetings in the languages. Then Ben White and Alex Robbie sang the national anthem. Lucy Knott read the Olympic oath. Tayla Jones ran in with the Olympic flame, which luckily was not blown out by the strong winds! Even more lucky was not getting her hair caught alight by the flames! Then our youngest pupil Joe Ferguson released helium balloons and we were into the games. The ambassadors had organised a rotation of games for older kids and one for younger. They were really good. Look at some photos of our Olympics.
Today the ambassadors of the winning countries got medals at assembly. Sharaya Rangiaho got the gold medal for Spain for the younger kids, and Campbell Forsyth got the gold medal for France for the older kids.
7 September Love Roald Dahl? It is almost his 100th birthday (that's Tuesday). Check out the cool stuff on the Library page about him. He is one of the best ever writers ever ever ever.
6 September Tickets for the Conundrum production are going on sale at the end of this week. $10 adults, $5 children. Evening shows on 20th and 22 September at the Little Theatre.
The Awakeri soccer break up is on Saturday 24 September, from 10am. Watch out for an invitation newsletter soon.
The Ag Day Indoor programme is now up to date for this year.
5 September Our cross country team did very well at the AIMS Games yesterday in Tauranga. Codi Laurent was our best place with 24th, Caden Laurent and Tayla Jones also got in the 50s in fields of over 150 of the best runners in New Zealand. All the year eights beat their times from last year. Cambell Julian is also in quite a few swimming events in the next two days. Good luck!
Today our Olympic country ambassadors are having meetings with their fellow countrymen. We also have our older girl footballers having time out of rehearsals for a bit of football. Lucky them!
1 September Kapa Haka intensive was yesterday. The group of 62 did really well in their concert and the large audience enjoyed it. Boy Leaders Ben Olifiers and Tawharangi Davis did amazingly, as well as Girl Leaders Tayla Jones and Taylor Skipps. Ex Kapa Haka tutor Virgil Hills was at the show and enjoyed it very much. She congratulated the group on their pronunciation. Here are a few photos of kapa haka, more to come.
All of the Jump Jam Groups got through to the North Island champs and are going to perform at Tauranga in November. Our 5 groups were The Boys, The Leaders, Yr 7/8 Girls, Juniors and Yr 5/6 Girls. The teachers were very happy and didn't expect every group to get into the finals. Well Done Jump Jammers!!!
28 August Congratulations to Matthew Reihana-Asquith who won $120 in prizes at the BOP Science Fair. His was the Best Food Related entry and was highly commended. Matthew's investigation was on whether providing information with sugary foods had any effect on their consumption. He did lots of cooking yummy slices, then selling them. He then surveyed customers on whether having information about ingredients, photos of diabetic consequences etc had an impact on them buying and eating the slice. It seems there was little effect! People eat what they want!
Kapa haka intensive Monday and Wednesday. All welcome to a dress rehearsal on Wednesday at 6pm in the Events Centre lounge.
Girls football mini tournament. Awakeri School's girl football players are invited to a mini tournament on Monday 5th September at Awakeri, run by Juan Propato. Bring your boots.
From 12 noon to 12.40: Girls in 11th and 13th grade teams.
From 12.45 to 1.30pm: Girls in 8th and 9th grade teams.

26 August Production practices are well underway, and so far the singing has been pretty good. The read-through went really well, and lots of people were able to deliver their lines without looking at the script.
25 August Our eleven students acquitted themselves very well at the BOP Science Fair, being interviewed well by the judges. The standard of our work was well up there with the other schools, from as far away as Taupo and Tauranga. Prize giving is tomorrow.
Whakatane High Open Day
A change to the notice that was given out to all year eights: The time for the WHS Open Day is now 10.55am till 12.15 on 13 September.
Please note!! (Due to Stop Work meeting)
24 August Poetry Day on Friday. Check out the ideas on the Library page.
18 August Room 2 is now online on our website.
Year eights are being given a notice with information about open days, enrolments etc at the local high schools. All three schools have a lot to offer. See which one would suit your child the best!
We have 11 entries in the BOP science fair. It is at the Rotorua Convention Centre next Thursday and Friday. Public viewing from 1pm on Thursday and up till the prize giving which is 1pm on the Friday. It will be interesting to see how our EBOP standard measures up over there. Good luck to Matthew Reihana, Liam White, Ryan Mapu, Cambell Julian, Charlotte Paulsen, Lucy Knott, Amber Fort, Olivia Sheaff, Tayla Jones, Corban Toone, and Kieran Butler!
Yesterday the senior syndicate enjoyed an excellent Maths Celebration after noon, put together by our Maths extension students with Mr Sheather. In keeping with the Olympics theme, the students created sports related activities which also involved Maths problem solving. The rest of the students were put in teams and rotated around the activities. It was great! Here are some photos.
12 August Hockey and Soccer day has been cancelled and hopefully we can have a sports afternoon for the senior children. Olympics News: Hamish Bond and Eric Murray won our first Gold of the 2016 Rio Olympics in the Rowing event this morning. Lukka Jones also won a medal which was Silver in the Canoe Slalom.
10 August Check out the award winning books on the Library page. A reminder that class photos are on tomorrow. Come to school looking handsome! We have got our top science fair entries into the BOP Fair, which is on 25th and 26th August at Rotorua Convention Centre.
9 August Today some hot air balloons were launched. Mr Hawkes and Mr Sheather helped to launch them by blowing hot air into them. A few balloons floated quite well but the majority crashed and burst into flames. A lot of people came to watch the spectacle as it was very exciting. Check out the photos on Room 13's page. In other news: The NZ womens' sevens team won a silver medal this morning. They lost to Australia 24-17 in the final.
7 August Science fair went very well. The judges from Fonterra, Oji Fibre Solutions and Whakatane Mill were very impressed. The winners were: Technology -Liam White; Science - Matthew Reihana-Asquith. Both entries were amazing. Congratulations too to place getters: Olivia Sheaff, Cambell Julian, Tayla Jones and Kieran Butler. All the results and some photos will be on our science fair page too in a couple of days.
In disappointing news, the EBOP Science Fair that was meant to be this week has been cancelled for lack of entries. Only five schools (including Awakeri of course) had entered. We are investigating whether we can get entries into the BOP science fair.
3 August Everyone has handed their science fair boards in and there are some really amazing ones! Judging begins tomorrow. Today the deputy principal of Edgecumbe College came and talked to all the year 8s who were eligible to go there. He gave everyone their prospectus and told people why they should go to Edgecumbe. It sounded great.
2 August Sadly Maths Celebration was postponed because of the rain! Science Fair this week. Entries are due in this afternoon or tomorrow before school. Judging day is Thursday. We have judges from Fonterra, Oji Fibre Solutions and the Whakatane Mill. There is public viewing in the Events Centre lounge Thursday 5- 6.30pm and Friday from 8.15 - 9 am. The prize giving is Friday at 12 noon. All welcome. Entries need to be collected after prize giving.
28 July Senior School Maths Celebration tomorrow, from interval to lunchtime (weather permitting). The Maths extension group are making sure their activities are all ready to go. It is usually lots of fun, plus learning of course!
27 July Sick of the wet grey weather? Margo, our librarian, has put together a great list of Snuggle Books. Books to snuggle up in the warm and dry and read until the sun comes out again! Check them out on the library page.
25 July Welcome back! Hopefully everyone has lots of energy after the holidays because this term is going to be very busy with Science Fair, Production, Soccer/Hockey Day and the Olympics. The builders have finally finished and everyone was very impressed with the shiny new roofs.
14 July The builders have nearly finished working on the alterations to B Block (rooms 8 - 11) which was mainly reroofing, some new ceilings and covered areas. They are now getting ready to reroof the admin block. Their tarpaulins luckily stayed in place in the gales last night!
A lot of seniors are probably busy doing their science fair projects, which are due in in the second week of next term. Kia kaha!
7 July Mr Fynn was attacked by a police dog! Michael S' dad is a dog handler and he came to school and talked about police dogs. He gave a demonstration and his dog Jacko got to bite Mr Fynn's arm. Mr Fynn was wearing a protective arm guard, but he still got bruises!
Today we also had a visit from the Rangitaiki Tai Mitchell team, who are heading off to their rugby tournament tomorrow. Quite a few Awakeri kids are in the squad this year. Ethan Forbes spoke to everyone about the team and tournament, then the team backed him up with their haka. It was strong! Vinnie Te Maipi, Liam White, Keiran Butler and Regan Henderson are also in the team. Good luck Rangitaiki!
6 July Great excitement this morning. The speaking parts for the school production were given out! They all got scripts to learn over the holidays. Congratulations if you got a part! Just before lunch the teachers played the winning football teams. The teachers won 2 -1. It was a very entertaining game. After the teachers scored the first goal, some kids on the sideline changed who they were supporting and cheered for the teachers! Ref Tayla Jones kept everyone in line!
Also today Mr J's class launched some water rockets. One went amazingly high. One parachuted back down and ended up in a tree!
Check out the Library page for cool holiday ideas!
5 July Middle School had a fun afternoon in the Trident High School Olympics. We had some ex Awakeri Students including Tawari Stanley and Finn Spod from the Sports Leadership class come to organise games that they had designed. Our students had a great time. Thank You Trident for coming, we had a great time.
| | |
| --- | --- |
| | |
| Jemma Snow about to throw a dodgeball | Ani Doherty dodging a dodgeball |
| | |
| Ex Student Ngaio Wilson helped organise this game. | Ex Student Finn Spod had to modify his game to make it work. |
4 July Well done to the 100 students who auditioned today for a role in the production. Especially well done to those who were well prepared and knew their lines and to those who sang. The parts should be given out in the next couple of days. Orchestra auditions tomorrow.
Any parent / family member out there who can play piano / keyboard and would like to do so for us in the production, please contact Barrie Hawkes!
Real Madrid beat Man City in the final of Awakeri School's Champions League at lunchtime. Now the two teams combine to play the teachers on Wednesday at 12.10pm! Caden Laurent scored with a great volley for a 1 - 0 win.
30 June Well done to our runners at the BOP cross country champs: There was some very tough competition! Our best result was Codi Laurent, who came 2nd in the 12 year boys. Codi actually ran nearly two minutes faster than his winning time at the EBOP champs last week! Wow! Caden Laurent came 4th (12 yr boys), Dayyan Van Veen 5th (9 yr boys), Elijah Wetting-Davidson 7th (10 yr boys) & Joseph Bateson 10th (9 yr boys). Lots of other people came in the10s, 20s and 30s.
It has been great to see the school's Jump Jam teams leading jump jam for the whole school this week. The boys team were very enthusiastic this morning. All the teams are looking very sharp.
If there are any people out there who would like to be involved in judging our school's science and technology fair, early next term (4 August) please contact Barrie Hawkes. People who know about science or technology processes preferred!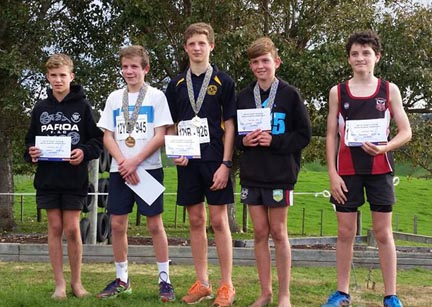 Caden Laurent on the left, Codi Laurent 2nd from right.
28 June Good luck to our runners at the BOP cross country champs today. Reports are also being given out today. Good luck with that too! Also, scripts for those who wanted to audition for our production are being given out. Students should learn the script, ready to play either character at the auditions on Monday. They can also choose to sing a song of their own choice if they want.
Year 7 & 8 students should already be working hard at their science fair entries, or may be they are doing it in the holidays. Science fair display boards are at the office for $5. No IOUs.
26 June Congratulations to Jade Rika, whose Be Ignited Studio group Switch Dance Crew won the Kids Division at the Battlegrounds Hip Hop Competition on Saturday. This means that she will have the opportunity to represent New Zealand in September. As a member, Jade will aim to help raise $14,000 for the group in two months! She would appreciate any support.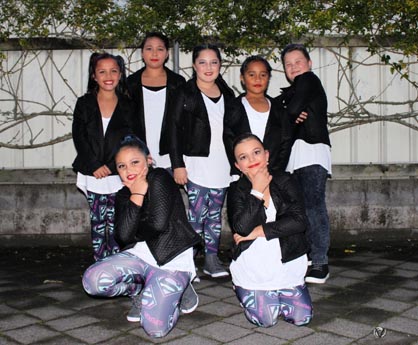 Switch Dance Crew.
22 June Like to be scared??! Like horror stories??! Go to the Library page.
21 June Some great placings at the EBOP cross country today. Codi Laurent beat cousin Caden to win their race and Tayla Jones came second, so they are wearing cool medals around their necks. Now for the BOP cross country next Tuesday!!
Our netball page is being kept up to date with results.
20 June Good luck to our 33 runners going to the EBOP cross country champs tomorrow. These runners have got in the top ten at our school race, then the top ten at the interschool race. Onwards and upwards!
The science fair display boards are now available for $5 at the school office, to students in year 7 & 8 doing science or technology fair.
15 June Congratulations to the Speech finalists last night. Everyone agreed the standard was very high! Lucy Knott came 1st, Matthew Reihana-Asquith was 2nd and Ben White came 3rd. Here are some cool photos.
10 June Wow the speech semifinals were great. Congratulations to the 17 people who got in. The judges had a hard job selecting these orators for the speech finals this Tuesday night: Cambell Julian, Ben White, Alex Robbie, Ayla Rowe, Lucy Knott, Matthew Reihana-Asquith, Olivia Sheaff & Tayla Jones. You are all invited to hear them on Tuesday, starts 7pm in the library.
9 June Great results at the Interschool cross country yesterday. We had four individual race winners (Kaia Skipps, Regan Henderson, Tayla Jones & Caden Laurent) and five teams race winners. Go to our photo page for some cool photos plus all the place getters.
Also, we need those STRONG characters in our books, both male and female. Go to the Library page for Margo's insight about this.
Congratulations to Whakatane High School on their show Rock Of Ages. Our senior students loved it today. The dancing was a real highlight, some great singing and 80s music too. Well done ex-pupils Emily Julian, Georgia Leonard-Cobb on your lead roles. Terrific! Tickets are on sale opening this Saturday night.
To book your teacher/parent midyear interview go to https://www.schoolinterviews.co.nz, the event code is v9n6s
6 June Happy Queen's Birthday!! There is lots on this week. On Wednesday we have 14 teams going to the interschool cross country at Onepu. Let's hope the new venue works out well. Be careful crossing that main road! On Thursday rooms 12, 13, 14, 15 are going to see a dress rehearsal of Whakatane High School's Rock Of Ages show. It should be great. Students need to have brought $4 to school to go. On Friday the Year 7 and 8s have the semifinals of their speech contest. It is not open to the public, but the finals are. All welcome to the speech finals on Tuesday 14 June at 7pm at school.
In case you haven't heard... Mrs Wardell is now Mrs Harvey. Helen and Quentin got married in the holidays. Belated congratulations!
2 June Click here to see some cool photos of cross country and the place getters for each age group. Interschool cross country is Wednesday, at a new venue, Onepu.
29 May Cross Country was amazing! Everyone ran really fast and the houses were a sea of colour. Loads of parents came to watch it, and their cheering made the whole school 20 decibels louder. Well done to everyone who got 1st, 2nd and 3rd. This week work begins on Mr Sheathers' classroom roof, and there will be fences around it.
26 May Check out the library page. Bad Books!
The Singapore group would like to say thank you for supporting their sausage sizzle yesterday. Thank you to all the parents who did the cooking. The group raised about $600 towards their trip next year. They will also be doing fundraising at the soccer / hockey day too, and outside Bunnings.
We now have a netball page on the web site, with results on it. There is a link on the menu to the left. If it's not up to date blame Lucy and Aleisha!
24 May The school cross country has been postponed from tomorrow until Friday 1.30pm, because of the bad weather forecast. The sausage sizzle is still on tomorrow, with lunch at the usual time.
22 May Congratulations to our Kids Lit Quiz team who came 3rd in the national finals in Wellington yesterday! They had a slender lead until the last round on Legendary Heroes. Wellesley College came first with Southwell second. Well done coaches Margo White and Peter Fitz and team Ben White, Alex Robbie, Tayla Jones and Jake Webb.
19 May We had a really good interschool rugby / netball day on Monday. Here are some very cool photos of the rugby at Matata, including of two ex-pupils.
18 May Rooms 12 and 10 headed off to camp at Tui Ridge yesterday. Good luck!
13 May The Champions League football competition is up and running, with riveting results! at lunchtime today, Arsenal held Manchester City to a goalless draw, Barcelona beat Bayern 3-1, Benfica beat Manchester United 4-0 and PSG drew with Chelsea 0-0. This morning The KLQ A-team practiced with buzzers in the staffroom.
12 May Congratulations to our Kids Lit A Team!!! Last night they won the BOP regionals and are now off to the NZ final next Saturday in Wellington. They had a good battle with Taupo Intermediate's A team through the ten rounds but ended up winning by 4 and a half points, with Mt Maunganui Intermediate A team 3rd. Ben White, Alex Robbie, Tayla Jones and Jake Webb were coached by Margo White and Peter Fitzgerald. The B team (Riley McDonald, Cate Robertson, Kieran Butler and Sophie Peat) also did well.
There were 26 teams at the BOP contest. There were some interesting categories: Aliases, Bears, Beverages, Hats, etc. Our A team doubled points on the Aliases category and scored 9 out of 10, so they scored 18 for that round. Our B team doubled on Horses. Click here for some photos.
10 May This week Kapa Haka starts up on Friday 13. The next two weeks Kapa Haka will not be in the Awakeri Events Centre because of Flooring. There will be no badminton as well.
5 May Sick of bad habits, manners, grammar, you name it?! Go to the Library page for some fixes!
3 May Kapa haka enrolment notices are being given out tomorrow. It is open to year 4s and up. Practices are Friday after school. Names have also just been taken for the interschool rugby netball day. We have a few girls playing rugby, which is good to see.
2 May Welcome Back everyone!! A special congratulations to Ms Wardell who got married in the holidays, she is now Mrs Harvey!! All kids are back and are ready to learn. We have Cross Country coming up in 4 weeks time so classes will be practising for that. Rugby and Netball day is in week 3 as well. Rooms 12 and 10 are going to Tui Ridge for their camp soon!!
15 April The fundraiser saw many kids attracted to the food groups. The Rm 14 groups were Food, Flying Fish, Scare House, Gutterboard challenge, Candy Crush and Mix Up Madness. Rm 13's groups were Jump Out of The Window, Funky Sweetz, Fear Factor, Nerf Shooting, Hippie House and Throw sponges at Mr. Fitz. It was a big sucsess. Today Ethan's team played THE MIGHTY TEACHERS and the Teachers won by 6 runs!!
14 April A big thank you to everyone who supported Rooms 13 & 14's Fun Raiser at lunchtime today. The rooms made $1900 towards their camps.
Great to see an Awakeri ex-pupil on TV3's Story last night. Sytse Tacoma, who now lives in Blenheim, has built himself an electric motorbike that can reach 100 km/hr in 4 seconds! It drag raced against a Harley Davidson and another large bike and beat them comfortably! You can see it on TV3 On Demand.
12 April Here are a few cool photos of the touch day last week.
8 April Yesterday was Touch Day! Well done to everyone who played and refereed. We had some former students from Whalatane High School referee, and they did really well. At lunchtime the auditions were held for the Jump Jam team. Everybody danced really hard, and the coaches will have a hard time deciding the teams. Only one week of Term One left!
Check out the Library page for notes about exciting holiday opportunities.
24 March Yesterday we had Constable Maree come to talk to us about Internet Safety. Now everyone in the senior Syndicate is safe online. She reminded us about keeping our privacy settings and identity safe. Today the student council have their first meeting in Room 2 with Miss Manderson and Miss Hardy, so hopefully that goes well.
21 March Top School was a big success yesterday. Congratulations to Kawerau South School who won the title again (the 6th time out of the 31 years it has been running!). They won section C, with Whakatane Intermediate Year 7s and Te Teko winning their sections. Awakeri School won the cheerleading competition in a close contest. Lots of people worked hard for the school, making things like the garage sale, the hangi, the gala games, the food stalls, etc run well. Novelties this year included car smashing and donkey rides. Check out Kate's cool photos of the day.
18 March Check out the Top School and Reading For Fun advice on the library page. Great work Margo!
Everyone is getting ready for the big day on Sunday. The fields are being set up for the events, the food stalls are getting ready, the garage sale is getting sorted, raffles are running, judging sheets are being prepared.... It's all a little bit crazy! Check out the firms who sponsor us so willingly here. A big thank you to them!
15 March Our Top School team has been training hard! Will they be able to defend their title? It will be very tough, with 29 other schools trying to win. Mr Holland from Te Teko says that his school will win! The cheerleaders have been training hard too. Good luck girls and boys!
Our Top School team has just been named:
Boys: Caden Laurent, Cody Hall, Cambell Julian, Codi Laurent, Campbell Forsyth, reserve Troy Wilson.
Girls: Tayla Jones, Ayla Rowe, Amber Fort, Katie Growden, Alex Robbie, reserve Brodie Nathan.
10 March Our swimmers did very well at the interschool sports yesterday, with both Awakeri teams winning the relays. Individual first place getters were: Sam Smith, Joseph Bateson, Jamie Julian (3) and Cambell Julian (4). Others to get placings in finals were: Ani Doherty, Layla Rowland, Sophie Peat, Ollie Fort, Katie Mahy, Kalib Schuler, Charlotte Paulsen, Ryann Kelly and Matthew Reihana-Asquith. Congratulations!
Room 13's camp at Waitomo has a cool page of photos.
8 March On Thursday and Friday this week, we will be holding our first parent-teacher interviews. School will finish at 1.40 on both these days and interviews will run from 1.30 to 8pm on the Thursday and 1.30 to 5pm on the Friday. Children are welcome to attend and take part in all or part of the interview.
There is an error on the Awakeri Football Club notice that many children got. Because of interviews on Friday, the enrolment day is now Monday 14 March, from 3pm till 4.30. However, children can just be enrolled directly from the soccer club website (opens in new window).

6 March A reminder that tomorrow (Monday) is teacher training day. No school for students. Rooms 13 and 9 will have to wait till Tuesday to share memories of their successful and drama filled camps!
3 March Room 8 are back from their camp, tired, happy and a bit damp. Here are some photos.
2 March There are some exciting new books in the library. Have a look at them!!!
1 March It's the camp season! Room 14 had their camp at Aongatete Lodge last week, they were lucky to get blazing sunshine. This week: Room 8 are at the Lions Hut, Room 13 are at Waitomo, Room 9 are going to Matakana Island tomorrow, but sadly Room 15 have had to call off their camp because of concerns about the road and the rain.
Check out room 14's camp photos.
21 February Swimming Sports tomorrow!
18 February The Library page has some excellent tips on reading aloud to your child and why it is so important. Plus links to useful sites. Want to help your kid's reading? Don't miss it!!
Reminders:
On Monday 7th March the school will be closed for instruction as staff attend a training session.

17 February Cricket! Cricket! Cricket! Our school's cricket competition got underway on the 12th and Tayla Jones's team played Tiaki Hori's team and the winners were Tiaki's team. On Monday Ethan Forbes's team played Tayla's Team and Ethan's team won!! There is also Caden Laurent's team who are yet to play a game.
Room 14 are heading away to Katikati for their camp next week. We also have lots of other camps coming up too.
15 February News flash! Room 8's camp at the Lions Hut has been postponed because of the poor weather forecast for later in the week. The students have the new details.
On Friday was the big announcement of house captains: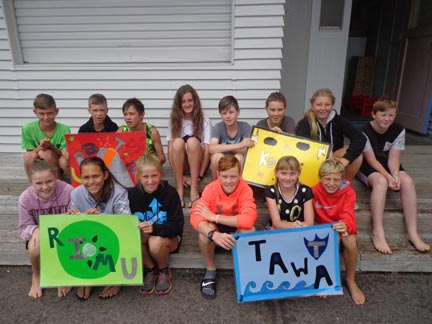 Rata: Codi Laurent, Caden Laurent, Campbell Forsyth, Amber Fort.
Kowhai: Liam White, Ben White, Aleisha Boyce, Ethan Cavey.
Rimu: Ella Jones, Brodie Nathan, Tayla Jones, Isaac Clements (absent).
Tawa: Cambell Julian, Ayla Rowe, Cody Hall, Troy Wilson (absent).
Congratulations! Also, today the Top School squad was announced: Cody Hall, Troy Wilson, Cambell Julian, Codi Laurent, Caden Laurent, Campbell Forsyth, Ayla Rowe, Amber Fort, Katie Growden, Brodie Nathan, Tayla Jones, Alex Robbie. Congratulations!!
11 February Today the web site monitors were selected.... Sharaya Rangiaho is Room1's; Savanah Stewart Room 3's; Ben White has room 4; Ethan Forbes room 5; Kieran Butler room 6; Isaac Clements room 7; Mia Sutton and Brodie Bishop room 8; Elijah Wetting-Davidson & Joshua Brown room 9; Jamie Julian room 10; Kaylia Best room 11; Shaun Snow room 12; Kalib Schuler & Ayla Rowe room 13; Ryann Kelly room 14 & Jake Webb room 15. Also Ben and Ethan will be the news reporters to keep this page up to date.
Now we eagerly await the house election results and the Top School trial results. Time to bite some finger nails!
9 February There is lots happening at the moment... people are applying to be web site monitors, trying to get into the Top School team, trying out to be cheerleaders, trying to be elected as house leaders, classes are getting ready for camps (Room 8's is next week!), Room 14 is at tech at Edgecumbe College, etc. See you all at the barbecue tomorrow night!
4 February Welcome back everyone! It is great to see lots of keen happy students, most people are well organised with stationery etc. There is a good chance to meet the teachers and BOT next Wednesday. Come to the barbecue, play some games if you want and meet everyone. Our first library column is on the web site for the year. Well done Mrs White!
28 January The teachers are almost ready to welcome their new students. Welcome to Miss Manderson, teaching in room 12 this year. Mrs Howard is back in room 8. Miss Duncan has moved to room 10. The class lists have been keenly looked at, so students can check which room they are in.
Rooms' pages on this web site won't be updated till we have some website monitors selected and trained. We'll let you know when.
27 January Be aware there are new school hours this year. School starts now at 8.50am, so students need to be at school at 8.45am. The first block now goes for two hours with interval at 10.50. Lunchtime starts at 12.40 and ends at 1.35pm, with school finishing at the slightly later time of 3.05pm. The stationery shop is open from tomorrow.
18 January 2016 Happy New Year! Here are some cool photos from last year's Fancy Dress. Reminders that school opens Feb 2. Stationery shop open mornings of Jan 28 & 29. Our calendar is now fairly up to date for 2016. Remember, if your child is not returning, please let us know so classes can be finalised.
Good luck to our year eights as they get themselves sorted for high school. They are sure to follow in the footsteps of the 65 or more ex-pupils who received awards at their various high schools last year.
Old News Do you want to look at the news from last year and before that? It is reeeeaaallllly cool. Click here to find that interesting old news from 2015, 2014, 2013, 2012, 2011, 2010, 2009, 2008, 2007, 2006, 2005, 2004, 2003 or even 2002 and before.