Awakeri School
Room 14

Who are we?
We aren't only a class, we are the best class ever! There are 28 people in our class, there are 15 girls and 13 boys. We are a mix of year 7s and year 8s. All of us are friends we don't exclude and we look after people if they're sad.
Class news
12 June Good luck to our speackers tonight in the school speech finals: Jamie, Fearghus, Shivaun and Mikayla J.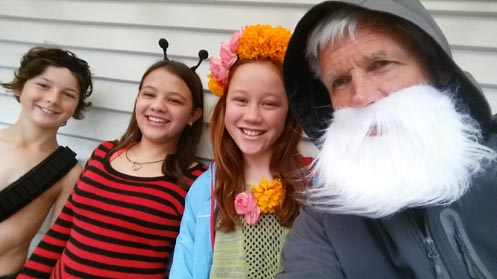 Dressed up for book character day: Isak (army character), Asha (ladybird), Phoebe (Papatuanuku), Mr H (Gandalf).
23 May Congratulations to..... Asha and Addi, who did really well in the Kids Lit BOP finals last night. Also to our first speech makers in class today. They set a very high standard for everyone else. Megan was hilarious, finding her cue cards halfway through her speech and just dropping that into her speech.
Yesterday we had a great session with St John's on first aid. Max taught us what to do in an emergency. We practised doing CPR, ringing emergency services, bandaging. He also told us some amazing and sad stories about his experiences as a paramedic.
17 May Our letters are all ready to go to France. We are just waiting for one other room to get finished, so we can send them all.
We have been learning Spanish since the holidays. We can now use greetings, say our names and the alphabet, use numbers and farewells.
E.g. Buenos dias señorita. ¿Como estas?
Muy bien gracias. ¿Y tu?
¡Feliz!
¿Como te llamas?
Me llamo Asha.
¿Tu numero de telefono por favor?
Mi numero de telefono es 0800838383.
¡No! ¡Adios!
¡Hasta luego!
2 May We're back from a long 2 week holiday and can't wait to really get into term 2! This is an eventful term containing activities such as: speeches, start of the science fair and netball and rugby day. Parents better get their children ready for the big term. Our class has also began to talk to our penpals all the way from France. They go to College Le Calloud in La Tour Du Pin.
10 April We have completed our amazing fantasy pepeha, scroll down to Students Work down the page!
6 April We did some awesome writing this week with Mrs Petersen, based on the book If I Was a Banana by Alexandra Tylee. Scroll down to Students' Work to have a read. Quite a few students read their work at assembly today.
We did really well at the Fun Raiser last week. our class made over $800.
29 March A couple of painful photos have been added to our camp photo page. At lunch time today is the Fun(d) Raiser. Everyone is organised, we hope. Lots of people have brought money to spend, so it should go well. Our groups are: Sherbet Queenz, Wet Mr Fitz, The Very Scary House, Lolly Lovers, Games Kiosk and Sweet Tooth. Room 13 also have some stalls.
22 March Check out the photos from our awesome camp last week.
8 March Next week we are going to camp at Waihi Christian camp, we've had 3 newsletters go home and we're getting in our money. We have also been learning our Pepeha. We always have a word of the day up so come have a look to learn something new! We've started a book called 'The Fat Man' set in the old days of the Depression.
1 March Well done everyone. Room 14 have all passed their test of reciting the first two verses our Te Po poem, by Katarina Mataira.
The Space study is due in tomorrow, so a lot of people have been rushing around getting their activities finished off.
We now have enough adults for our camp in 12 days time, thank you very much to those parents who have volunteered. We are looking forward to kayaking, hydrosliding into a river, visiting a gold mine, riding on a train, do water safety in a deep pool, having a mock court, playing Murder, tramping in the bush, and of course getting to know each other a whole lot better!
21 February Mrs Petersen has had us learning about the census coming up. We were curious about how homeless people are recorded in the census. We wrote to the census people and they told us how it works.
Congratulations to Room 14 people who got into the Top School team today: Jamie, Elijah, Phoebe & Mikayla J.
16 February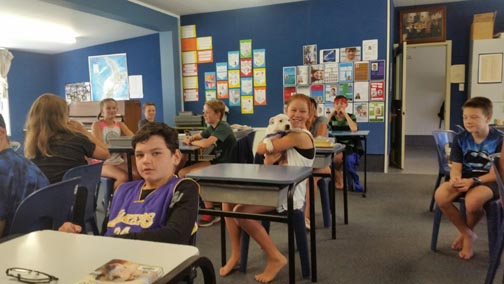 Today we had a surprise visitor in class. Phoebe's puppy Riley, a staffy, 13 weeks old, came to visit. He met everyone.
We are also learning heaps of interesting stuff about space. Today we learned about centripetal force and watched a man teaching us from the International Space Station!
At assembly today Ella recited the first two verses of our Te Po poem, by Katarina Mataira. So far seven people have passed that test.
8 February
Starting off with a great year, all the students in the best class ever!! have been up to a lot of awesome work! In Room 14 we've been doing heaps of art we are doing koru art and shields at the moment. In the computer suite we've been doing personal profile profiles they are up on our wall so come check them out there pretty amazing!! Mr Hawkes is an awesome human being, another upside is he loves soccer.
Fantasy Pepeha:
Tena koutou katoa
No te Gold Coast ahau
Ko Mt Everest toku maunga
Ko River Thames toku awa
Ko crashed ship toku waka
Ko Spongebob toku koroua
Ko Addi raua ko Lucy oku kuia
Ko Prince Charles toku matua
Ko Princess Camilla toku whaea
Ko Princess Phoebe ahau
He pai ke ahau te kanikani
Kia ora
Phoebe
Tena koutou katoa
No te North Pole ahau
Ko Titanic toku waka
Ko Elf toku koro
Ko Mrs Claus toku kui
Ko Santa toku matua
Ko Penguin toku whaea
Ko Reindeer aku teina
Ko Odin ahau
He pai ki ahau te delivering presents
Kia ora
Odin
Tena koutou katoa
No Subway ahua
Ko Kilimanjaro toku maunga
Ko Nile toku awa
Ko Air NZ toku waka
Ko Donald Trump toku koroua
Ko Queen Elizabeth toku kuia
Ko Lionel Messi toku matua
Ko Jacinda Ardern toku whaea
Ko Elijah toku tuakana
Ko Rhys taku teina
He pai ke ahau te kai
Kia ora
Frank
Chur
No Hawaii ahau
Ko Tour Eiffel toku maunga
Ko Pipe Line toku awa
Ko Brazilia Clan toku iwi
Ko Rio de Janeiro toku hapu
Ko my uncle's boat toku waka
Ko my Tree House toku marae
Ko Josephine toku whaea
Ko Frank toku wahine
Ko Ella toku tuahine
Ko Rhys me Elijah me Feargus me Mitchell aku tamariki
Ko Ollie taku kuri
Ko Jimmy ahau
He pai ke ahau te teriaki chicken sub with lettuce, tomato, chedder cheese, carrot, onion with salt and pepper, toasted with BQQ sauce and a raspberry lemonade drink.
Kia ora
Jamie
Based on If I Was a Banana by Alexandra Tylee:
If I were a wolf, I would run free at the dawn of twilight, streaking through the trees in a flash of silver lightning, hunting with the pack. And at the time of the full moon, I would reside at the highest point of the mountain, and howl into the night for all the world's loss and sadness. Shivaun B

If I was a cloud, I would be a fluffy, white cloud. I would look upon the children laughing and playing. I would never be the angry cloud that makes a day dull and miserable. Ella F
If I was a Warrant of Fitness, I would stick on V8s and hot rods, as fast as the speedy wind. Odin H

If I was a plastic bottle, I would be the abandoned one, scrunched up and crunched. I would be the one on the side of the Desert Road. Empty and used. Phoebe C
If I was a wave, I would be a small gentle wave, and all of the fish would swim into me. Mikayla J
If I was a cricket ball, I would be shiny on one side and rough on the other. David Warner and his buddies would cheat by rubbing sandpaper on me. Fearghus B
If I was a wolf, I would be the fiercest of the whole pack. I would be the leader, leading the others thought the vast labyrinth of the forest. Megan D
If I was a pair of Nike shoes, I'd be the best ones ever. You would never have to replace me. I can help you run as fast as lightning. Jasmine K
If I was a dolphin, I would steal the surfers' surf boards and play with them. Mitchell DT
If I was a spider, I would not like it much, being small and disliked by people. I could be killed in ten minutes. Mia S
If I were a piano, I would play MAGNIFICENT music and people would dance around me, wearing smiles. Addison D
If I were a wall, I'd be ancient and mossy, with cobble stones and grass holding me together. Isak T
If I was Donald Trump, I would rule the whole of America. I would change all the rules from bad to good. Brodi T
If I was a jersey, I would be a warm one. I would be pitch black, like the night sky minus the stars. I would love to be worn a lot and to help my owner look slick. Elijah W
If I were a book, I would be a diary. I would let the writer confide in me and pour out their heart in my pages. Asha S
Of all the things I could be, I would be most comfortable being "ME". Short and brown haired. Lucy J
Teacher's Message
Dear Parents Welcome back to the new term.
Homework Regular class homework will start again this week, due in as usual on Tuesdays. Well done to all those students who consistently did their homework well last term. A lot of students got high scores.
Phys Ed We will be doing fitness daily, so students need suitable clothing at school. Cross country is coming up in week 4.
Speeches A separate speech newsletter is being given out. Class speeches are in week 4, with the final in week 7.
Science Fair This term we will be deciding science or technology fair topics and working on things like fair testing & the science and technology processes. The school science fair is straight after the holidays in term three. More detailed newsletters and a handbook will follow.
Study topics Apart from the above, we will be studying Geometry (Maths), Spanish, Fantasy and Adventure stories (English), winter sports (There is a rugby/netball day in week 3), the FIFA World Cup, etc.
Looking forward to a good term
Kia ora koutou katoa,
Barrie Hawkes.

Want to check out last year's page? It was cool. Click here: 2017, 2016, 2015, 2014, 2013, 2012, 2011, 2010 or 2009.