Awakeri School

Here was the News in 2012.
19 December. Today is the last day ever at Awakeri for most of our Year 8s, some people have already left, and the last time I write on the website (sniff sniff). Last night was the Year 7 and 8 Social which was cool fun and hardly anyone cried, a bit of a change from last year where everyone did. Today is a fun day with the water fight etc. and we had some food and drink left over from last night's Social.
As I write this I can hear the people in Room 13 cheering for the wrestlers, wrestling is very exciting and hopefully we will soon have some photos of the last day.
Work on the library is continuing over the holidays, so hopefully when everyone comes back it will be finished. We have a new librarian, Mrs White, and she can help people find books they want and recommend others when the library reopens. It is looking fantastic, there are new couches, DVDs and a skylight and it also smells nice!
So anyway. . .
Have a good holiday everyone and good luck to the departing Year 8's.
BYYYYYYYYYYYYYYYYYYYYYYYYYYEEEEEEEEEEEEEEEEEEEEEEEEEEEEEEEE!!!!!!!!!!!!!!!!!!!!!!!!!!!!!!!!!!!
(from Katy)
Many thanks to Paige and Katy for all their news this year! Here are some photos of the disco and fancy dress. Oh and the wrestling: Manjot, Brady, Paige and Tiaan were left standing at the end! - Mr H
18 December. What an emotional night! While we were having the power point on the year 8's , we heard some parents crying and cheering. But the main highlight of the night was: after the dance troupe the teachers put on a very special performance danced to the Jai Ho by Pussycat Dolls. The teachers dancing to it were amazing but in a way it was super funny.
The outfits went from Dark Angels to Grizzly Bears and a smiling Punk and a grumpy Fairy. Then 2 Spanish dancers, a few nerds and many others. Molly and Aaron did amazing speeches talking about on the first day of going on bus that Molly's mum followed the bus all the way to school and Aaron's mum followed the bus all the way home! What lovely parents.
Now the power points... Mr. Fitz well I'd like to have a word with him about what pictures he put on the projector of some year 8's there are some that would enjoy knocking on his office door. We were all sitting there and during the power point Jenna yells out "Is anybody crying yet"?! It was really funny.
Savannah, Molly, Mekaela & Sharnaye all got principal awards. Sharnaye got herself a bit of a stack last night. She got 2 running awards and a principal award and a Awakeri Student! Good old Sharnaye.
The Haka was really cool but somebody pointing out no teachers (Mr Sheather)! Had turned off the lights so none of the audience could see us so we did it in darkness!
Watch out for some photos of fancy dress in the next day or two.
Today is the last full day of school for the year 8's because tomorrow is the Water Fight and the Senior Social is tonight. (from Paige)

13 December. This morning we did a full fancy dress run through. There were some awesome things like Jump Jams, dance troupe, orchestra and (cough cough) folk dancing.
The Year 8s also did their haka, they are pretty loud, especially the girls, right Mr H! (right Katy! - Mr H)
The Middle School are having their picnic today, unfortunately the weather isn't great but they will still have a fun time. Yesterday was the Junior School Picnic and they had a good time too.
Soon we will be saying goodbye to our lovely Year 8's sniff sniff. So sadly this is one of the last times I will be writing on the website. Anyway, bye bye.
The high schools have all had their prize givings. Lots of our ex-pupils got on their prize lists, in fact, 63 of them did at the local high schools, not sure about boarding schools and those who've moved away. Congratulations!!!! They collected 187 awards between them!

11 December The senior rooms are getting really good at softball. Daniel P can pitch like a demon. It's pretty full on in the games between room 12 and room 14. Check out the big bruise on Alex's leg from being hit with the ball!
The temperature is now heating up. Pity those poor kids in room 14 who forgot their swimming togs today and had to do the 12 minute run with room 12 and 13 instead!
5 December. Yes, intensives was awesome. Seeing as I am a Year 8, I only know what the Year 8's did. We went to the Whakatane Stadium and played touch and basketball. We did some exercise things with a trainer from the Aquatic Centre and they were very um. . interesting (that means horribly hard.)
We went to the pools and got to go on the hydroslide. We went to the skate park, the Pa Site ( where we did Pa Wars) or Golf.
The Year 7's played Mass Soccer, did a Tech Challenge (making a bridge), read and played games with the Juniors,did House Flags, chants and signs.
On the second day they did Team Building at Thornton. Then everyone went to Thornton for sausages ( Hannah and Taine both ate eight) and some people went swimming but most people went sunbathing instead.
It was a great two days.
At the moment the Year 7,8 and Year 6 girls have been having Maturation Talks. Shirley from Life Education does them and they are very informative. That's all.
It was the last day at tech for the year. To read about what the Year 7's and 8's do at tech, click here
4 December At last, here are some photos of that soccer game!!!!
Here are photos of last week's Year 7 & 8 intensives. They were a lot of fun!!
23 November. The people from Wellington Primary School in Singapore came to school yesterday. They got a tour of the school and had a morning in class with their billets. They went to Julians Berry Farm in the afternoon.
They came to school again this morning. There was an Awakeri/Wellington soccer match. The National Anthems of each country were played and then the Kapa Haka boys did an awesome haka.
The game was very exciting. Singapore won five-nil.
At assembly we had a sport and dance demonstration. There was football, volleyball, badminton, rope skipping and wushu, a type of martial arts. It was really great, as was their dancing.
They went to Campbells Dairy Farm this afternoon.
This weekend they are going home with different families and will be doing different New Zealand experiences with them.
Also at assembly, the school was presented with a fantastic picture, done by one of the students on the trip, It will be going up in the foyer. That is all, look out for photos.
21 November We have the Singapore children arriving to night, they are coming to school tomorrow. They get to go to Hell's Gate on Monday. So that sounds like heaps of Fun!
Intensives are in 2 weeks so the year 8's get to choose to go to the skate park or go to the Golf Course. We go to the Hydro slides too. The year 7's are doing some fun activities at school. They read to little kids, create new house chants and flags for next year and some other fun things.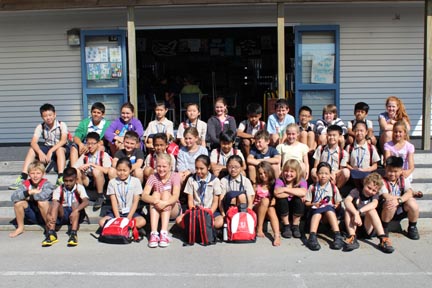 Singapore children and their hosts.
19 November There are a few photos of interschool athletics from last week, where our students did exceptionally well. They are on the athletic photo page.
On Friday was the kapa haka break up. There was a very big turn out for it. It was sad to be there without Siri, but good to see videos of our group performing with her. We had a fun game of long ball, then Andrea and her cousin Heni handed out the certificates and also a lovely photo of Siri to everyone. There was heaps of yummy kai! Check out some cool photos of the break up (thanks Kate Robbie) at the bottom of this page.
This week we are getting visitors from Singapore. They go to Wellington School. They are aged 10 and 11. They will be coming to school for a couple of days and staying with some Awakeri families over the weekend. On Friday they are playing Awakeri in soccer and performing some items at assembly. Welcome Wellington School!
11 November There were some great races in the senior track day last week. Winds meant the times were a bit slow, but Tawa relay team were only .54 sec outside the record. Check out some photos of athletics week here.
All the athletics records have been updated. There were 27 records set or equaled. Some of these were for two distances that we haven't had before in some age groups (e.g. 400m).
5 November Today was the Senior/Middle School Athletics and it was HOT! Some records were broken today. Brady broke the Shot Put Tawari broke the Discus. So watch out over the next few days for the news.
It was hard out today! Check out our sports records page for the results.
We've got some quotes about the day from Tawari- "It was overwhelming and I expected I would win because I train after school, and I enjoyed the day having all my wins". Emily- "I was expecting my wins the whole day, but not in Vortex so that is now my new game"! Jared Turvey got 1st in all his events, Bleyne got three 2nds Lila got two 1st and Sam L got three 1st and and 3rd! What athletic people we have at this School!
It was a long Hot day today and our Sprints are on Thursday so the people who got places go to the Inter-School Athletics!
It's so exciting!! You'll find out more in the next few days about people's placings and broken records!
4 November Here are some photos of our marae stay last week. Check them out!!
30 October. It is with great sadness that we have had to farewell our Te Reo teacher Siri Riini. Siri passed away last night, after a long battle with cancer. This morning we held a ceremony for her and flowers were laid on her coffin. Her tangi is on Thursday, and the school will be closed so that the staff and students can attend if they wish. Room 12 will be going to the marae but they will not be staying overnight, and Rooms 1-5 will not be visiting the marae.
Haere ra, Siri, Awakeri School will miss you.
| | |
| --- | --- |
| | |
| The Kapa Haka group waiting. | The school watching the Kapa Haka singing their farewells. |
24 October Well Ag Day was great and I have some photos to go on the website. Also as a special treat for the middle kids Room 6- Room 10 we had a special Maori dance group - Kahurangi - come to room 15 and do some dances for us and teach us some Maori history! Take a look at the pics. Here is a link to the Ag Day photos.
Our awesome singers and dancers. They taught us about some Maori history and sang songs to us.
15 October Well first day back and I'm sure everyone did not enjoy getting out of bed early this morning after getting sleep ins! Anyway it's an exciting week with Ag Day. Look out for the special newsletters about it going home today.
27 September. The last night of production tonight, and the term has just flown by! On Tuesday night during the Talent Quest the audience certainly enjoyed the talent quest! Tawari's Metallica playing, Molly and Jenna's whip cracking and lots of other musical performers along with the tumblers. Watch out for the kapa haka they're great too. There are more production photos on the photo page now, they show some excellent acting.
Also today is the last day of school for the production people. Well of course the little people who aren't in production still come to school tomorrow.
The year 4's production is today. But with the year 4's having to perform with Mrs Cronin in hospital. We hope they do a great job for her.
The 2012 Ag Day indoor programme is now online. Follow the link in the menu bar on the left.
25 September Opening night of Robyn Hood tonight. Look out for the evil sheriff / principal, played by Bailey Carter. It's actually Bailey's birthday today too, so maybe we'd better not boo him too loudly. Yeh right. Check out these photos from the dress rehearsals. Thursday night is sold out. There are tickets at the door for tonight's show. Plus, the kapa haka are sounding good, and of course the orchestra! Break a leg everyone!!
20 September WOW! What an awesome rehearsal! We are going so well and on Monday we go to the Little Theatre for our LAST practice of Robyn Hood Outlaw Princess. Don't forget to buy your tickets as they have been selling well and you won't want to miss out! We have some awesome Talent Quest people! From whip cracking to Violin playing with Flutes and Guitars, we have it all!
19 September Today is dress rehearsal for Robyn Hood. The costumes look awesome. Well done Mrs Merry and helpers!
17 September Today some year 8's have gone to Trident for the taster day. So the people who were left behind are working on Production props! Also the production tickets went on sale today and we sold 27 tickets. I bet that there will be 3 times as many tomorrow!
13 September Check out Room 14's page for news on their hot air balloons! Photos too!!
Tomorrow we have a talent quest for the entertainer slots in the production, then on Monday, tickets for Robyn Hood Outlaw Princess go on sale.
10 September On Thursday in Production singing Mr Hawkes was strumming his guitar so hard he ended up breaking his Guitar Pick! Also on Wednesday some room 14 Kapa Haka girls were coming back from their Rehearsals, and Amelia was doing Poi while walking and then she ended up throwing her pois up in the air... then she got her pois stuck in the tree above! So it took three girls to climb and get the pois down. What ever happened to the old school rule? No climbing trees?! Oh and on Friday when we were doing Jump Jam Amelia kicked her shoes off and they flew a little bit too high and they ended up going on the storage cupboards! Mrs Merry didn't approve and well Amelia was too busy laughing! So Amelia needs to stop throwing her property around and keep them on the ground!
High School days are coming up for the year 8s, which is where we go to the high school for a few hours and we get to see what we will be doing when we go to high school! So that will be quite fun to sit in and watch.
7 September On Wednesday the kapa Haka finished their intensive. They did well and got to the end of their Haka and learned a new song. There was a rehearsal at 6 PM. Click here for some cool photos of it.
3 September Hey everybody! On Friday it was Daffodil day, so in Awakeri we decided to raise money for the cancer society and all together we raised $362.60c which is totally awesome!! So now the cancer society is richer!
UUUMMM, what else is going on? Well Robyn Hood production is off and rolling so we are practising our lines and rehearsals are going awesome! Everybody pretty much knows all their lines!
We have now started Kapa Haka intensives so all the kapa Haka people are practising their songs, Kapa Haka is always entertaining to watch!

24 August Click here to see some cool photos of the staff against the Wild Cats soccer at lunch time today.
Hey, it's Paige here and I've got some exciting news!
Today Awakeri Wild cats all girls team played the Awakeri all womens Staff team! I know what you're thinking of course Awakeri Wildcats are going to win! I mean they are twice as good looking! But uummm...... I'm not sure the teachers would agree with me on that so lets leave it at that. Anyway I bet all you thought the Teachers could do was teach but seriously though if you were watching this game with us you would understand why I regret to say. Awakeri Wild Cats lost to the Awakeri Staff all womens team. I know, heart breaking! but the main thing was that we all had fun! (Well that's what the teachers all say.) But I not sure the Awakeri Wildcats would agree with that.
While I was taking photos today, a few girls decided to be cheerleaders but couldn't really decide on who they wanted to cheer for! So it was "GO WILD CATS I MEAN GO TEACHERS I MEAN GO WILDCATS I MEAN GO TEACHERS!" So in the end I'm not actually sure who they were really cheering for! That was until they went to the teachers afterwards and said "hey I was just giving you a boost so you could shove it in the wildcats faces after. See I look out for you!" I mean come on girls I don't think the Teachers would have believed that! But Miss C-T, Miss Rob, Mrs Cronin, Mrs Peterson and Mrs West all played.
23 August. The Year 8 wrestling was very entertaining to watch. For the boys, the gold medal went to Tom, the silver to Brady and the bronze to Daniel P. For the girls, the gold medal went to Mekaela, silver to Hannah and bronze to Molly. There was some great fighting and well done to everyone who did.
This morning I heard a funny story. Caitlin's teacher saw her in her pyjamas! She was feeding her rabbit when Ms Sisam drove past.
Production practice is going well. We have been learning some great songs. If you're a little person with a little mind, you better go and waste somebody else's time. . .
It isn't long now until we're into all day practices.
The Year 8 Open Days at the high schools are in a few weeks time, don't forget about them or you might end up not having to go to high school, ha ha, tempting.

21 August Tomorrow it's the year 8 Awakeri Olympic wrestling finals. Some of the boys are already out as the first round was last week.
17 August. This morning the Minister of Education Ms Parata visited our school to congratulate the winning Kids Lit Quiz team. She went on a tour round the school and also spoke to the teachers and the team at morning tea.
Yesterday the soccer went well. It was very muddy, but the teams still had fun. However, the hockey was cancelled! The hockey people had to amuse themselves for the day.
| | |
| --- | --- |
| | |
| Minister of Education Ms Hekia Parata comes to visit Awakeri School. Here she is met by principal Peter Fitzgerald, Kids Lit teacher Ann Petersen and the champion team Jess, Katy, Jessie and Hannah. | She is taken on a tour of the school. They're in Room 12, meeting Mrs Merry and their classmates, well, apart from Jessie, who is in Room 14! |
| | Ms Parata made a lovely speech in the staffroom. The team got to have morning tea with her and all the teachers! |
13 August The Olympics are over! It was awesome that Eastern Bay athletes shone. Our own Karen Hanlen showed determination to come 18th in the mountain biking after puncturing. Lisa Carrington and Sarah Walker both also went to school in Whakatane and will bring home medals! Who else of our students will go on to represent New Zealand?
Talking of that, the Minister of Education is visiting our school on Friday, to see where the Worlds Kids Lit Quiz champions come from.
This Thursday we have the inter school football here and the hockey at Edgecumbe. Lets hope it's fine!
6 August Wow that was cool. The Mayor of Whakatane came to Awakeri School to give the Lit Quiz girls a certificate and a photo of them at the world champs in Auckland. Then he talked to the girls saying congratulations. He told all of us how we should be proud that little Awakeri School won against the world! The girls are all pretty stoked about meeting him and they now have an awesome photo of them laughing and smiling at the Lit quiz.
2 August Our students did well at the EBOP Science Fair, and came away with six awards. See here for the list. Gold to Millie Patterson for her 'How Much Salt Can One Lupin Take?' entry.
Also, here are some nice photos from our Olympics Day last week.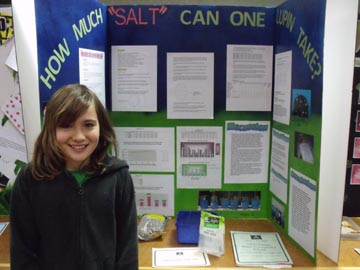 Millie also got Best Soil Related Entry for her work, plus over $100.
30 July Here are some photos from our school science fair. Tomorrow sixteen entries are being judged in the EBOP Science Fair. Prize giving is Wednesday 5.30pm at Whakatane Intermediate.
27 July. Yesterday we had our school Olympics. We did all sorts of fun events like egg and spoon race, a carry challenge, throwing balls into a drum, sack race and gumboot throw. France won the gold medal, Canada the silver and Kenya the bronze.
In the relays at the end, Spain won for the boys and Argentina for the girls.
Well done to Tiaan Roia who did a great job singing at our opening ceremony. Speaking of the opening ceremony, our very own real-life world champions, the Kids Lit Quiz team, opened the games and they did an excellent job too ( but I'm biased!)
24 July. We were very sad to hear that Margaret Mahy, the author who was born in Whakatane and wrote many fantastic books like The Lion in the Meadow, The Haunting, The Moon and Farmer Mcphee and The Great Piractical Rumbustification, died last night at the age of 76. She was one of New Zealands best authors of all time and she will be sadly missed.
On a happier note, we have found out the parts for Production and we start rehearsals in Week 4.
Main Parts are:
Robyn Hood- Katy White
|Sheriff- Bailey Carter
Pip- Georgia Leonard
Little Joan- Hannah Van der Horst.
There are also lots of other speaking parts like Outlaws, Citizens, and Heavies, as well as Back Stage, Orchestra, a Town Crier and a Minstrel who leads the songs.
On Friday we have a School Olympics. We will have an opening and closing ceremony as well as a presentation of medals. The ten countries will compete in sports and win points. At the end the points will be tallied up and the countries will be placed.
The Countries are: Korea, Argentina,China,Kenya, Brazil, Canada, the Netheralnds, Spain, Jamaica and France. Everybody has been placed into a country and the Senior students are in charge.
s all for now. Bye everyone.

20 July WOW was last night great, it was a really cool turn out there were so many families that came along to see Science and Technology Entries.
The people who got Highly Commended and the first second and third place getters go to the EBOP Science Fair.
Technology
Placing
1st: Sharnaye Hall
2nd: Samantha Looney
3rd equal: Daniel Perkinson
and Caroline Paulsen
Highly Commended
Bailey Carter
Elana Spod
Science
Placing
1st: Robert Coulter
2nd equal: Alex Coventry
Hannah Van der Horst
3rd Equal: Sharni Goodman
Moana Lengkeek
Highly Commended
Tom Holani
Millie Patterson
Jess Robbie
Ruby Murphy
Jenna Wilson and Felicity Klein-Ovink
So this group of people will be going to the big Science Fair so congrats and good luck!
Bye!
18 July. Yay today everyone handed in their science fair projects and they look AMAZING! So tomorrow the hall is open to the public from 5-6.30 pm and Friday 8.15 am -9am Fridays is prizegiving at 12 at the hall. So that will be wonderful to find out and who is going to the EBOP science fair, because of their very amazing scientific observations and creative minds.
So don't forget to come and view our creative and very interesting Science Fair Projects!
17 July The Awakeri win in the World Kids Lit Quiz final has got quite a bit of attention....Check out this great article about Awakeri's win in last week's Sunday Star Times. Another article about Awakeri's success is on Auckland University's web site. The National Library Of NZ comments. The Whakatane Beacon of course. NZ Education Department. Local Radio 1XX etc etc.
16 July School's back, the rain descends! Our World Champion KLQ team toured the school this morning talking about the week in Auckland, the quiz itself and answering questions from the children. Some cool memories are:
Katy: Going to Hobbiton. Wayne Mills sat on a little garden seat and he broke it! The rugby had a very cool atmosphere. It was really noisy. Whenever the Blues scored a try, fire shot up around the stadium. The other teams were really nice, we made friends with all of them. Plus we went shopping twice and it was really fun, we went to this fancy ice cream shop called Movenpick and had the most delicious ice cream ever!
Hannah: Winning the quiz! It was an amazing feeling. It didn't really sink in for a while that we were World Champions. The trophies are awesome, ESP the handcrafted koru ones. I got the second question right, the answer was .... Charles Dickens. We'd all been studying him. Meeting all the kids was really cool. They all, like us, love books. e.g. Elyse Kassa from USA loved The Book Thief and The Hunger Games.
Jess: Going to Rangitoto. It had really cool views. On the way there, there were lots of dolphins. Going to the play The Great Piratical Rumbustification. Most of the audience were preschoolers and they were all dressed up as pirates. It had great props, like they had a house. It started off small, but it transformed into a bigger house. When I got one question wrong, after a few more clues I suddenly knew the right answer, but I couldn't buzz him again. Wayne had to actually start spelling it out for the other teams!
Jessie: My favourite part was becoming friends with all the other kids. They're like us, except just with different accents! I liked the atmosphere of the rugby game, it was full of energy (except a lot of the KLQ kids were reading!!!). Transylvanian mini golf was really cool. Everyone wore white, so we were glowing in the dark. Hannah and I were neck and neck the whole time and I beat her by one point. At the mayoral reception, afterwards the mayor was trying to be hip. He said "Get down Awakeri! Win this thing!" He was funny "You see this necklace? It's made of solid gold and worth more than me!" Maria Gill talked to us at her book release for Eruption in the National Library. She talked about how she comes up with her ideas. She writes a lot about volcanoes. Des Hunt and Stu Duval were very funny when they talked to us all at the Gala Dinner.

6 July Awakeri School, representing New Zealand, are the World Champions in Kids Literature!! On Wednesday Awakeri shot out to a big lead in the first round Authors, 8 points clear of the other countries. After Books Into Movies, the lead was 9. Gradually South Africa started catching up. Gods and Goddesses, Titles, Music associated with Books, Modern Day Classics... At round 7 Fictional Machines, the lead was only 3. Scary, nervous.... Then round eight First Lines..." In a hole, in the..." BUZZZZ "The Hobbit!" two more correct and our lead was up to 9. Mythical Objects, lead by 13. One round to go. No mistakes and we must win. Villains. Scotland and another country take points that South Africa need and we hold the lead to win by 9 points! Champions!
Click here to see photos of Awakeri winning the World Championship
All the teams are staying at St Cuthberts School in Auckland for the week. They are having a wonderful time, visiting all sorts of places and becoming very good friends with each other. No doubt Katy will write about it on this page when they return. Anyway, Congratulations team!
3 July Tomorrow it's the World Final of the Kids Lit Quiz. Awakeri is representing New Zealand. It sounds like the team are having a good time in Auckland and have become good friends with the team from Canada. New Zealand have never won the World Final. The current holders are South Africa. Every other winner has come from the UK.
29 June Hey everyone guess what today is Pyjama day YAY so pretty much all the kids in the school are wearing them. Except the boys in the older classes they think it's too girly, (typical boys ruin all the fun)!! Ha. Anyway, we raised over $400 for Hospice.
Today in assembly Mr Fitz is going to announce who has the major parts in the production, so all the people who auditioned has their fingers crossed but only one, two is bad luck! We girls have our superstitions!
So today we also have rewards afternoon, that means we can all bring scooters , skateboards and pretty much everything but not electronic toys and the best thing is we can all do it in our pyjamas! I mean that is pretty cool so the teachers organise the whole big last day of term fun afternoon so that is always something to look forward to.
On Tuesday Tiaan Roia represented our school at the Rising Stars concert in Whakatane. She was great and has been invited to do more singing at other events. Yay Tiaan!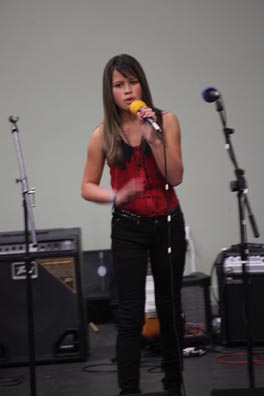 Tiaan sings Black Box, a Stan Walker song. The Liberty Centre was full there applause was deafening!
26 June Hi it's Paige. Guess What... We had production auditions yesterday! Wow it was so scary but so much fun some people are such good actors and even when they were only doing a few lines they were awesome!
Oh and good news only 3 more days of school till the 2 weeks off school, but then not time off ... it can also be knuckle down and do the work time! Why? Because of Science Fair being in the first week back and the main leads will now be needing to learn their lines! So what ever happened to the holidays days being stress free and total relaxing time? Ha ha what a joke. Anyway the production this year is about Robyn Hood (she's not the dude she's a chick!)So this year's production should be super!
22 June Today the Juniors went to Room 15 to listen to Jerome teaching us about Maori Instruments also known as Taonga Puoro (gift of sound). The instruments were made of wood, shell, flax and driftwood. The instruments he showed us were the Pukaea, Nguru, Porotiti, Gourd and a Kohatu. To see this pictures go to Room 3's page.
Today at assembly, we presented Karen Hanlen with some money to help her on her way to the Olympics. Karen is New Zealand's mountain biker. She used to go to Awakeri School, and she used to be really good at cross country then. She told us about working hard to follow our dreams. It was inspiring. We really want Karen to have a great ride at the Olympics!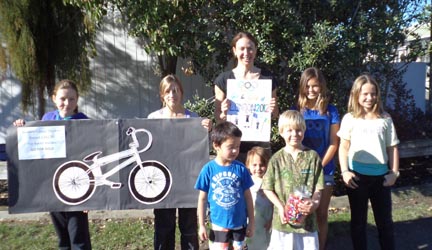 Here is Karen with Savannah, Felicity, Maiya and Amelia, her two young children, Caleb is in Room One. The winner of the lucky draw for lollies was Thomas Wessells!
Go New Zealand!!
18 June Today when the Girls came back from Wellington (well they really came back Friday but not till after hours of school). The whole Awakeri School sang Can You Hear Us by Neil Finn. But for the ending instead of Aotearoa, we said Awakeri and for the last yell we shouted KIDS LIT CHAMPS!! So the girls standing up the front were pretty stoked. When they go up to nationals in Auckland they will be playing against South Africa, Aussie, United Kingdom, Canada and America! So this morning when Mr Fitz was standing up the front at assembly, he was hoping, well, knowing, that we are not going to be beaten by South Africa and Aussie - OK girls!
The girls are all stoked as we sing Can You hear us. Also Jessie wants to hurry it up to go back to a warm class!
All the little kids stare at Mr Hawkes with his guitar! Look at all the cool congratulations signs that each class made for our champions!

Mr Hawkes playing the guitar and everyone singing along!

WELL DONE JESSIE, KATY. HANNAH AND JESS!

17 June It's great to have feedback from around the world on the Lit Quiz win... congratulations from coach Mrs Petersen in Scotland, from other schools, from an ex-pupil who works in parliament...

| | |
| --- | --- |
| Hannah van der Horst, Jessie Schuler, Jess Robbie and Katy White at the Kids Lit Quiz NZ finals in the Beehive in Wellington. There on the table is the buzzer. | Quiz master Wayne Mills presented the cup to the Awakeri team. |
| | Assistant coaches Irene Cronin, Margo White and Peter Fitzgerald can be rightly proud of their input to the team, backing up all the work put in by Ann Petersen. |
14 June Update....Hi there at the moment we have just got a few text messages from the teachers about NZ Lit Quiz finals
so here they are.
1.50pm -we are winning!
2.05pm After round 3, winning by four points!
2.20pm Round 4. It's getting close and still in the lead. GO GIRLS GO GIRLS!!
2.40pm WE CAME FIRST!!!!!!!!!!!!!!!!!!!!!!!!!!! By 1 point from Takapuna Normal! So we won we won we won we won!

Oh and guess what! Throughout the school we have some very ...er well... clever kids going and scraping off the ice from the benches and tables clever huh?! Oh and a really funny thing is that people are now trying to make snowballs and throw them at each other, so that is really funny to watch. I feel very sorry for some kids right now, because some in room 14 are complaining, "I've got swollen hands from making snowballs." So right now we are all laughing at them because of hearing "OOWW!!"
Oh and today's the big day, the Kids Lit Quiz national finals in Wellington. Our team are at the Beehive this afternoon, representing the BOP. They've been training for a year for this. Go Katy, go Hannah, go Jess (baa), go Jessie!!
Last week the seniors were really lucky to go to Whakatane High School's awesome show Disco Inferno. It was great, awesome singing and music! Room 14 wrote the cast, crew, band, characters etc some letters. Here's their reply...
Thank you very much for the kind comments and the wonderful letters from your
students. Our students will love to read them when we have our final meeting/
video viewing next Thursday. Meanwhile I will show the teachers and the
students involved I teach.
Fabulous feed back!
We had a lovely special assembly today in which the efforts of the kids and
staff were recognized and Vanessa held a very nice speech.(Vanessa was the director).
No kapa haka tomorrow!
13 June Speech finals last night, a big crowd, Aaron Fretwell won a close contest from Bailey Carter and Lauren Hall. All the speeches were excellent, a very high standard. Here are some photos.... thanks Miss Robb. Check out past winners too.
11 June Hi everybody it's Paige here. Today we have been having our first day of Harold and Shirley, each senior class gets 3 sessions each with Harold and Shirley and I have just taken a photo of Harold, Shirley and Chris.
Here they are Chris (Left) Harold (middle) Shirley (right).
Also we were told a joke by Harold today so here it is:
:Q: Why did the monkey fall out of the tree?
A: Because he was dead!
But wait there's more.
Q:Why did the second monkey fall out of the tree?
A: Because he was holding hands with the first monkey!
But wait there's more.
Q:Why did the third monkey fall out of the tree?
A:Because he thought it was a game!
But wait there's more.
Shirley: Why don't you read some thing interesting and cool Harold?!
Harold: I did I was reading the Beacon and there was little boy who got so badly injured.
Shirley: Was he wearing a helmet?
Harold: Yes.
Shirley :So why did he get so hurt if he was wearing a helmet?
Harold: Because he was under a tree!
Shirley: So how did he get hurt??
Harold: Because 3 monkeys fell on him!!
So onto TRUE news! We have 35 runners going to Woodlands tomorrow so congratulations and Good Luck to those people!

6th June A big congratulations to one of our parents and ex-students Karen Hanlen, who was yesterday named in the NZ Olympic squad for London. Karen was an awesome athlete at Awakeri School, just like those brave cross country runners who did so well in terrible conditions at Manawahe yesterday. We are having a coin trail (and lucky lolly draw) on Wed 20th to help Karen get to the Olympics mountain biking.
Talking of yesterday, there were some great performances: Our junior boys (8&9yrs), senior boys (12+ yrs) and intermediate (10&11 yrs) girls teams all won their teams events, with the junior girls and senior girls 2nd and senior boys B and senior girls B teams 3rd! Kaya Hodson won the juniors boys individual race. Kevin Paulsen got trampled after falling at the start of it, ended up running in the age group above (intermediate) and coming 2nd!! Ethan Cox, Jana Longney and Lauren Hall also came 2nd in their races. Jalen Heberley, Campbell Forsyth Liam McCormick, Emily Robbie and Jenae Brownless all got 4ths. Awesome! Sounds like there were some good falls, slipping down the steep muddy hills, runners like ants crawling up the hills and some pretty wet and cold kids hurried away after their races.
Today, the speech semifinals were just great! Good luck to the judges at Tuesday (12th) night's finals, trying to separate Jenna Wilson, Lauren Hall, Robert Coulter, Felicity Klein Ovink, Aaron Fretwell, Mekaela Learmond, Thomas Fretwell and Bailey Carter! Be there at the school staffroom at 7pm to hear entertaining speeches about Net safe, the impact of advertising on body image, being unique and safety with social media. Today we also heard two great speeches from the best year sixes: Poppy Rika and Emily Julian who told (and sang) to us about their dream careers!
1st June Hi everybody it's Paige, today we are all going to find out about the speech semi-finalists this afternoon so best of luck to everybody because I know that there were lots of really cool and exciting ones!(Later on that day) So here they are... the year 6 from room 13 Poppy Rika and the others from room 13 Sharni Goodman, Tama Wooldridge & Courtney Van der Horst so that's all from room 13, onto room 12 Mekaela Learmond, Hannah Van der Horst, Aaron Fretwell, Robert Coulter, Jenna Wilson, Lauren Hall, and Katy White. Onto room 14 Kayleigh Clarke, Molly Bradley, Thomas Fretwell, Bailey Carter, Amelia Howe, Felicity Klein-Ovink. So on Wednesday next week we will all be gathering in Mr Sheather's room to have the Semi Finals then the Tuesday night the week after, will be the speech finals in the staff room so parents and care givers will be welcomed!
Also on Tuesday next week we will be having the inter-school cross country at Manawahe. Well all the 8 year olds up are going to inter school so when the outcome scores come you will find out! But until then Goodbye!!
29 May Congratulations to our cross country runners. There was a great atmosphere with lots of people wearing their house colours. Here are the results and some photos.
Jana Longney broke the 8&9 year girls record, other winners were Kevin Paulsen, Korben Wilson, Jenae Brownless, Jalen Heberley and Sharnaye Hall. Records were kept for the first time for seven year olds. Hayden Baxter (5:40) and Neeve Kushnirenko (5:52). Check out our records page. We now have big squads training for the inter school cross country on Tuesday.
The BOT has brought in an updated Code of Conduct for parents who are involved in school activities, like going on class camps. The link is on the left.
24 May. Hi everyone, this is Katy, the winner of the $30 book voucher for Best Dress up was Kohen Laurent in Rm 4, who came as Oscar the Grouch and he looked awesome, very authentic. My personal best dress up prizes go to Hannah who had the guts to walk into school dressed as a nun and Liam White who was a great Willy Wonka (from Charlie and the Chocolate factory.) Lots of us came as our favourite characters, in fact one teacher walking to school caused a passing driver to email this to school:
Twas a misty morning 24th May
Driving into Awakeri to start my day
For a moment I'd wondered if I'd misjudged things
As beside the road, before me was a lady with wings
But in my vehicle I did pass the school
No heaven today, just more work fool.
Thanks Alister Coulter! Check out these cool photos of the day.
Tomorrow is Cross Country, fun for everyone who likes running but for the rest of us not so much. Remember to wear your house colours, yellow for Kowhai, red for Rata, blue for Tawa and green for Rimu. Parents can come along and cheer for their kids.
Check out the class pages and the news page for photos of Rm 12 and 13's camp.
Oh yes, semi- finalists for Awakeri Idol are Ben White, Katy White, Tiaan Roia, Georgia Leonard, Zoe Bennett and Tangiora Sisley. Three of these people will progress to the next round and one person will be our Grand Winner. That's all for now, bye people.
Yesterday was inter school rugby/netball day. The rugby teams had heaps of fun, scored lots of tries, and improved lots during the day. Some highlights were: Little Hayley Edhouse scoring a try against Te Teko, Liam McCormick's tackling, The Heberley twins' running, Emily Julian's four tries, the leadership shown by the senior team captains, various injuries, but "Are you OK?" Yep.
17 May Room 12 and 13 are away at camp, and room 10 just came back from camp last week, check out their cool photos.
Next week is just as busy with the rugby/netball interschool day on Wednesday and the school cross country on Friday. The senior school are also busy writing speeches. Year sixes are doing speeches about their dream career, while Yr 7 & 8 are doing a choice of health topics: A particular health agency – its role
Keeping Safe With Social Media
There's Only One Of Me
The impact of advertising on Body Image
Are the Olympics Healthy?
So we'll be learning a lot of things while the speeches are on. If you want to come to the school speech finals, they're only a few weeks away.... on the 12th of June.
Mr Fitz has been keeping the Kids Lit Quiz team on their toes with buzz sessions, so they can do well in the national finals in Wellington. He has made some buzzers to get their reaction times sped up. Katy buzz! Jess Maaa! Jessie Bizz! Hannah Clip clop!
7 May. Hi everyone, yes, Kids Lit was absolutely fantastic. We had lots of people supporting us and so both the teams did extremely well. The categories were Colours, Occupations, Prisons and Prisoners, Roald Dahl, Rodents, Reptiles, Sea Creatures, Sequels, Science and Ships.
In the Roald Dahl category, both teams got ten out of ten- actually twenty out of twenty because those were double rounds. The two Awakeri teams were the only ones that got ten.
Something amazing is that the B team got the same score as the A team did last year when they won, so that is great.
Sorry, I can't get you a photo because there aren't any yet, but if you look on the index page there is a picture of the teams.
For Room Nine's camp, they went to Lake Whakamaru and had an awesome time. Check out Rm 9's page for more info.
i think that's all. Byyyyyyyyyyyyyyyeeeeeeeeeeeeeeeeeee!
And more congrats to the teams cause they are awesome( but I am biased.)
6 May Friday night was very exciting!!! Awakeri defended their BOP Kids Lit Quiz title, beating MT Maunganui Intermediate by 3 points. Well done Katy White, Jess Robbie, Jessie Schuler and Hannah van der Horst! Also, our B team came seventh, beating a lot of other schools. Awesome Georgia, Elana, Finn and Ollie. Tomorrow Katy will give you more details of their great victory, and hopefully even a photo. Well done teams and Mrs Petersen. You're the best!! - Mr H.
2 May Today we had buddy reading. All the rooms were paired up with others, so everyone read to someone else. Today too, Room 9 came back from their camp. It sounds like it was a great three days, so hopefully we'll hear more details soon.
| | |
| --- | --- |
| | |
| Isabella Strachan reads to her young buddy. | Sam Cook and his buddy are engrossed in their book. |
| | |
| Taryn Forbes enjoys the book that Sammy Looney is reading. Then it will be Taryn's turn! | Tama Wooldridge listens and watches while his buddy reads to him. |
30 April Farewell to our old deputy principal, Mrs Leus who died on Saturday. Marlene was the first teacher of lots of the year eights. She made a big contribution to our school before she took early retirement in 2007. Haere ra, haere ra, haere ra.
23 April. Welcome back everyone. I hope lots of people had a good holiday, but now we are going to have a fun term
(hopefully.)
Welcome to our new staff, Mr Chelly and Mrs Elliot. Coming up are things like Kids Lit, Camps, Cross Country and preparation for Speeches and Science Fair.
The show Blast from the Past is opening in Whakatane soon. It isn't really anything to do with the school, but my Mum is doing the costumes and she has made some awesome stuff, so go and see it (plus it is free advertising for the theatre.)
OK, I think that's all. See you later.
22 April School's back tomorrow. Get ready! Not long till the Kids Lit quiz and camps for some rooms. Check out our calendar page. Good luck to Mrs Petersen for her term off. She has worked hard to train the Kids Lit teams and she will be wishing them all the best for Friday 4th May when they take on the rest of the Bay of Plenty.
5 April. Today is the last day of term. Yay!!!!!!!!!!!!!!!!!!!!!!!!!!!!!!!!!!!!!!!!!!!!!!!!!!!!!!!!!!!!!!!!!!!!!!!!!!!!!!!!!!!!!!!!!!!!!!!!!!!!!
I am excited. Can you tell?
This afternoon we have a rewards afternoon, where you can do lots of different activities like wheels, soccer, Awakeri rulz, drawing, computer suite, and loads more.
Yesterday we had Touch Day. Four schools came and there were some very good games. Photos are on their way.
Have a good holiday every people. Goodbye.
2 April Room 11 have been doing some cool work about their camp. Check out their page. Also, Ethan Robertshaw is the new Room 7 web site reporter. Check out his first entry.
This is the last week for our caretaker Mr Rhem. He has done a great job keeping our school neat and tidy, it's also Mrs Purches's last week for a while. Good luck with the baby coming Mrs Purches!
29 March Room 14 had a great time on camp at Aongatete Lodge last week. Check out their photo page! Room 11 are coming back from their camp today.
23 March. Hello. Last week, we had 14 awesome swimmers who went to the EBOP Swimming Championships. Awakeri got 2nd overall. Out of 20 schools, this is absolutely fantastic!
Here are the people who got places: Cambell Julian :8 yr boys-2nd 50 m freestyle, 2nd 25 m freestyle and 2nd backstroke.
Emily Julian: 9 yr girls-1st 50 m freestyle, 2nd 25 m freestyle and 2nd backstroke.
Liam Sanson: 12+ boys- 1st 50 m freestyle, 2nd 25 m freestyle and 1st medley.
Tom Holani:12+ boys- 2nd backstroke, 1st breaststroke and 3rd medley.
Linette Lengkeek: 10 yr girls- 2nd breaststroke.
Sharni Goodman: 11 yr girls- 2nd breaststroke.
Well done to all the swimmers, they did a really good job.

21 March. Top School went very well. In total, we earned $41,000, which is great! Last year we earned $33,742, so this years total is fantastic.
The winners in the Year 7 and 8 category were Edgecumbe.Kawerau South School won the cheer leading. The winners in the Year 5 and 6 category were Kawerau South School. Well done to those teams. They had a lot of competition, as there was 29 teams entered.
Click here to see some awesome photos.
Oh yes, I don't know how many ice creams the Julians sold but I will find out soon.
14 March Hi everyone. Our big day is Sunday! Yes, it is almost time for Top School, Awakeri Schools big fundraiser. Lets hope we have a champion team this year( I'm pretty sure we will).
We are going to have all sorts of things like lucky jars, boat swing, chair rides, food tents, hangi and of course the events themselves. It is going to be very exciting, so don't miss out. Come and support your teams!
The school is being transformed, which is great, but people have to remember to stay off the fields or they might get squished by the various vehicles that are here this week.
In other news, some of our students went to the Waikato/Bay of Plenty champs in Hamilton. We had some gold medallists! Check out Rm 10's page for a photo of Kevin with his medals.
Assembly on Friday is going to be outside B and C block, and we will have some great demonstrations from the cheerleaders.
I think that's all. You will hear more after Top School.
14 March Yesterday our 27 swimmers did really well at the interschool swimming sports at Edgecumbe. We had quite a few finalists get placings: Caleb Keightley, Taryn Forbes, Jenna Wilson, Korben Wilson, Juliet Findlay, Lachlan Butler, Alex Coventry, Jenae Brownless... and quite a few champions: Cambell Julian, Gene Brown, Moana Lengkeek, Emily Julian, Liam Sanson, Tom Holani, Sharni Goodman, and Linette Lengkeek.At the end of the day there was only time for one relay. One boy, one girl. Sharni and Liam won the relay!!!!

| | |
| --- | --- |
| | |
| It's the end of the day. Liam and Sharni have just won the interschool relay for Awakeri. Yes!!!!! | The start of the 2 lengths freestyle final. Tom (white cap) and Liam (blue cap) are ready to go. Liam won this final, but Tom beat him in the backstroke. |
8 March. Actually, we haven't said anything about Fun Raiser yet, so we need to do that now.( by the way, this is Katy reporting, earlier was Paige)
Fun Raiser was very successful. Room 14 made the most - they got $638.70, 10 cents more than Room 12! Room 13 made $460.The individual stall that made the most was Food in a Nek Minit that made $213.00. The total amount of money raised was $1737. 30.Wow!
Today and tomorrow we have Parent Interviews. The teachers get to tell your parents how naughty their little angels have been. And Mrs Merry always tells the truth! Watch out!
If you read the first chapter of Matilda by Roald Dahl, it has some brilliant things he would tell parents, check it out.
I think that's all and remember to look at our Fun Raiser pics!
Roger that, Captain. Over and out.
8 March Wow yesterday was Swimming Sports it was really cool. There were some really good placing and I know everyone swam their hardest. It was awesome watching everyone swimming, I think the Open Medley was the best well and the House Relay. Tawa won the House Relay Kowhai Second Rimu Third and Rata Fourth, it was really cool. Rata would have come third if someone hadn't dived in before someone reached the wall, so Rimu took our place. The Inter school Swimming Team is going to be formed today.
Onto other news: Molly Bradley and Hannah and Courtney Van der Horst were Horse Riding yesterday.
They did gamblers stakes which involved riding through the paddocks. You had to choose which jump to jump. The higher you jumped, the more points you got but if your horse refused to jump you got no points for that jump. After you did the cross country you went on to show jumping. You had to make up a course for that and the bigger you jump the more points you get, but if your pony knocks the rail or you refuse, you get no points for that jump that is why it is called a gamblers stakes. In the individual Molly and her pony Louie got the most points and won her age group and Awakeri got fourth overall. They did well to get fourth out of 25 schools, with 3-4 riders in each group.
Have a look at photo's of Swimming Sports and the Horse Riding. Mr Fitz has got the Ribbons and will be hanging them up for everyone to see shortly.
6 March The Fun Raiser went really well on Friday. We made lots of money and had heaps of fun. Check out the photos.
1 March Soccer enrolments were due in yesterday. Any late enrolments urgently to Mr Hawkes. The Awakeri FC website is here.
29 February. Hello everybody. Today is a Leap Day. Fun Raiser Planning is coming along very well. So I decided to combine the two. Look on the index page for a photo. Click here to see some photos of the Fun Raiser skits at Friday's assembly. Happy Wednesday!
27 February. Want to know more about Maths? Check out this very cool Online Maths Dictionary, made by Aussie Jenny Eather. It can teach you just about anything and has lots of activities to practice things.
Our Helping Your Child page has lots of other good suggestions too.
24 February. Seldoot, people.( For those who don't know, toodles means goodbye, and seldoot is toodles backwards, so therefore must mean the opposite-hello! So seldoot, everybody.)
Today we had a fantastic assembly. The mural winners were Savannah Jones, 1st, Atawhai Wooldridge, 2nd, and Georgia Robinson- Kearns, 3rd. The other finalists all get chocolate, but well done to everyone who submitted a design.
We also had some skits for Fundraiser, which were all wonderful. The Funraiser planning is coming along well, as there are posters going up around the school, and some awesome colourful signs as well. Some photos are coming soon.
I think that's all. Byyyyyyyyyyyyyyyyyyyyyyeeeeeeeeeeeeeeeeeeeeeeeee!!!!!!!!!!!!!!!!!!!!!!!!!!!!!!!!!!
22 February. Hi everyone. The Top School Team has just been announced. These fantastic people will be representing our school on March 18: Year 7 & 8 - Sam Looney, Sharnaye Hall, Jenna Wilson, Felicity Klein Ovink, Lauren Hall, Moana Lengkeek, Jared Turvey, Aaron Fretwell, Bleyne Heberley, Liam Sanson, Brady Niven and Alex Coventry.
Year 5 & 6 - Kaya Hodson, Michael Jones, Liam McCormick, Tawari Stanley, Kevin Paulsen, Korben Wilson, Jenae Brownless, Taryn Forbes, Nakisha Rangiaho, Emily Julian, Jana Longney and Linette Lengkeek.
At lunchtime today we had two minutes of silence to commemorate one year since the Christchurch earthquake. Between B and C blocks all you could hear was the rain and sparrows!
On Friday 2nd March the senior school are going to be having a "Fun" Raiser to get money for their camps. There are all sorts of awesome activities like six food stalls, a circus, a hippy house, duck shooting, jumping out of the window, haunted house, bucket of slime and lots lots more. So bring lots of money and remember to come to the circus because it is the awesomest stall ( you can ride a unicycle and pat a pony.)
The mural competition winner will be announced soon.
Bye.
21 February Check out these nice photos of the year 7 & 8 science field trip. Mud, mangroves, magnificent!
Tomorrow is the final Top School trial. The yr 7&8 girls have to do the shuttle run, and then the teams can be announced. There were 87 children at the start of the trials, trying to get into the two teams. The 'lucky' 24 will be announced on Thursday.
16 February Hello. Tomorrow the year 7&8's are going on a trip to the Ohiwa Harbour to learn about Estuaries. Also the year 5&6's are going to West End Surf Club. The year 5&6's are learning about Water Safety and will be playing games. How Fun Is That??
The Enviro team chose the top 10 murals yesterday at lunch but no one is sure because the teachers have to vote now. Who will get through and win the drum roll please dadadadadada Chocolates? If you think about it, it is kind of like American Idol or one of those type of shows!
Wow just before, we were hearing some weird yelling and screaming noises coming from room 15. I'll go find out.
2 MINUTES LATER... Well oddly, the yelling and yahooing was people doing drama. Good for them! Maybe they will become actors one day and I'll be able to watch them because I wrote about them.
Oh also today Ngaio (the website monitor for room 11) came to school with her Puppy LabradorXBulldog Chester. He is so cute and everybody thought he was SUPER CUTE!
Well that's all the news for now. See ya.
10 February. Greetings, earthling forms. We have just found out who the fantastic new House Captains are. This year is a bit different from other years, as we have a reserve House Captain in each house. This way, if a House Captain is away, or one leaves the school, we have another person ready to step into the role. The reserve captain also helps out with a lot of the duties. Anyway, now for the important stuff (drum roll please!)
The House Captains for Rata are Mekaela Learmond, Moana Lengkeek, Liam Sanson and Jared Turvey. Robert Coulter is the Reserve Captain. The House Captains for Rimu are Cara Biddle, Savannah Jones, Aaron Fretwell and Thomas Fretwell. The Reserve Captain is Tom Holani. The House Captains for Tawa are Sam Looney, Sharnaye Hall, Daniel Perkinson and Bailey Carter. Molly Bradley is the Reserve Captain. The House Captains for Kowhai are Katy White, Tiaan Roia, Jalen Heberley and Bleyne Heberley. The Reserve Captain is Kodi Bramley.
Well done to all those people, as well as everyone who tried out.
Remember to hand in your mural designs to Mrs Fletcher by Wednesday. There is a big box of chocolates to win, so don't forget!
I think that's all. Bye, everybody.
9 February. Hi everybody, the new website monitors have been selected and have now started their training. The class pages are going to start filling up with lots of awesome information, so keep an eye out. This year, our news reporters are Paige and Katy, and we are going to do a great job!
Yesterday we had the House Captain trials. There was a whole heap of candidates and we will be finding out the 2012 house captains tomorrow. There was also some really good house chants, and you can see the words here.
Rata: RA RA RATA RATA RATA
RA RA RATA RATA RATA
KOWHAI'S SUNNY SUN GOT SENT AWAY
RIMUS BIG TREE FELL DOWN TODAY
AND TAWA'S BLUEBERRIES ROLLED ASTRAY
CAUSE RATA'S HERE TO SAVE THE DAY
RA RA RATA RATA RATA
RA RA RATA RATA RATA
YEAH
Rata 2.FI FIE FO FUM
LETS GO RATA HERE WE COME
WE'VE GOT LOTS OF HEARTY HEARTS
WE GOT ROSES HERE WE GOES
WE ARE BIG, WE ARE STRONG
COME ON RATA HERE WE GO.
Rimu. WE ARE RIMU
GO GO GO GO GO
WE WILL WI-IN
YEAH YEAH YEAH YEAH YEAH
WE ARE RIMU(CLAP CLAP CLAP CLAP CLAP)
WE WILL FINISH FIRST
WIN WIN WIN WIN WIN
WE ARE RIMU
GO GO GO GO GO
R.I.M.U
GO RIMU!!!!!!!!!!!!!!!
Tawa.GIVE ME AT T-A, T-A
A W-A, A W-A
WHAT DOES THAT SPELL, TAWA
TAWA, WE'RE THE BOMB
(CLAP CLAP CLAP)
CAN'T STOP US
(CLAP CLAP CLAP)
WE'RE ON A ROLL
(CLAP CLAP CLAP)
BLUEBERRIES
( CLAP CLAP CLAP)
ARE WHAT WE EAT
( CLAP CLAP CLAP)
HEALTHY AND YUM
(CLAP CLAP CLAP)
A TASTY TREAT
(CLAP CLAP CLAP)
EVERYBODY SAY TAWA (TAWA)
CAN'T HEAR YOU(TAWA)
SAY TAWA(TAWA)
CAN'T STOP US
(CLAP CLAP CLAP)
CAUSE WE'RE THE BOMB DIGITY
TAWA!
Tawa 2. FAST AS LIGHT
COLOUR OF THE SEA
WE WILL WIN
YOU CAN CHUCK THOSE OTHER HOUSES IN THE BIN
WORD!!!
Kowhai (I saved the best for last) KOWHAI, ELECTRIFYING
AND WE'LL LEAVE YOU, IN THE DU-UST
BECAUSE OUR POWERS, ARE MULTIPLYING
WE'RE ELECTRIFYING!!!
BETTER WAKE UP, OOH OOH, CAUSE WE'LL WIN THE RACE
WE'LL COME BREEZING PAST YOUR HEAD
BETTER WAKE UP, OOH OOH, WE'RE THE SUNSHINE HOUSE
BUT WE'LL MAKE YOU CRY INSTEAD.
KOWHAI, ELECTRIFYING.
WE'RE COMPLETELY, IN CONTRO-OL
FANTASTIC YELLOW, IN THE SUNSHINE
WE'RE ELECTRIFYING
YEAH!!!!!!!!!!!!!!!!!!!!!!!!

The start of the year is very busy, so one of us will report soon. Over and out, roger.
8 February Parents, come and meet the teachers and BOT and FAST team members in the school staffroom Thursday evening 7pm. Haere mai, haere mai!
Today we have 87 people trying out to get into our Top School teams. This year we have a yr 5&6 team as well as the usual yr 7&8 team. Tomorrow, the new web site monitors start their traing, so watch out for some news!
2 February. Welcome back to the new term! Website Monitors have yet to be appointed so the class pages are all still last year's. I hope everyone has a great year. There are all sorts of things happening, from Top School Team try outs to House Captain selections and of course a lot of tests! Your new monitors will write soon, about more things currently happening.
29 January School start this Tuesday (31st)! The stationery shop at school is open from 7.30 am each day in the first week. The calendar is updated for this year. It is still a draft.
24 January 2012 Only a week of holidays left for the students. The staff are of course already hard at work getting organised. We won't have Mrs Parker this year, she's taken her musical skills down to Palmerston North. Welcome to Samantha Pendleton who will be teaching in Room 6. Congratulations to Mrs Broadhurst who's beau-tiful baby boy arrived in December.
Old News Do you want to look at the news from last year and before that? It is reeeeaaallllly cool. Click here to find that interesting old news from 2011, 2010, 2009, 2008, 2007, 2006, 2005, 2004, 2003 or even 2002 and before.