Awakeri School News from 2006
20th December 2006 Our last day of school for the year. The social last night was awesome. Rhona and Riki won the best couple dancing comp! Check out some of the photos. The rest are off limits! (well you could ask to see them).
Today the weather joined in with our massive water fight, but it was fun (except Zara wused out). Lots of tears were flowing as we said our last goodbyes. Bye year eights. Visit our website to check out the news. Do well at the high schools.
19th December 2006 Last night was our fancy dress. Many kids got awards like highest scores for Australasian Tests. This year, four students got the Year 8 Principal's award. Rhona Whitaker, Harry Cotter, Marie-Louise Barkema and the 'so' stunning Kirsty Wakelin. It was a great night. Check out the photos.
Today is the last official day of school for the juniors but the middle and senior school can choose to come for the big water fight tomorrow. I'm going to get back at Mr. Fitz!
Don't Answer the Phone had a great premiere. Shauni's slow motion dancing, the vicious kidnappers and the electricity between the witch and one of the super snoopers were highlights. We also enjoyed a surprise video of three students stuck in a bungee swing. Pull it harder Kate!
The yr 7s have done a great job of decorating the room for tonight's senior social.
18th December 2006 Tomorrow morning we have the premiere of Room 12's (Rhona's) movie Don't Answer the Phone.
It's also fancy dress tonight. 7 pm start, be early!!
Next year's calendar is now online. Check out the dates of Awakeri's events.
There are only two more days of school left, and it is very sad, as all the fabulous year 8's are leaving to highschool. We will miss them a lot, especially that stunning Kirsty Wakelin!!! (Guess who wrote this!)
14th December 2006 Today we are going to have our first Fancy Dress Practice!! It should be a lot of fun!! Also tomorrow we have the final of house softball. Rimu v. Rata. ONLY four and a half days left of school (sadly).
11th December 2006 Lately we have been having an inter-house softball competition.
The middle-school longball competition is over. Tawa came 4th (in other words, THEY LOST!), Kowhai came 3rd, Rimu came 2nd, and Rata WON!!!I don't know why they came first... after all, Kowhai is the best house, isn't it?!
The senior softball competition is still going, but I don't think Kowhai will win. After all, they have lost their first two games!!!(I reckon that should count!!!)
On Friday we had the Du-athlon. It was a bike and a run. There were lots of competitors, which was awesome. Mr Sheather did a great job of organising it. Here are the winners:

| | | |
| --- | --- | --- |
| Age | Individual | Team |
| 12 & 13 yrs | Danielle Le Lievre | Guy Kamphorst, Pete Dowden, Jayden Haddock |
| 10 & 11 yrs | Kimberley Le Lievre | Ari Porter, Caleb Sheather, Kurt Turpie |
| 8 & 9 yrs | Daniel Reeves | Daniel Reeves, Toby Kirkpatrick, Zac Fretwell |
| 6 & 7 yrs | Liam Sanson | Daniel Perkinson, Tiaan Brownless |

Today Kate McConway is off to Wellington for the national science fair week. Good luck Kate! Kate got her free trip because she won the EBOP fair and then was selected from all national fair winners. She'll be meeting up with one of our ex-pupils, Rink Tacoma, who got there for her great work in year 12 near Christchurch.
7th December 2006 Our school has lots of support from parents and the general community. Many thanks to you all!! Here's the list of sponsors for our main fundraising event Top School. We're now taking entries for Top School 2007.
4th December 2006 If the photos don't tell you enough, we just have to tell you some of the HILARIOUS things that happened at the intensives last week. Brace yourself for some BIG laughs!
Kirsty got stuck in the giant spider-web at the playground by the skate-park. By coincidence, there was no one there to save her!!! Thomas attempted to clamber OVER the tallest hurdle, instead of just going under!!! Douglas and Liam broke the school record by consuming 14 SAUSAGES!!!!!!!!! WOW! The old record was 11. In one certain lane at the tenpin bowling, one ball got stuck in the gutter, and when Chris tried to save it, he ended up getting 2 more stuck!!!

1st December 2006 We've just had two great days of Year 7 and 8 intensive. Everyone has gone home tired but happy. Yesterday the year 7s did leadership training (including teaching the juniors and getting ready to be house leaders) while the year 8s went to play indoor sports at the Mount and ten pin bowling. Today the year 7s did team building games at Barrs Farm while the year 8s played golf or went to Tauwhare Pa, then we all met at the Hot Springs. Here are the photos.
Today was Mr Doney's last day as a student teacher in Room 2. We have really enjoyed having him at school.
27th November 2006 Congratulations to two of our ex-pupils who are duxes of their high schools. Ian Sisam is dux of Whakatane High and Josh Pemberton is dux of Nelson Boys.
23rd November 2006 The padder tennis courts are the most popular place at the moment. Lots of kids are patiently waiting by the side of the court for one of their mates to get out. Eddie Sykes is really tough to get out.
20th November 2006 Check out our cool photos from last week's marae stay.
Today some year eights went to have an orientation morning at Whakatane High School. They were put in their house groups for next year and they did some cooking in a tech room and made up some advertising catch phrases in an English room.

16th November 2006 Well on Tuesday the first rooms went to Wairaka Marae. Rooms: 12, 6 and 5 had a lovely welcome and an ABSOLUTELY yummy morning tea!!! We had: lollies, biscuits, sausage rolls, muffins, butterfly cakes and lots lots more! Room 12 stayed Tuesday night and room 11 stayed last night. Room 10 is now at the marae and they will be saying over night. There was a very funny thing that happened when room 12 stayed the night. A few people were playing rugby and then it was time to say our karakia before tea. A lot of the people were exhausted and Steven went up to a few of the boys and said: Well you guys look very hot. All of us couldn't stop laughing. He didn't get why we were laughing until someone told him. Very Awkward! I'm sure that there will be more funny things happen when room 11 and 10 come back.
13th November 2006 Oooooooh. Mrs. Campbell paid a visit to the school today, with her new 5 week old baby girl. All the teachers were drooling over her. Poor Alex and Karis will be so upset. They would have loved to see her. Madeline is also looking very big. She is nearly 4 now!!! Hopefully they will come back to school while EVERYONE is here!!!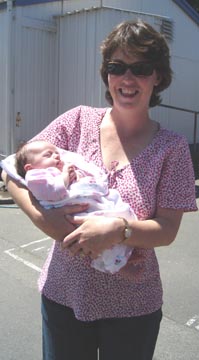 Isn't the baby just SO cute?!
8th November 2006 Today was meant to be Rangitaiki Inter- School Athletics. It has been cancelled!! It's a shame because it would have been a good day out.
The marae stay is coming up next week. Rooms 10, 11 and 12 will be stay over the night and rooms 1, 2, 4, 5, 6, 7, 8, 9 and 13 will be going for the day. There will be lots of fun activities like:
Making flax flowers, learning a bit more about the Maori culture, playing with the rakau and saying their mihi. It should be a great week.
6th November 2006 On Wednesday we have the inter-school athletic sports. A big congratulations to all those people who are going, and good luck.Only people who got a first in something at our school athletics get go. Good luck!
Check out these very cool photos of the athletics sports!
3rd November 2006 Today we had our sprinting. Lots of records were broken. The records that were broken were.
| | | | | |
| --- | --- | --- | --- | --- |
| Event | Age | Previous Record | New Record | New record holder |
| Standing jump | 11 girls | 1.88m | 1.99m | Jemma Shaw |
| Shot-put | 11 girls | 8.33m | 8.55m | Jemma Shaw |
| Long jump | 11 girls | 3.85m | 3.90m | Kere Matthews |
| Shot-put | 9 boys | 7.83m | 8.04m | Gene-ron Jones |
| Standing jump | 13 girls | 2.10m | 2.18m | Selena Shaw |
| Standing jump | 11 boys | 2.03m | 2.18m | Liam Richards |
| Long jump | 9 boys | 3.50m | 4.25m | Gene-ron Jones |
| Standing jump | 9 boys | 1.80m | 2.06 | Gene-ron Jones |
| Discus | 9 boys | 19.7m | 19.80 | Gene-ron Jones |
| Shot-put | 8 boys | 6.07m | 6.34m | Caleb Carter |
| Standing jump | 8 girls | 1.58m | 1.75m | Holly Davis |
| Long jump | 8 girls | 2.95m | 3.50m | Holly Davis |
| Discus | 10 boys | 19.8m | 20.6m | Samuel Burgess |
| Vortex | 10 boys | 37m | 38.8m | Samuel Burgess |
| High jump | 11 girls | 1.21m | 1.25m | Emma Magee |
| 80m sprint | 8 boys | 12.94sec | 12.69sec | Caleb Carter |
| 800m | open | 2.47min | 2.41min | Steffi Rogers |
| 60m sprint (heat) | 8 girls | 10.44sec | 9.97sec | Holly Davis |
| High jump | 9 boys | 1.15m | 1.17m | Gene-ron Jones & Jarod Hall |
Gee whizz. All the people who broke records will receive their certificates at assembly next week. It's sure going to be a LONG assembly!
A funny story from the starting line at the 13 year old boys 200m sprint. Mr. Hawkes held the starting gun up in the air, and someone mentioned the story in a P.A.T Test about how the swimmers stand on the diving board, and drop a dead seagull, just as the starter shoots! This stirred up a conversation about shooting ducks when Douglas said, "Don't shoot me!!" Mr. Hawkes asked, "Are you a duck?" and some joker said, "No he's ducklas!"
30th October 2006 Room 10 and half of room 12 missed out on a very exciting day today. Today is our open-day, where all the parents can come and walk through the school, and watch us doing our work. Also, over the past 12 months, B-Block has been undertaking a HUGE 'plastic surgery', redoing all the rooms, getting windows that actually open, doors that can move, and toilets that DON'T smell!!!Ex-Board of Trustees Secretary , Alison Barr, was lucky enough to cut the red ribbon. Alison came to Awakeri as a small child, and said that the block, before the renovations, looked exactly the same as when she was at school. It was Alison who nagged at Mr. Fitz., a few years ago, to get the rooms done, and, with the Ministry Of Education's consent (and aid in money!), the renovations began. Now, a few years later, the rooms are finally finished,. Well, I shouldn't really say that, because rooms 7 & 8 are still undergoing their 'surgery'!!!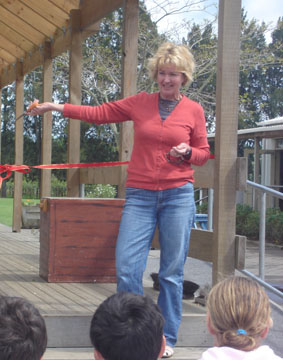 Alison gets prepared to cut the red ribbon.
27th October 2006 Next week on Tuesday and Wednesday, we have the field events (throwing and jumping). These are the events we will be doing.
| | | |
| --- | --- | --- |
| Age | Throwing | Jumping |
| Juniors | Quoits, Beanbags | High-jump, long-jump |
| Middleschool | Shot-put, discus, vortex | High-jump, long-jump, standing-jump |
| Seniors | Shot-put, discus,vortex | High-jump, long-jump, standing-jump |
The track events (running) are on Friday. All the classes have been practising out on the fields. There should be some pretty tough competition on the day.
The seniors had their first maturation talks yesterday...I don't think it made the boys any more mature!!!
Also, a great big HAPPY BIRTHDAY to Mr. Hawkes. He turns 25 today!!! HAHA. You wish Mr. Hawkes!!!
23 October 2006 Next Monday you are welcome to visit us on our open day, 10am - 1.20 pm. Click here for the full invitation.
17th October 2006 The seniors had a go at singing today, for their stay at the marae.
Speaking of singing, Mrs. Parker has started up a school choir, and their first session was today. We can't wait to see how that turns out.
Still speaking of singing, Mr. Hawkes has put up fliers around the school, advertising a Christmas Carol writing competition. The winner might get to record it at Radio 1XX with some other Awakeri singers, and have it played on the radio. The whole district will be able to hear that lucky winner's song. So, put your heads down and start writing guys!!! (And girls)!!!!!
16th October 2006 We are missing Siri right now, as she is doing her practicum at Allandale School.
In five weeks we are going to Wairaka Marae. The seniors are stying the night, while everyone else comes for the day. It's a great opportunity that comes around every second year, for the seniors to host the middle and junior classes, and teach them a bit about Maori culture.
Room 10 FINALLY got to go to Manual today, after Room 11 stole one of their Manual days.
15th October 2006 Its always nice to see our ex-pupils doing well. In Fonterra's Farmlink magazine there was an article and photo of Brechtsje Tacoma who won a NZ Science Fair award for her project, I Say Teat Spray, which is about preventing mastitis in cows. Brecht now lives in Canterbury. Her sister Rink has also been a high achiever in Science Fairs (see our photo archives page). Well done both of you!
13th October 2006. It was a brilliant hot day for Ag Day today. There were competitions for calves, kids, lambs, dogs, plus pets and indoor show and cooking sections. Click here to see some photos of the great day.
9th October 2006 Welcome back to term 4. We hope everyone had a nice relaxing holiday!!
Today we had our first day of having our compost bins!! Well done to everyone who remembered a litter less lunch! This term we have got a few things happening:
Our marae stay, athletics, Year 7/8 intensive, Fancy dress.
Soon everyone will be expected to wear a sun hat because it is starting to get hotter!!!

5th October 2006 The incinerator is no more! Now we have to sort our rubbish. We also have to take our lunch litter home with us. Check out the photo of the incinerator going hard out on the Photo Archives page!!
22nd September 2006 A great final show of Robyn Hood. It started with Liam doing his winning whaikorero from the kapa haka festival, then another excellent performance from the kapa haka. Check out the kapa haka photos. They're cool.
The full audience enjoyed some excellent performances, and a few funnies for the last show, like Meron not stopping the sword fight against Asher, she just kept going. Like the sound crew playing Madison's trumpet cue about a hundred times. Everytime Madison went to yell out his orders, the trumpet would start again. Check out Kate's cool photos of the production.
Happy holidays everyone!
21st September 2006 All the year three and fours have just performed a play called 'Little Red Rocking Hood'. The year three and fours are the ones who are just a little bit too young to be in our school production. While we have been rehearsing hard they have been practising their play. It was very good. There were Police men, Singers, Dancers, Granny, The wolf and Little Red Rocking Hood. Well done.

20th September 2006 Well today we had 2 Matinee (day) performances. Some interesting things happened:
*The audience watching the second show were Senior Citizens, and one old man in the front kept falling asleep, and his false teeth kept falling out!!!
*Emma knocked over the glasses...what a mess that would have been...if only they were filled with drink!
*Meron looked at Asher, and said "You must be Little Joan."Asher replied with a quick, "No, I'm Robyn!". *The Captain of the Gaurd, Madison, went to say "company", but ended up squeaking it!
*In the Initiation ceremony, the girls were lifting Meron up in the air. Harry dimmed the lights, and they dropped Meron!
*The strobe light came on, and Madison tripped up on stage!
To catch the next instalment of 'Crazy mishaps', you better come to our closing performance tonight.

19th September 2006 Well tonight is our OPENING NIGHT for our school operetta. There are still tickets for tonight's show. On tonight's show we have Emma Magee as Robyn Hood and Marie-Louise as the Sheriff! Here are some things to look out for, Boys in boxers, rugged girls in rags, someone with a handbag and a big juicy hug!!!
Here are some funny incidents from yesterday's practice:
Well Sydney Jones got in hunks of trouble because he started marching too early and it took about 10 minutes for him to realize!!!
Mrs Parker and Mr Hawkes went way too early for one of the songs and stuffed everyone up,
Meron and Rhona took their shoes for their fight scene and left them on the stage!!
Emma broke the black lip stick when she was putting it on Meron for the initiation.
18th September 2006 Congratulations to the kapa haka on a great performance at the Rangitaiki Festival on Saturday. Liam Richards came FIRST in the whaikorero (speech) section, and that was against the schools from the competitive section as well as our own novice section. He was also 3rd boy leader and we came third in the whakaeke (march on). Great work! Tino pai!

8th September 2006 Today Miss Taggart and Mrs. Shaw put some operetta make-up on Kirsty Wakelin (the Sheriff ), and Emily Graham (an Outlaw). Emily got smudges all over her face, and got her hair teased. Kirsty got a moustache, a mono-brow, and black lips. She got all dressed up in her costume, and sang one of her songs at assembly.
5th September 2006 Some of the year 8 students went to the Trident open day today, to see whether they want to go to there. Whakatane's open day was last Wednesday, and there was a great turn-out of people. Trident's open night is tonight, and Whakatane's is tomorrow. Whichever highschool they choose to go to, we're sure our 'champion' year 8's will do well.
30th August 2006 The senior students have been lucky enough to go to Life Education this week. They have been learning about healthy diets, and have to see whether their body (car) would get a warrant of fitness! Harold, as usual, told some pretty dodgy jokes, about food. Thanks Shirley, it was cool.
Our school is starting to work towards students having LITTERLESS LUNCHES. Each class will be trying out ways of reducing their litter that their food comes with. Next term we won't be able to use our incinerator to burn rubbish, so we're trying to have less rubbish to try and get rid of.
28th August 2006 Well today room six had an auction! It was a lot of fun. Room 6 pupils created their own notes. They had to earn them by coming to school and being good. If you were naughty you would lose money!
They had their auction today. There were things sold for $125 - $1.00. They had a wonderful auctioneer Rod Kamphorst who was very fast and funny!
23rd August 2006 We have some very exciting news. Last night Mrs. Bateson gave birth to her new baby boy, Joseph. We hope he will grow up and attend Awakeri, since Awakeri is the school of champions!!!!
The Operetta is coming along nicely, and by now everyone should have learnt their lines. We have learnt all of the songs now, and have to focus on memorizing them.
We had the annual Hockey/Soccer day last week on Thursday and Anita Hope took a smashing in the face!!! One the Te Teko players smacked her in the noggin with their stick, and she had to get stitches. I heard there was a lot of swearing!!!!!!

22nd August 2006 Well there are a few people who are getting prepared for the talent quest! The few winners will perform at our own production 'Robin Hood outlaw princess'. Here are the categories:
Singing, comedy, magic performances and dancing. Good luck to all those who are entering!
There is a lot of practicing going on for Kapa Haka. So remember your poi's!
14th August 2006 Great news! Kate McConway was the overall winner of the EBOP Science Fair and could now win a trip to Wellington. We had lots of other award winners too...
Best sport entry Anita Hope
Best agriculture entry Alex Moore
Best recycling entry Stephen Glassbrook
Best food related entry Alex Moore
Best dairy entry Rhys Cram
Best environmental entry Kate McConway
Best research entry Stephen Glassbrook
Best science entry Kate McConway
We also got Gold and Silver awards and highly commendeds. Well done!
11th August 2006 Well about 5 minutes ago we found out who got prizes from the Eastern Bay Science Fair. Rhys Cram, Anita Hope, Joel Ingle, Chris Johnston, Alex Moore, Kate McConway, Stephen Glassbrook, Pete Dowden and Sam Schuler, Kelsi Parker, Liam Richards and Gareth Rowlands. Two other entries but we can't name them. Also 6 of our ex-pupils did very well with their science fair projects. They'll find out tomorrow what their prizes are. Well done guys!
8th August 2006 Friday is Miss Isaac's last day at Awakeri School. Room 11 will be farewelling her with a 'interesting' party on Friday afternoon. By interesting I mean they all have to bring an item of food, and Miss Isaac will judge which piece of food is the most interesting!!! What a strange way to say goodbye to her pupils!!! Also, boys in room 11 have being wearing skirts at school!! They are planning to wear them at the party on Friday!
The EBOP Science Fair is on Thursday, so good luck to all those people who are going.
Also, the Hockey / Soccer day is coming up, and all the teams are practising hard.
2nd August 2006Well last night we found out who won the science fair. 1st in the science section was Stephen Glassbrook with his brilliant project. His was to do with RECYCLING!
In the Technology section the winner was Anita Hope with her invention. She made something to warm up a Hockey goal keeper. It was a quick reaction ball. Congratulations everyone who got places and commendeds. Here are some photos.
28th July 2006 Some of you would remember her but MISS LYNSKEY came back to school!!!
She has been over in England working and she has come back to visit us and her little angel Jemma, and renew her visa.
Well its birthday fever today. We have also had a lot of birthdays in the past two weeks. Today we had three birthdays all in the senior school. Joel who turned 12, Steffi who turned 13 and Rhona who also turned 13. This week on Wednesday it was Selena's birthday. Last week we had a few. Next week there are two. So a big happy birthday to all those people!
26th July 2006 Well today there are only four more days until the science fair is to be handed in.
The new teacher in room 11, Mrs Shaw, came to check room 11 out!

25th July 2006 Well yesterday room 11 found out that their teacher, Miss Isaac, is leaving for Greymouth. They will be getting a temporary teacher, Mrs. Shaw. Miss Isaac will be remembered for her volleyball skills and Enviro school things.
Well today is the first Soccer and hockey practice for the senior syndicate. There are 7 Soccer teams and 3 Hockey teams.

20th July 2006 Today Mr. Sheather got a rather strange e-mail (for the schools newspaper competition) from none other than yours truly... Kirsty!!! It included three rather gruesome pictures of a horse's eye with a tumour on it!
19th July 2006 Well today at lunch time Karis da Silva brought her science fair to the school!
Her science fair is 'Does the colour of food influence how people think it's going to taste'. In shorter version it's ' Green Eggs And Ham'. So along came her mum with, yes, GREEN ham steaks and eggs. Also she had normal hamsteaks and eggs. Karis had a questioner first and it asked if you think that the green eggs and ham steaks would taste nicer than the normal eggs and ham steak. A lot of the people thought that green eggs and ham steaks would taste disgusting but boy were they wrong. I know you wouldn't think that the green eggs and ham steaks would taste nicer but that was the case. So that was one of our cool lunch times here at Awakeri school!

17th July 2006 Welcome back to term 3 wow. As you saw on the front page we have a new outfit for our duty teachers. This is because too many children got mixed up with the teachers that were off for a lunch break. So I don't think people will get mixed up now!!
This term is very busy with the science fair and the operetta! It should be a very exciting term for us all!

30th June 2006 Well this morning we got some GREAT news from Edward Sykes, who is over in Australia playing tennis, he was one of four people in his age group in New Zealand to be chosen.
He has won the 'Singles Plate' at Australian age group winter nationals.
So a BIG congratulations to him.
It is the last day of school for term 2. So have a safe and happy holiday and we'll see you all next term!
29th June 2006 About 5 minutes ago we found out who got what parts for the operetta.
Here are the main MAIN parts Robyn Hood: Asher Jones and Emma Magee
Sherriff: Marie-Louise Barkema and Kirsty Wakelin.
There are lots of other parts in the production like: Citizens, Heavies, outlaws and many more.
We have two reliable people on lighting this year David Ernest and Harry Cotter.

28th June 2006 We had the inter-school cross-country at Manawahe yesterday. Congratulations to all those people who went.
We even got some placings for the teams and the individual races. Kurt Turpie and Danielle Le Lievre both came 1st in their races!!! They did SO well. Congratulations guys!!!!. For the junior girls, the 'A' team came second. For the junior boys, the 'A' team came 2nd, and Kurt Turpie came in 1st. The intermediate girls 'A' team came 2nd, and the 'B' team came 3rd, and Jemma Shaw came 3rd. The intermediate boys 'A' team came 3rd. The senior girls 'A' team came 2nd equal, the 'B' team came 3rd, Danielle Le Lievre came 1st AND Selena Shaw came 3rd. The senior boys 'A' team came 2nd. You all did extremely well! Click here to see some photos of the awesome day.
25th June 2006 Wanted... competent musicians for a small orchestra for our Robyn Hoodproduction next term. If you can play flute, clarinet, trumpet trombone or bass and you're keen, contact Barrie Hawkes. Ex-pupils and parents most welcome.
22nd June 2006 Last night we had the speech finals in the staff room. We had 7 brave and talented finalists. Rhona Whitaker, Marie-Louise Barkema, Meron McCardle, Steffi Rogers, Guy Kamphorst, Karis Da Silva and Alex Moore. They all did very well and the judges were tough but fair. The judges were George Chambers, Kath Shaw and Peter Fitzgerald. But in the end the third place getter was Steffi Rogers with an amazing speech on her healthy role model Sarah Ulmer. The second place getter was Marie-Louise Barkema with a another amazing speech on her healthy role model Dune. But the first place getter was (drum roll please) RHONA WHITAKER with an outstanding speech on 'I am unique'. Well done to everyone in the finals and semis. Now were going to interview the winner of the last nights speeches Rhona Whitaker
How nervous did you feel when you arrived? Very nervous, but after I had done it I felt more relaxed.
Did you ever think you'd go that far? No not really but you don't know how happy I was when I got into the semis.
Did you have a lot of fun making your speech? Well it was all right I guess. Although it was hard to come up with it.
What was the competition like? Extremely tough. All the speeches were awesome!
Everyone did an awesome job!
Click here to see photos of the finals night.

21st June 2006 The school has had a computer virus the last two days, so we haven't been up to date on here.
Today was school photos. Some people looked very nice!

16th June 2006 Well just a few minutes ago we found out who was in the speech finals.
From Room 10: Karis da Silva and Alex Moore.
From Room 11: Steffi Rogers and Guy Kamphorst.
From Room 12: Louise Barkema, Rhona Whitaker and Meron McCardle.
Congratulations to those people.
Well done to all those people who didn't get into the finals. Everyone did a good job!
The Speech finals will be held at 7pm on Thursday night. All welcome!

14th June 2006 Right now about 7 children from c block and b block are busy creating a map of New Zealand at the front of the school on the concrete. It should be about 9 metres long from top to bottom and about 4 metres wide. So far they have just done the grid and the out line of Stewart Island. After play lunch they should nearly have had the outline of the country done. After that they will go around the outline with a thin paint brush in black and then paint it. Once they have painted it Denise da Silva will come and paint little pictures on it. E.g.. Little kiwifruit on Te Puke and mountains and stuff like that.
Well also today Room Twelve found out who was going to be in the speech semi finals.
Room 11 and 10 found out yesterday and last week.
Congratulations to the following people:
From room 10: Karis Da Silva, Kelsi Parker, Ben Fretwell, Alex Moore and Leonie Hall.
From room 11: Matthew Richmond, Kirsty Wakelin, Zara Fowell, Steffi Rogers and Guy Kamphorst.
From room 12: Louise Barkema, Harry Cotter, Kate Eggleton, Rhona Whitaker and Meron McCardle.
Some tough competition there. The semis will be held tomorrow afternoon and on Friday morning.
Good luck to all the competitors.
Click here to see some great cross country photos.


12 June 2006 A storm hit us today. The wind was very strong, a tree beside Room 12 blew down, as usual on a Monday it rained, then the power went off. Luckily it came back on again so we could tell you about it! At least it's not snowing like it is in the South Island. We don't want to have to stay home from school!
8th June 2006 Yesterday our Cross Country went very well. Since there is a new track we have all new records. Click here to see them. There was a lot of disgusting brown MUD!! That slowed all the runners down! Lots of smelly cow poo which was surely disgusting especially for the girls. Some people powered through it and got extremely muddy!!!
Edward Sykes was selected to play for NZ in the Optus tennis nationals tournament in Australia later this month. Congratulations!

6th June 20006 Well it's back again The SPEECHES! The Senior school starts tomorrow with around 10-15 kids going per day. Also tomorrow we are having our Cross Country!! So remember your House colours Rimu Green Tawa Blue Kowhai Yellow and Rata Red. Everyone is welcome to come and watch the event.
1st June 2006 Well today we walked around the new cross country course. A new bit has been added that goes through the kiwifruit orchard. There was about 200m of bog! Stinky puddles and mud, lucky some of us brought our gumboots. Now it's a long weekend, with teacher only day tomorrow and Queens Birthday on Monday.
29th May 2006 C Block are lucky to have their old carpet being replaced. Room 10s was done then room 12's. Room 11 should get theirs this week some time.
Some of the new carpet is falling off the bottom of the walls in Room 12.
As Rooms 10 & 12 lined up to go to Manual this morning, Shauni said to Mrs Merry, "Our carpet doesn't smell as much our your room's does."
Mrs Merry replied, "That's because you didn't have as much glue!!!"
26th May 2006 We were supposed to have an awesome sports day yesterday, but the rain ruined it for us!!! The netballers got out of the bus, and ran straight back in. That rain is shocking. The rugby players got to the fields, and even though it wasn't raining, the rugby had still been cancelled. There were still high hopes though, because good ol' Mr. Fitz let them have a game between themselves. It ended up going for an hour!!! Mr. Hawkes couldn't even resist to join in.
We took some cool photos of the boys (and a few girls, including me!!!) getting all muddy.

| | |
| --- | --- |
| | |
| Jacob looked like a pig, rolling around in the mud!!! | The boys were so muddy Mr. Fitz had to hose them down. Us girls are too good at keeping our image!!! |
24th May 2006 Rooms 10, and 11 just got back from camp! Look at the cool photos they took there!
23rd May 2006 The year 7's got their Tetanus shots this morning. Surprisingly, so did the year 8's!!!! It's because last year, when the year 7's were supposed to get their Tetanus shots, they were too busy getting their Meningococal shots. So, when the year 7's slumped along to get their jabs, the year 8's tagged after. Those poor poor year 8's!!!
18th May 2006 Rooms 10 and 11 have had glorious weather for their camp at Ngongotaha. Lucky them!! Have a look at what Rooms 7 & 8 had to get up to on their wet camp last week in Taupo. Meanwhile we've had some good fun back at school. Harry's been organising interhouse soccer (I mean football) in the lunch hours. Mrs Gordon can't help herself in supporting Rimu, even though she's been kicked out of all the houses.
15th May 2006 It's Monday today, so room 10, and half of room 12 have gone to manual. Rooms 10 and 11 go on their camp to Tui Ridge tomorrow. Those poor poor room 12ians all on their lonesome. Rooms 7 and 8 came back from their camp on Friday, and they had an awesome time!!!
11th May 2006 Well Room 6 came back from camp yesterday with smiles on their faces:) A few people said that there were some really cool activities like Archery and slug gun shooting. The down side for camp had to be cleaning the dishes and the TOILETS! But overall they had an awesome camp!
In 2 weeks we have the Rugby/Netball day. We have 3 Rugby teams and 2 Netball teams.
8th May 2006 Room 6 went on their camp today at Lake Taupo, and rooms 7 and 8 are going on Wednesday. Rooms 10 and 11 have their camp next week at Tui Ridge near Rotorua. It should be quiet in senior school without them.
We received some exciting news about Mrs. Petersen's son, Mark, today. He is into volleyball, and has been selected to play for the New Zealand under 17 squad. He is also playing for the North Island under 19 team in a quadrangular competition against South Island, New South Wales and Queensland in July. Mark is an ex-pupil of Awakeri, which proves my theory that all successful Kiwis probably went to Awakeri at some stage is right! The team will be competing against Australia later this year!!!
We have the rugby netball tournament coming up soon, and the teams are getting practising. It's tackle rugby, which is strange, because lots of girls have decided to play. Danielle can prove she's she-man after all!!!
Winter sport has started up. We have a good amounts of players for all the sports, e.g. there are 10 soccer teams.
1st May 2006 Want to check out our favourite Maths Dictionary? It has cool activities as well as explaining nearly everything you should know about Maths. Click here to try it out. Beware, you might get trapped by it and end up spending lots of time! Room 12 even had an email from the person who put it all together. Check it out on their page.
Today Room 10 headed of to Tech for the first time, along with the other half of Room 12. Mrs Merry and Mr Fitz have been planning a longer school cross country course to help us get ready for the inter-school one. They were off walking through kiwi fruit orchards this morning!
26th April 2006 Welcome back to another term. We hope you all had a nice Easter break and are now back into school mode! We have a few new wacky hair dos including Meron in Room 12 who has tried to camouflage herself by wearing camouflage shorts, but she sure stands out with her new hair color which is suppose to be red, but we all think it is more brownish orange than red!
11th April 2006 Well another successful term gone past. Oh well, good to have a break, although it is only 1 week and 4 days!
Next Term we have lots of interesting things happening like Room 11 and 10's camp, room 6's camp, room 7 and 8's camp, cross country, rugby - netball day and the oh so lovely SCHOOL PHOTOS! So have a safe happy holidays and don't fill yourself with too much chocolate.
10th April 2006 Check out Hamuera the kiwi on Room 5's page.
7th April 2006 Well yesterday we had our annual touch day with 700 children (including us Awakeri school pupils) aged from 8-13 years from lots of different school around the Rangitaiki Plains.
A lot of the teams came out with good results.
There were no major injuries with a few bumps here and there, But the main thing was to have lots of FUN!

3rd April 2006 Room 5 had a cool time at the Lions Hut last week. Watch out for their stories and have a sneak look at their photos!
31st March 2006 The seniors had a great trip to the rocky shore at Otarawairere yesterday. The highlights were the octopuses, the swim, and all the amazing creatures in the pools. On the way back, it soon got hot climbing the track and Renee Falwasser complained "There's only a googol steps to go!"
Check out Karis's descriptive thoughts on the trip on Room 10's page and check out the cool photos here.
29th March 2006 Room 5 is off to camp today. We hope they have a good time. Check out some of Karis and Alex's crazy photos!
The seniors are off to Otarawairere. They will be exploring the rocky shores.
27th March 2006 Have a look at some photos from Top School. On our sports records page is the list of all the winners of Top School over the years.
21st March 2006 Mr. Fitz, the creator of Top School 21 years ago, allowed us to get an interview with him, and this is how it went.
What's the most challenging thing about Top School? Just getting everything up in time. I always get worried that something's going to break, or collapse.
What do you plan to spend the money on? I want to spend it on the Astro-Turf, out by the complex.
What do you want to do better next year? I want to make sure that all the teams can score well For the bungy some teams didn't get any balls in, so I might move the drums closer.
Are you pleased with the results? I'm very pleased with the results. There were no hassles all day.
What do enjoy most about Top School? I just love watching everyone have fun.
Thanks Mr. Fitz
20th March 2006 Top School yesterday. Our team came 3rd and our cheerleaders WON! Watch out for photos and more news tomorrow. By the way, Te Teko won overall, with Thornton winning the primary section.
17th March 2006 Yesterday was the inter-school swimming sports. Awakeri did very well, winning the large school relay, but sadly we didn't win the medley. Our relay team consisted of Oliver Butler, David Ernest, Kelsi Parker, and Shauni Muggeridge. Congratulations guys. Awakeri also got lots of firsts, seconds, and thirds from the finals of the races as well. Well done.

13th March 2006 On Friday the middle and senior syndicate traveled on the bus to the Edgecumbe college swimming pool for our school swimming sports. We all got into our awesome houses, Tawa, Rimu, Kowhai and Rata! There were lots of events like the Breaststroke, freestyle, backstroke and all the widths. As usual we have to have the Biggest Splash and the neatest dive. We had some very interesting bombs!
We had two awesome lifeguards, Aimee Jones and Kelsi Parker who didn't have to rescue too many kids.(Thankfully) In the house relay it was a hard out battle with Kowhai winning in the end. The last event was the relay challenge between the parents, kids and the teachers. We let the parents win! It was a good day overall.
10th March 2006 The Top School team is named. Congratulations to: Chris Johnston, David Ernest, Stephen Glassbrook, Jayden Haddock, Guy Kamphorst, Asher Jones, Steffi Rogers, Danielle Smith, Anita Hope & Kere Matthews. The reserves are Shauni Muggeridge and Matthew Orr-McKeown.
8th March 2006 Lunchtimes. Lunch is always interesting, and today was no exception. The cheerleaders weren't doing too well, so Miss Clancy and Miss Taggart showed them how it was done. Mr. Fitz thought it would be fun to join in. That's a typical Awakeri lunch for you.
7th March 2006 PATs! Who invented them? The middle and senior school are doing the tests to see how their reading, maths etc are going. Here's what Susannah Williams of Room 7 thinks of them:

P.A.T. Tests
A,B,C,D and E
Silence all around,
Maths, English
Noises of pencils scribbling can be found !!!
Minds ticking
Teachers watching you,
Rubbers flicking
Papers crinkling, too!!!

Today Room 12 cut up a mako shark that Jayden's dad caught. Mr Sheather got Jayden to do the dissecting.
6th March 2006 Room 12 are back from a great camp at Blair Lodge, near Katikati. Here are some cool photos and all the gossip. Who got taken to court for making porridge in the dark? Who got rescued from a burning chalet by the local fire brigade? Who 'accidentally' fell in the river? Who tortured Mr Christensen in the soccer?
Soccer... the Awakeri Soccer Club enrolments are on this Saturday. Forms were given out to children today. See Mr Hawkes if you missed one. Visit the Awakeri soccer website for more information.
24th February 2006 Yesterday was the annual senior school Funraiser. There were heaps of cool activities like Fortune telling, Sumo wrestling, Pillow fights, Shooting Mr. Fitz with waterbombs, Haunted house, dress-ups and many more. We had eight food stalls, with the Works Food Shak raising $235.45. They didn't quite beat Pava Flava's record, but they still did very well. We all had a very interesting day, and the liitle kids thoroughly enjoyed it. Mr Fitz had bit of fun throwing back water bombs at Kirsty, Mickeala and Zara. Also the Haunted house was SO scary that a few of the little kids wanted to come out quickly and some of them even started to cry! In one of the food groups, Oli shoved a spoon into the blade of the blender, and it blew up into his face!!! It was a very funny day. Click here to see a bit of the fun.
20th February 2006 Click here for some cool photos of the Air Force band performance. Watch Oliver conducting the band, and Adrian doing hiphop in front of 900 kids and a professional band.
16th February 2006 Today was the very first trial for the Top School team. Top School is just over four weeks away. The trial today was the speed trial. Contestants had to run around the big soccer field 2 times. The boys went first, and when they had finished the girls had a go.
15th February 2006 Congratulations to our new house leaders of 2006!!!
In Rimu we have: Asher Jones, Kayla Manson, Mathew Fulton and Rhys Cram.
In Kowhai we have: Steffi Rogers, Kirsty Wakelin, Lindsey Cotter and Harry Cotter.
In Rata we have: Madison Constantine, Edward Sykes, Selena Shaw and Alex Moore and in Tawa we have: Rhona Whitaker, Karis da Silva, Mathew Richmond and Oliver Buttler. We are sure they will do a wonderful job!
The whole school went to the Central Band of the Royal New Zealand Air Force. Some peoples highlights were the movie theme songs (Harry Potter, Lord of the Rings, etc.), the funny comentator, mimicking the conductor, the rubbish bin drummer, the story of Bruce, the kids conducting the band and dancing to Crazy In Love. You can all go and see it tonight at the Trident High School Auditorium. See the pictures.
The new website monitors have been selected, and they will be allocated to their classes soon. Watch this space, because someone new might begin to write the news.
13th February 2006 Mr Hawkes has heaps of people applying to be website monitors this year. I wonder who he will choose! We have our first training on Friday, so look out for some interesting information in each class's page.
Today room 11 and half of room 12 went to tech at Edgecumbe College.
10th February 2006 Something horrible happened at school today. Some children had hit a ball up onto the the roof of the computer suite, and Mr. Rhem (the caretaker) climbed up the ladder to retrieve it. Now, I know what you're thinking, what's so horrible about that? Well, while he was up there, the ladder gave way and Mr. Rhem fell down. We're not sure what happened, but it did look serious. It was probably a broken leg, and maybe a couple of cuts. We hope he'll be O.K.
Anyway, forgetting about that. Most of the seniors now know what activities they're doing for the Fun Raiser. Everyone's looking forward to it.

8th February 2006 Well, school has officially started. All those shrimpy year 6's have come up into senior school, and the old little year 7's are now big year 8's. The annual senior fun raiser is coming up in 2 weeks. The seniors are racking their brains trying to think of something that will raise MORE than $7.50!!! And yes, a group last year DID raise $7.50!!! Hopefully someone this year will even beat Pava Flava's record of $250 in one hour.
6th February 2006 Happy Waitangi Day! Welcome to Miss Taggart and Miss Young, who take over rooms 8 and 13.
18th January 2006 Here are some cool photos of the senior social. Who had the best time? It's hard to tell!
The school calendar for the new year is updated.
Want to contact Awakeri School ex-pupils? Or record memories about our school, or just add your name to the list. Have a look at the Old Friends site.
11th January 2006 Happy New Year everyone! Check out some nice photos of the fancy dress night. Many thanks to Denise da Silva for them.
Old News Do you want to look at other old news? It is reeeeaaallllly cool. Click here to find that interesting old news from 2005, 2004, 2003 or even 2002 and before.