Awakeri School
This was the News in 2018
20 December 2018 Congratulations to ex-pupil Emily Julian who has been announced as head girl at Whakatane High School for next year. Well deserved. Another example of Awakeri's ex-pupils achieving way above expectations (small percentage of our students in the high schools, but large percentage of them being named prefects, winning awards, etc).
| | |
| --- | --- |
| | Emily acting in the 2013 school production |
14 December School is over for the year. The senior social went really well last night. Check out some of the awesome photos. Sadly there are no photos of the massive water fight today, everyone was too busy fighting! Mr Fitz blasted lots of people from the fire engine! There were some sad goodbyes as the year eights left for the last time (well, until they return as ex-pupils), but mostly lots of smiles as people went on holiday. Happy Christmas! Happy new year! Meri Kirihimete! Feliz Navidad!
13 December Fancy Dress went very well last night. It was a hot night, but the dancing and prize giving went well. Congratulations to Jamie Julian and Bonnie-Marie Wetting-Davidson who received the principal's award. Jame and Bonnie also spoke on behalf of the departing year eights. We farewelled the year eights and they responded with a powerful haka. Here are lots of cool pics of fancy dress.
12 December Fancy Dress tonight. Starts sharp at 7pm, be there early!! Congratulations to quite a few of our year eight students who have been notified that they got into the top classes at high schools next year. Some of them had to sit exams, with 60 people trying to be in the 30 that got in.
This week we say good bye to two of our teacher aides: Cathy Fitz and Jo Ramsay. Many thanks to them both for all their work, especially with students who needed extra support.
If you go to local markets, you might spot our Whaea Andrea, who is selling some choice items like sets of poi. Strings woven with a range of colours, price depends on the length of strings.
10 December The last week of school! School reports and school magazines go home tomorrow. The advertisement for the principal's job is now online. You can check out all the info about the job, or even apply, see all the details on our Vacancies link.
This morning the school was put into lock down after a series of threatening phone calls. The police have given us the all clear, they have also tracked down the phone that the calls were made from. It was a very unsettling and, for some children, frightening start to our week.
2 December Teachers have been busy writing reports about all their lovely students (and the other ones!). Students have been busy writing their self assessments on their year's learning. Some of them are very well expressed, e.g. anonymous senior student writes "Writing to me is like a secondary weapon in a computer game, it is good to have, but not much used." That person certainly writes well!
29 November Some great holiday reading ideas on the Library page. Find out about the 50,000 words statistic!
28 November The last day of intensives went well on Friday. The year sevens did team building and problem solving at Thornton Beach, while the year eights either played golf at Te Teko or went to the skatepark and Tauwhare Pa site. We all joined up at Thornton for a barbecue lunch and a swim. Have a look at the updated photos.
Yesterday we had 28 people go to the EBOP athletic sports. It was very tough competition. Shaun injured his ankle, Phoebe got disqualified (and, no, it wasn't for talking), but there were some fine results too. E.g. Joseph Bateson 1st in 400m and 200m, 2nd long jump; Jon Tiwha-Smith 1st 100m; Shaun Snow 1st 400m, 2nd long jump; Mikayla Jamieson 1st high jump, 200m and 100m, 2nd long jump; Phoebe Carter 2nd 400m; Londie Lee Rika 3rd discus; Sophie Peat 3rd shot put; Lucas McBeth 3rd 400m and 100m and there were more...

22 November What a busy week! The middle and senior school had PAT testing on Monday and Tuesday. Some junior classes have been going to visit Comvita honey. Yesterday we had the first day of Year 7&8 intensive. The year 7s and the year 6s were involved in leadership training. They started with mass soccer, then a technology challenge to get the year sevens all working together. Then the year 6s joined them and read books to the junior classes and organised games for the juniors to play. In the afternoon, the year sevens worked on house leadership things for next year. They designed new flags, signs and new chants. Here are some cool photos of the day
14 November We hope everyone survived the teachers' strike yesterday! Some great news from Trident High School: ex-pupil Amelia Howe has gained a scholarship from Otago University Leaders of Tomorrow for 2019.
This week the year 7 & 8 students (and the year 6 girls) have had the benefit of Maturation Talks with Suzi Tetenberg from Family Planning in Rotorua. Suzi has done an excellent job with the talks and our students have learned lots.
Sadly this week is the last week for our wonderful office manager Lyndell Jones. Good luck to Lyndell in her next job.
Good luck to all the 60 kids going off to the interschool athletics meeting tomorrow. We know they will do well. Click here to see photos from our athletic sports.
2 November Lots of cool reading role models shared on the Library page. Have a read!!
The high jump finals ended today on a BIG high. Shaun Snow in the 13 year old boys beat the old record of 1.45m by four cm and has set a very impressive 1.49m new mark! Congratulations Shaun!!
On Monday we have two coaches from Tottenham Hotspurs Football Club visiting. They will be talking to the whole school at 1pm and then taking some people from rooms 8, 9, 10 and 13 for some football skills sessions after lunch. The Awakeri Ninjas football team is also invited to join in.
1 November We have tried to have athletic sports this week. In between sun, rain and wind, we have got through all but the high jump for the older kids. Yesterday was field events day. We have had four new records set, Odin Herrick beat the 200m record, Bailey Le Prou, Mihaere Gillies and Kyan Edwards set new records too. Yesterday one of our record holders from the past, Tiaan Brownless, came back to watch events and to present certificates. He now only holds nine records (!) because Odin broke one of his! Check out all our sporting records here.
25 October Here are some nice photos from Ag Day last week.
If you are not planning to return to Awakeri School next year, please send the office an email. Mr Fitz needs to sort out classes.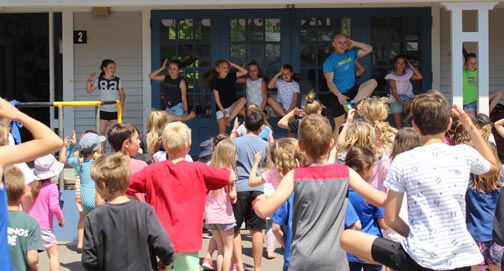 Brett Fairweather came to school yesterday. He gave our jump jam team some great advice, then he led everyone in some jump jams. It was amazing to have him here.
23 October Welcome back after a long weekend. Athletic sports is one week away. The track (running) events are on Monday and the field events (jumping and throwing) are on Wednesday. Tonight's BOT meeting has been postponed to next Monday 29th October.
Tomorrow (Wed) we are very lucky to have a visit from the creator of Jump Jam - Brett Fairweather. He will meet our team at the start of lunch time (12.40) by room 1. All welcome. Maybe he will even lead a jump jam.
18 October Have a look at Mrs White's very useful Library column on Mental Health. Lots of great ideas and info.
There is a NEW BOOK CLUB for ten year olds and up. They meet on the 1st, 4th and 8th Wednesday of each term at 8:00 before school in the library. Their first theme is Mystery books! If you're interested, see Mrs White at the library!
16 October Welcome back everyone!! What a busy week we have to start the term. The ERO have come to inspect the school, so we welcome Paora and his team and hope they enjoy their time at Awakeri. Yesterday the kapa haka performed for ERO, then a group of senior students told them about lots of aspects of Awakeri School through their eyes. Today they are spending time in our clasrooms.
On Friday is a highlight of the year, Ag Day, though it will be strange not to have calves there (because of the mbovis disease). We are looking forward to making all the indoor show entries on Thursday morning, seeing the baking entries come in, seeing all the pets, dogs, lambs, and kids on Friday.
We are also practsing hard for athletics which is on in two week's time!
| | |
| --- | --- |
| | |
| Our ERO manuhiri are seated to the left, the whole school watches the last kapa haka performance of the year with the sunshine blazing down. | The boys do well in their haka, even without Ty. The girls were awesome with their poi too, after two weeks of no practising! |
28 September Closing night went very well. It's all over! Robyn Hood Outlaw Princess. Congratulations to all the children in the show, special mentions to our powerful Sheriff, Jamie Julian who managed to get his voice to last even though he also helped lead the kapa haka; to Robyn (Asha) who had her best performance; Pip (Bonnie-Marie); the dwarf (Summer Jones); Captain of the guard (Marshall Foxx) and the brilliant kapa haka, who continue to get lots of admiration. At the end, Kiri Carter and Brett Grindrod from the BOT thanked everyone and made special mention of Mr Fitz's fantastic contribution of organising shows every year for the last 30 years. This was his last one. There won't be a musical next year, as our booking for the Little Theatre was taken away by the WDC. Next year we will have to do something else to showcase our amazing Awakeri talent. Photos photos photos.
27 September Tonight is closing night! Break a leg everyone! Mr Fitz's last show, ever! Hopefully he can give it a ten out of ten! Hopefully too, there are no more accidents with people's piupiu falling down in the kapa haka! Here are some photos of Wednesday's show. There are more to come.
26 September Good feedback from the opening night of the show last night. Today the juniors were a good lively audience, they booed the sheriff and cheered for Robyn. They loved the lights and were impressed by the kapa haka. They also joined in the jump jams. Everyone laughed when the jokers ended their act saying, "Just like Mr Sheather, we are out of here (hair)!"
25 September What a great item on Good Sorts about Daniel and his chicken rescuing. If you missed it, you will be able to find the video here. It screened on Sept 23).
Tonight is opening night of our show Robyn Hood Outlaw Princess. It starts at 7pm sharp at the Little Theatre in Whakatane. The show opens with our amazing kapa haka. Mr H reckons this might be Awakeri School's best kapa haka yet! After a musical interlude, the show begins. It stars Asha Stevenson as Robyn, Jamie Julian as the Sheriff of Nottingham and Bonnie-Marie Wetting as Princess Philippa. Listen out for Jim Spalding's trumpet solo too! There are only 5 tickets left for Thursday night's show, so if you haven't got a ticket, you had better come tonight. There should be door sales. Here are some photos of our dress rehearsal last week.
You might have noticed that we are changing the colours of our web site. We hope you like it!
18 September Today Hayden Jones from TV One came to visit. He was filming Daniel Parsons from Room 15 because Mrs D nominated Daniel as a Good Sort. Daniel loves chickens and he is a chicken rescuer. Hayden filmed Room 15 doing work in their class, and he is off to film Daniel at home. The item might be screening on TV One this Sunday or next.
Want a new active challenge for your family? On this link (opens in new tab) are some family scavenger hunts in different BOP locations, e.g. the Warren Cole Walkway.
Quite a few year 8s have been going to high school open days yesterday and today, trying to decide where they will enrol next year.
Tomorrow is dress rehearsal for the Robyn Hood production. Exciting! Tickets for the show are selling well. You can buy them from the school office.
The link to the Ag Day Indoor show programme has been updated to this year's. Check it out
| | |
| --- | --- |
| | |
| Hayden Jones from TV One's Good Sorts filming Daniel Parsons today. From left Josh, Jake, Daniel, Joel and Ollie. | Kaia and Skylar took the chance to get a photo with Hayden! |
14 September Have a look at two excellent items on the Library page, great reasons to celebrate being NZers!
What a big turn out at the junior school's Grand Parents Day today!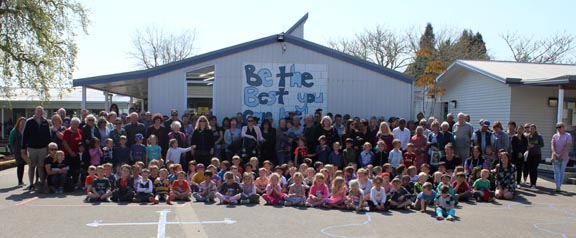 13 September Wow!! Tickets went on sale for Robyn Hood Outlaw Princess today and heaps of them were sold! Sharlee and Lucy were kept busy selling tickets before school started. Only four days of rehearsals to go until we head into the Theatre. Tomorrow is Grandparents Day for the junior school. That will be exciting, both for the grandparents and the grandchildren!
Kapa haka boys, please remember your rakau for practice tomorrow!
Congratulations Issy Lambert on winning your section of the badminton singles at the AIMS Games! Ollie Forsyth did well too, as did Jamie Julian, making three finals in the swimming. Joseph Spalding and Teigan and Olivia Nolan all got in the 30s out of over 160s in the cross country races.
6 September Year eight students have been given prospectuses for the Whakatane and Trident High Schools to take home. Our production rehearsals are now well under way. We hope to have tickets on sale around the middle of next week. The show is only three weeks away! Robyn Hood Outlaw Princess has great music and an entertaining story. The very demanding lead roles are being played by Asha Stevenson and Jamie Julian. Good luck!
1 September A big thank you to everyone who brought a donation for the Daffodil Day yesterday, over $450 was raised for the Cancer Society. Thanks Miss CT for organising it.
30 August There is a very appropriate Library column on the Library page. Thanks Margo! It's to do with choosing a good library, might be relevant for checking out potential high school for the year eights!
Congratulations to the kapa haka for an excellent concert last night! They have worked very hard and got up to a good standard all ready. Leaders: Jade Rika and Jose Rika. Back up Leaders: Jamie Julian, Ella Forbes, Reghan Harrod and Ty Tuhakaraina. There was a big turn out of whanau to watch. Here are a few photos.
28 August Today the year eights were all given an important letter to take home about all the local high school enrolments and open days information. See your child's teacher if you didn't get it!
The kapa haka are into their intensive. They worked hard on Monday and have another day tomorrow, with a small concert at 6pm in the Events Centre lounge. Whanau members welcome. Nau mai, haere mai!
On Saturday six of our senior students went to the Junior United Nations day hosted by Whakatane High School. Mitchell, Caleb and Marshall represented South Africa and Londie, Kalib and Oscar represented Israel. Israel were the winners, after 6 hours of debating! Many thanks to ex-pupil Blake Fortune for helping our students prepare. He was also president of the UN for the day.
19 August BOP Science Fair, Awakeri's results:
Joseph Spalding & Michael Seales: Intermediate Technology 2nd place, Statistics NZ Award, Don Raynor Memorial Award (Judge's Choice).
Frank Butler & Rhys Robertson: Intermediate Technology Highly Commended.
Ex-pupil Matthew Reihana-Asquith, who is now at Trident High School, came away with some excellent prizes too for his Junior High School Science entry. Congratulations to all five!
17 August Four of our students are getting prizes at the BOP Science Fair today, but we don't know yet what they are: Congrats to Joseph Spalding and Michael Seales, Rhys Robertson & Frank Butler. The sports day for today was cancelled, just as well with rain continuing to fall on our wet fields. Welcome back to Room 9 from their camp at the snow, hopefully they get back safely.
14 August Teachers are on strike tomorrow!!!! Don't come to school! Good luck to those 17 students who are off to the BOP Science Fair in Rotorua on Thursday. An early 6.45am start to get there on time. Sounds like Room 12 got up onto the mountain today on their camp. Well done! Good luck to Room 9 leaving for their snow camp tomorrow.
Check out the latest Library news on their page.
9 August Yay, it has stopped raining!! Unfortunately our fields are still very wet, so we have to stay off them for at least another day. People are using the artificial turf lots so they can do some P.E. and fitness. There are some good games of force back, king dodge ball, etc on the turf in break time too.
7 August School photos were taken today. Many thanks to Kushla for doing that for us! Order forms were given out today too. $10 a class photo.
The year eights were told today about a meeting that Whakatane and Trident High Schools are holding tomorrow evening 7pm at the Intermediate School. It is about year 9 students next year being encourged to bring their own Chromebook devices. An ad about the meeting has been in the Beacon today and last week. If your child is planning to go to either school it might be a very good idea to attend that meeting.
5 August Awakeri School held a very successful science and technology fair last week. The judges spent five hours reading projects, interviewing students and then decision making about the entries. On Friday at the prize giving, the awards were handed out. Click here for all the awards and some nice photos of science fair. Well done to all students and their families. Over-all winners: Jamie Julian (technology) and equal first Samantha Whiteman & Katelyn Peterson and Lucy Jones & Addison Dodson (science). All those who got a place or highly commended have now qualifed for the BOP Science Fair in Rotorua on 16 & 17 August.
1 August The teachers have voted to strike on August 15th, so the school will be closed on that day. However, those two classes on camp will still be going. An official letter from our BOT about the strike day is coming home with your child today.
Check out Margo's new Library column. Lots of good stuff on there.
31 July Science Fair entries can be handed in today 3.30pm - 4.3pm, or tomorrow between 8 and 9am. Judging is on Thursday, with judges coming from several science and technology businesses (many thanks Fonterra, Whakatane Mill, Comvita, and REAP House of Science). All welcome to the public viewing in the Events Centre lounge on Thursday evening 5 - 6.30pm and Friday 8.15 - 9am. The prize giving is at 12 noon in the Events Centre, again, all welcome.
26 July Welcome back to the new term everyone! Term three is an exciting, busy term. The seniors have science fair next week, so most people have been busy getting their projects ready to be handed in and displayed. The middle school and junior school have practical technology with Mr and Mrs Marple, which is always interesting and fun. Later in the term the musical production is the main focus for the middle and senior school. There is also a sports day coming up for year 4 and up: hockey and football.
9 July Happy holidays everyone! On Friday Uruguay (our winning team from the lunch time World Cup tournament) played the teachers at lunch time. It was a fun hard fought game. The teachers scored twice (well done Mrs Cass!) and Uruguay scored once (a Bonnie-Marie Wetting penalty). Mr Fitz limped off with a hamstring injury. Late in the game Uruguay were unlucky when Kobi Wetting hit the bar with a good shot. The score: Teachers 2, Uruguay 1. Here are some cool photos of the game.
5 July Check our some cool holiday ideas on the Library page (thanks Margo)
4 July Today the Rangitaiki Tai Mitchell team called in on their way to Rotorua for the annual rugby tournament. Awakeri School has a number of players in this year's team: Jamie Julian, Fearghus Byers, Joel Jones & Jake Laurent. Jamie spoke to our school about the Tai Mitchell tournament and then the boys did their haka. Good luck at the tournament!
Today and tomorrow our school closes early for the parent-teacher interviews. We like to see all parents if possible to discuss children's progress and next steps.
| | |
| --- | --- |
| | |
| The Tai Mitchell team doing their haka for us on the C Block deck. | Jamie, Joel, Jake and Fearghus. |
3 July
| | |
| --- | --- |
| | |
| Awakeri's Uruguay football team! Elijah, Bonnie-Marie, Mitchell, Tejay, Josh, Talan & Jade. Cool trophy!! | They are joined by some of our refs... Fearghus, Frank, Myles, Rhys and Oscar. Red cards!! |
Today over 100 people auditioned for roles in the Robyn Hood Outlaw Princess production. There were many brave attempts at acting and singing! People will find out this week whether they have got a speaking / singing part.
2 July Today scripts were given out to those children who want to audition for a role in the production Robyn Hood Outlaw Princess. Auditions are tomorrow. At lunchtime today Uruguay beat England in a great final 2 - 1. England had a last second chance to equalise but a defender just managed to block a shot on the line. On Friday lunchtime Uruguay will be playing the teachers.
Hopefully everyone has booked an interview with their children's teachers, Wednesday or Thursday.
30 June The semi finals of our lunchtime football World Cup tournament were played today. Two great games, with Uruguay beating Sweden 2 - 1 and England and France drawing 2 - 2, Englnd won the penalty shoot out. On Monday lunchime will be the final. Uruguay v England!
29 June A big thank you to all parents who helped take our 26 superstar cross country athletes over to Rotorua yesterday. Well done to every single student who went over, you all raced so well against terrific competition, with children coming from over 90 different schools. There were some fantastic results! Three children even went on to become Bay of Plenty Champions. A massive congratulations to Teigan Nolan, Joseph Spalding and Bailey Le Prou who all won their races!
Top 10 place getters:
8 year old boys: 1st - Bailey Le Prou, 9th - Ollie Peat
11 year old boys: 1st - Joseph Spalding
12 year old girls: 1st - Teigan Nolan, 9th - Olivia Nolan
12 year old boys: 5th - Elijah Wetting, 6th - Kalib Schuler
| | |
| --- | --- |
| | |
| Bailey Le Prou, BOP champion! | Teigan Nolan, BOP champion! |
| | Joseph Spalding, BOP champion! |


28 June School Production!!! Names are being taken for auditions for the school production of Robyn Of Sherwood. It is open to year 5s and up. There are some great roles. Awesome to see a lot of our ex-pupils on stage in the Whakatane High School show that is running this week. Well worth watching if you can get a ticket. Five boys who are basketball jocks are all ex-Awakeri. Congrats Whakatane High School on an excellent show.
24 June Check out the cool Library news on the Library page. Well done to the Singapore fund raising group on Thursday. Lots of fun at the school disco, and they raised over $2000 for their trip!
Watch out for quite a few ex-pupils in the Whakatane High School show this coming week! Sadly, the seniors didn't get their usual invite to a preseason matinee performance.
20 June Results from EBOP cross country:
8 year old boys: 1st - Bailey Le Prou, 2nd - Ollie Peat, 4th - Alex Whiteman
9 year old girls: 3rd - Aramia Hanlen, 5th - Danielle Bach-Christensen
10 Year old boys: 5th - Ryan Somerville
11 Year old girls: 5th - Ella Murphy
11 Year old boys: 1st - Joseph Spalding, 3rd - Joel Jones, 5th - Joseph Bateson
12 Year old girls: 1st - Teigan Nolan, 2nd - Olivia Nolan
12 Year old boys: 1st - Elijah Wetting, 2nd - Kalib Schuler, 3rd - Jamie Julian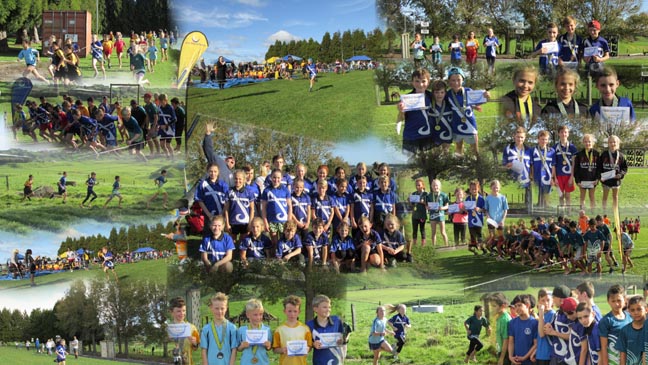 19 June Today we have 39 people at the EBOP cross country races in Opotiki. The weather is shining, we wish them luck!
Phoebe is just back from her race. "It was way harder than Manawahe. The hills, the cowpats... I am pretty happy I came 7th, because it was pretty hard. I ran in bare feet. I couldn't feel the gravel because I was focused on my running. Joseph Spalding came 1st in the 10 and 11 year boys. Teigan came 1st and Olivia 2nd in their races."
At lunchtimes for the rest of the term Room 14 is running a World Cup football tournament. Yesterday Portugal beat Spain 4 - 0, Germany beat France 1 - 0, England beat Brazil 6 - 0 and Australia beat Belgium 2 - 0.
15 June Phoebe Carter and Summer Jones have been training a junior jump jam team in the year 1 to 4 category. Last night they competed at the regional competition in Tauranga. Summer and Phoebe were both really pleased with how the team went. "They smiled, they did loud chanting, they were in time. They were super super nervous but they used their nervous energy to perform. They did good facials. They looked like they were enjoying themselves and having fun!" said Phoebe this morning.
Today Rooms 5 and 13 sailed their rafts that they have made together. They nearly all floated!
| | |
| --- | --- |
| | |
| Here are room 5 and 13 launching the rafts they have made. Each group had two people from each room. | The groups are blowing their rafts so they can get across the pool. There was no wind! |
| | |
| Ethan's group's raft sank!!! It was too tall. They kept trying it but it started to break! | This is the finals. Here are Angus, Vaughan, Max and Joe trying to beat Cody's raft across the pool. Quite a few other people are helping them! Neither of them made it. Angus's raft came back to them! They had to get a long piece of bamboo to rescue Cody's one! |
14 June Today 98 children from year 4 up, put their names down to play in a lunch time World Cup football tournament. They have been split into 12 countries. The tournament will run on Monday, Wednesday and Friday lunchtimes for the rest of the term.
13 June The speech finals were excellent last night! About 70 people packed the library and there were many comments that the standard of speeches was extremely high, right across the nine finalists. Our independent judges were Peter Fitz, Louise Howard and Margo White. Bonnie-Marie Wetting won with her speech about body image, 2nd was Jamie Julian with a convincing speech about second hand smoke and 3rd was Mikayla Jamieson who told us why nurses should be paid more.

| | |
| --- | --- |
| | |
| Bonnie-Marie gets her name on the shield (again!). She was the 40th winner of the contest. | Iask, Asha, Phoebe and Mr H came as book characters yesterday, along with hundreds of others. |
12 June Tonight are the school speech finals, in the library at 7 pm. All welcome! Come and hear 9 great speakers: Bonnie-Marie Wetting, Summer Jones, Marshall Foxx, Caleb Hanlen, Ella Murphy, Fearghus Byers, Shivaun Burgess, Jamie Julian and Mikayla Jamieson.
Book character dress up day today. Lots of people came dressed up. It's a shame the weather is stopping us from having a parade at the moment. Thank you to everyone who donated a gold coin. We raised $324.92!! That should be enough to help get author Ben Brown to come to school.
Poor Room 15 at tech today got a bit of work done before the power went off. The cooking people cooked one thing and had two others prepared, but they never got to cook it!! They had to clean up, but eventually the hot water ran out! In the end, they came back to school early on the bus.
Some great results at the Manawahe cross country on Friday:
Team Results (Top 3)
Midget Boys - First (Joshua Spalding, Cole Edwards, Jacson Heal and Flynn Dominick)
Junior Girls - First (Danielle Bach-Christensen, Aramia Hanlen, Tylah Bateson, Holly Rowland)
Junior Boys - First (Bailey Le Prou, Ollie Peat, Alex Whiteman, Bryan Leitch)
Intermediate Girls - Second (Bailee Lawrence, Milan Laurent, Mikayla Bailey-Reece, Ani Doherty)
Intermediate Boys - First (Joseph Spalding, Jake Laurent, Ryan Somerville, Ben Peat)
Senior Girls - First - (Teigan Nolan, Olivia Nolan, Bonnie-Marie Wetting, Isabel Lambert)
Senior Boys - First (Elijah Wetting, Kalib Schuler, Jamie Julian, Daniel Parsons)
Individual Results (Top 3)
Midget Girls: 2nd Millie Bateson
Midget Boys: 1st Joshua Spalding, 3rd Cole Edwards
Junior Girls: 2nd Aramia Hanlen, 3rd Danielle Bach-Christensen
Junior Boys: 2nd Bailey Le Prou
Intermediate Boys: 1st Joseph Spalding, 2nd Ryan Somerville
Senior Girls: 1st Teigan Nolan, 2nd Olivia Nolan, 3rd Bonnie-Marie Wetting
Senior Boys: 1st Elijah Wetting, 2nd Kalib Schuler, 3rd Daniel Rowling
7 June Book Character Day is on Tuesday. Get dressed up as a book character! Bring a donation. Loads of ideas on the Library page
5 June Manawahe cross country has been postponed till Friday! Let's hope things dry out by then.
This means the senior speech semifinals are now on tomorrow (sorry to those who get a shock at that news!). Congratulations to these year 7&8 students who have got through to the Speech Contest semifinals: Bonnie-Marie Wetting, Summer Jones, Leah Rowe, Isabel Lambert, Joshua Broadmore, Marshall Foxx, Caleb Hanlen, Ella Murphy, Michael Seales, Jade Rika, Fearghus Byers, Shivaun Burgess, Asha Stevenson, Elijah Wetting, Jamie Julian and Mikayla Jamieson.
1 June Winter! Brrr our second frost today. Only a light one. Yesterday though, the usual thing. Kids were out scraping the frost off the outside tables and making little ice collections.
If you want to read the Annual Financial Report of our school, please click here. It's an adobe file and opens in a new window.
29 May We had a glorious day for cross country yesterday. Congratulations to all those students who pushed themselves and gave their best effort. It was well appreciated by the big crowd of parents who came to watch. Many thanks to organisers Naomi Courtney-Tennent and Louise Howard, and land owners Colin, Mark and Katie Carter. Check out a few cool photos of the day. Our placegetters:

| | | | | | |
| --- | --- | --- | --- | --- | --- |
| Age | Girls | Boys | Age | Girls | Boys |
| 12&13 1st | Teigan Nolan | Elijah Wetting | 10&11 1st | Bailee Lawrence | Joseph Spalding |
| 2nd | Olivia Nolan | Kalib Schuler | 2nd | Milan Laurent | Jake Laurent |
| 3rd | Bonnie-Marie Wetting | Jamie Julian | 3rd | Mikayla Bailey Reece | Ryan Somerville |
| 8&9 1st | Danielle Bach Christensen | Bailey Le Prou | 7yr 1st | Millie Bateson | Joshua Spalding |
| 2nd | Aramia Hanlen | Ollie Peat | 2nd | Kimberly Seales | Cole Edwards |
| 3rd | Tylah Bateson | Alex Whiteman | 3rd | Riaan Skipps | Mihaere Gillies |
| 6yr 1st | Paige Horner | Wilson Carter | 5yr 1st | Brooke Te Maipi | Miller Spence |
| 2nd | Astrid Smith | Mason Kerdemelidis | 2nd | Olivia Hathaway | Nixon Gillies |
| 3rd | Storm Le Prou | Thomas Slater | 3rd | Siobhan Watkins | Anthony Boswell |
24 May Princesses! No...no...noo.. But Yes, check out the Library page!
23 May Today cross country has been postponed till Monday. The weather is wet and cold.
Last night our two Kids Lit Quiz teams made us proud at the regional finals in Tauranga. Our A team came second and our B team came 14th out of 28 schools! Well done! 1st was Tauranga Intermediate A, 2nd Awakeri A, 3rd Taupo Intermediate A, 4th Katikati College B, 5th Matamata Intermediate A. Congratulations to our coaches too: Margo White and Kate Dowzall. Great job!
The quiz had ten rounds, with literature questions on topics like Teenagers, Teeth, Superheroes and The Law. Our best topics were Insects and Superheroes (the A team scored 8 and the B team 6 in both of them). Check out our past history of results at the Kids Lit Quiz on our Academic Archives page. We have been World Champions!
Today Mr Hawkes is posting our letters to the school on France. The seniors have written 113 letters! Bonjour College Le Calloud!
Yesterday and tomorrow we are very lucky to have two teachers from St John's Ambulance teaching our children first aid. Max and Tina did a fantastic job teaching classes yesterday. Classes learned what to do in an emergency. Some classes even practised CPR. It was great learning.
17 May Nice to see our jump jam team in the Beacon this week. The netball teams did play at Te Teko yesterday and had a successful time. The senior team had two wins and one loss. Our senior students are getting ready to do speeches next week. The year 7&8 topics are health issues. They have a choice of three topics. Our letters are nearly ready to send back to the school in France. We are waiting for one more room to be finished. Hooray, today it is not raining!
Next week is a big week, with cross country and the Kids Lit Quiz both happening. The Kids Lit BOP regional final is at Tauranga Intermediate on Tuesday evening. We have two teams: A and B. Team A : Sophie, Asha, Sam and Oscar, team B; Issy, Addi, Olivia, Belle and Kaleb. There were 4 rounds of trials to get into the teams. The teams have been working hard, doing homework, doing practice quizzes, having morning Milo and biccie meetings, etc. One thing the teams have been doing is studying the topics that Margo secretly gave them (e.g. Issy's topic was villains, Sophie's was dogs). Each person thought of characters that were in their topic (e.g. Ursula - the sea witch, Hairy Maclary) and they went up against the two teams. We had to see who had the most original answers.
How are you feeling about the finals Sophie? "I'm nervous but excited!"
How do you think you'll do Issy? "I think we'll do pretty well. We've been practising. We've been reading lots of books and we've got a good team." Will you beat the A Team? "Hopefully! Last year we were in front of the A Team for a while."
Tell us about your coaches Sophie. " Margo and Miss Dowzall have been training us very well, giving us different homework and we know a lot more now."
15 May The netball is now on Wednesday at te Teko. No rugby though. Mrs Howard and Miss CT went to inspect the cross country course yesterday. Rather wet. However, when we look at the course this morning, it is more like a lake! Cross country swimming anyone?
13 May The rugby day tomorrow at Matata has been cancelled. However, we haven't heard about the netball at Te Teko. It could well be on.
9 May Yesterday and today groups of students have been repainting all the lines on our concrete. The map of New Zealand is now nice and shining in front of room 2 and 3. Unfortunately.... Mr Sheather didn't realise there was wet paint on the four square markings. After about six yellow footprints, he kindly helped the team clean up the concrete. Now, for the shoes!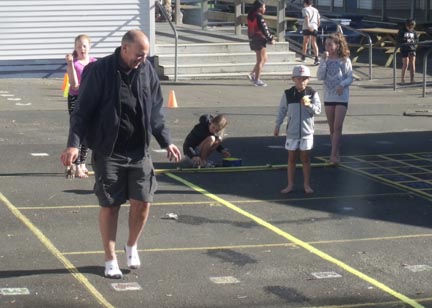 Mr Sheather getting rid of those footprints!
Mothers' Day is coming up this weekend. Check out the cool stories about mums on the library page. The whole range of mums are there!
8 May Try your French out on this article about Awakeri on the school website of College Le Calloud in La Tour Du Pin that the seniors are writing letters to. It opens in a new window.
2 May Welcome back everyone! Rooms 10 and 11 have headed off to Tui Ridge camp today. Good luck to them. Jump jam has started, three sessions a week for the school. Kapa haka are taking enrolments (year 4 up). We are training for cross country. Names are taken for rugby/netball day.
Seniors are starting to work on speeches (yay!) and they are getting some letters from 130 lovely students in France. They have had a lot of fun reading them. They are keen to write back. The school is College Le Calloud in La Tour Du Pin.
If your child plays soccer, see the info on the Awakeri Soccer website about this Saturday.
13 April Today we are having our school's Commonwealth Games. It is going really well. The main scoring is for sportsmanship, but some of the ganes have exciting scores too.
The Library page has some cool news. Check it out!
Have a happy holiday everyone!
12 April Congratulations to Laura and Dan Edgecombe on the arrival of their baby girl... Matilda.
We are excited too for our Commonwealth Games day tomorrow. Everyone has been put into countries, the seniors have had to tell us a bit about our countries. Some of them we don't know much about, like Namibia, Ghana, Vanuatu...
Room 15 have been on camp near Waihi, it sounds like it has all gone well so far.
At schol we all learn our pepeha (family tree, in Maori), but Room 14 have gone a step further, writing some fantasy pepeha! Have a look on their page!
Results for the Awakeri School Top School Raffle drawn under Police Supervision.
1st $1000.00 1501 Willie Cairns
2nd $400.00 2681 Nikki Wana
3rd $300.00 1178 Peter Grimes
4th $200.00 1230 Sophie Sutton
5th $100.00 1859 Paul Braaksma
Congratulations!!
6 April The interschool touch day went very well yesterday. There was a great attitude out on the fields, with all games played in good spirit. It was very hot but people played hard right till the end. A big thank you to everyone who refereed, including those 13 Whakatane High students who came along. They were mostly ex-Awakeri sudents keen to come back for the day. Well done to Mr Fitz who organised the day and to Miss Grundy and Mrs Petersen for sorting out the refereeing.
| | |
| --- | --- |
| | |
| Henali Patel runs across field to get away from Joseph Spalding in their game. Will Henali pass to Celeste Grimes or Mia Sutton? | Kobi Wetting spots a gap in the Otakiri defences and shoots through it. Go Kobi! |
3 April A big thank you to every one who supported Rooms 13 and 14's Fun(d) Raiser on Thursday. They made $1148 in the lunch break, which went towards their recent class camps. The food stalls were very popular, but so were the activities, like Jumping out Room 13's Window, the Games Kiosk and the Very Scary House. Here are some photos of the happy customers and the activities. There was lots of learning for both organisers and customers... things like money handling, decision making, communicating, planning, organising....
28 March Check out New Zealand Heroes books on the Library page. Some cool suggestions from Mrs White.
Congratulations to our cricket team yesterday. They were unbeaten and got to play in the final. Mr Sheather said they played very well as a team.
27 March Already a lot of schools have entered for next year's Top School! Wow it is popular.
Today Mr Sheather's year 5 & 6 cricket team are competing in a tournament.
On Thursday Rooms 13 and 14 are having a camp fundraiser in the lunch time. Everyone is invited to bring a few dollars (in coins preferably) to spend. People still need their own lunch. Food on sale is not guaranteed to be nuts, gluten or dairy free.
26 March Congratulations to everyone involved in Top School. Despite the weather, we had a very good day. Although takings were down by about $4000 on the day, there was still a good amount of money spent. Well done indeed to the Awakeri Top School team who won the year 7&8 section, beating rivals Whakatane Intermediate. Well done too to the very professional cheerleading squad, first place! Here are some photos of the day.
Results:
| | | | | |
| --- | --- | --- | --- | --- |
| | Large Yr 7&8 schs | Small Yr 7&8 schs | Yr 5&6 schs | Cheer leaders |
| 1st | Awakeri | Te Teko | Kaw South | Awakeri |
| 2nd | WIS Yr 8s | Tarawera | Matata | Thornton |
| 3rd | WIS Yr 7s | Waiotahe | Otakiri | Tarawera |
22 March The fields have lots of activity on them as the Top School gear is set out. Make sure you get your Top School helping roster. All children were given the rosters to take home today. Check out Room 14's camp photos too.
18 March This is the start of one of the busiest weeks of the year: Top School week. Hopefully everyone will be involved to do their bit to help the school have a very successful day on Sunday, raise lots of money and help everyone have a good time.
Rooms 6, 8 and 14 returned from their camps last week, no doubt you will read all about them on their class pages when they have updated them. Many thanks to those parents who gave their time and energy to help the camps happen.
7 March Tomorrow we have 27 students going to the interschool swimming sports. Good luck to all those swimmers. At the moment the Top School team and the cheerleaders are practising hard every lunch time. The attitude of the team has been one of the best ever. They are organising practices and working on their skills even when no staff members are available.
5 March Lots happening this week: Room 13 are off on camp at Waitomo this week (let's hope it isn't interrupted by a cyclone like it was last year!), Room 7 goes on camp tomorrow at the Lions Hut. The Life Ed caravan, complete with Harold the giraffe is here for the seniors this week. Visiting today we have the Trillians Trust Trek vehicles at about 2.30pm. That should be entertaining, as well as making it interesting getting into the out of the car park at 3pm!
Thanks you to everyone who came for interviews with the teachers last week. Hopefully we are now all on the same wavelength.
Big congratulations to Jamie Julian who came back from the national surf life saving champs with six medals, 4 of them gold!
If you want your child to do Te Reo Maori extension classes this year with Whaea Andrea, please send her an email andreamaru@awakeri.school.nz, with the child's name and room. Extension classes are in school time, so they would be missing some other curriculum work.
1 March A pinch and a punch for the first of the month! Check out the new library update on the Library page, specially if you are into farming stories!
We are looking forward to the parent-teacher interviews today and tomorrow. Nearly everyone has booked a time. Well done!
The dental caravan is in its last day at Awakeri. The dental team has worked hard and seen everyone either late last year or this year. They are off to Thornton School next.
This is Mrs Edgecombe's last week with us as she heads off for maternity leave. We wish Laura and Dan all the best for the arrival of their baby. The staff have been full of helpful ideas about dates of arrival, possible weights and names. The best one so far is Brenda's suggestion of Jemima Whetumarama Constance Muriel. We are sure it will be considered!
Last week we farewelled Dannis Manderson. She is off globe trotting, first stop Egypt! Her love of Harry Potter will no doubt go with her!
26 February Football (soccer) enrolment forms were handed out at school today. See Mr Hawkes or the office if your child missed theirs. More info on the Awakeri Football web site.
The school pool is going nicely. Make sure your child has their gear for their swim days.
Rather late, we know, but there are some pics here of the senior social at the end of last year. Most of these kids are now in high school uniforms!
25 February A few photos here of swimming sports last Thursday. Spot the biggest splash!
21 February Top School Team. After days of trials, our squad for this year's Top School team has been selected. Congratulations to: Mikayla Jamieson, Teigan Nolan, Isabel Lambert, Sophie Peat, Olivia Nolan, Phoebe Carter, Jamie Julian, Kalib Schuler, Elijah Wetting, Dan Rowling, Jake Laurent and Ollie Fort.
The squad will now be training daily in their lunch times to do our school proud on the 25th of March.
Remember swimming sports tomorrow!! Togs, food, drink, sun protection, warm clothes, house colours...
19 February Because of the approaching bad weather, Room 8's camp has been postponed. At the moment, our swimming pool is out of action. The pump broke down and it is taking a while to get it swimmable again. Hopefully those people going to swimming sports on Thursday will still remember how to swim! A reminder that there is a collection at the start of school tomorrow raising money for guide dogs for the blind.
15 February Here are our new house leaders... what a handsome lot!
14 February Do you enjoys thinking, puzzles, challenges, mysteries? Go to the Library page to read Margo's latest message / challenge. She has set up a Thinking Zone in the library. Cool!
13 February Today sees our first group of students off to technology at Edgecumbe College for the year. They go one day a week for half of the year and learn skills in wood, materials, metal, food, biotech and electronics. The Edgecumbe unit is one of the best in New Zealand, so we are grateful that our students get to go there.
9 February Congratulations to our new house leaders, listed below and big ups to all those seniors who put themselves up for election. It takes courage and self confidence.
Kowhai
Ella Forbes, Sharlee Davis, Sophie Peat, Myles Ashton
Rimu
Asha Stevenson, Summer Jones, Londie-Lee Rika, Josh Broadmore
Rata
Ollie Forsyth, Caleb Hanlen, Mia Sutton, Jake Laurent
Tawa
Mitchell Du Toit, Jamie Julian, Phoebe Carter, Teigan Nolan

7 February A reminder about the Meet the Teachers evening tonight. Teachers are in their rooms from 5 to 5.30pm, then there is a barbecue. Come along!!
Web site monitor applications went out today. They are due in tomorrow by interval. Year 6, 7, & 8s can be web site monitors.
5 February If you want a preview of the new house chants, before the houses learn them on Friday... Click here.
2 February Top School is coming up in six weeks. If you don't know what Top School is... have a look at the photos of last year's one. It's an amazing day. On the Photo Archives page you can go to see photos of lots of other year's Top Schools.
Today 35 people put their names down to try out to get into our Top School team for this year, and today the cheerleaders are taking names too. The trials will be in the lunch times.
This web site is maintained by the senior students. We are selecting students to do this important job next week. The various classrooms' pages will be up dated after that.
31 January School is back underway with everyone working hard and settling in. Classes are swimming, our pool is nice and warm! There was lots of enthusiasm for being librarians, Margo's meeting today had 40 people turn up, that's to go with the 30 that are already librarians!! There is lots of enthusiasm to be house leaders too. Mrs Howard had lots of year 8s and some year 7s who were keen to be leaders. The elections are next Friday.
Talking about the Library, Margo has a very nice message to start the year, on the Library page. Check it out!
27 January 2018 Happy new year everyone! School starts on Tuesday! Lots of people have been in to get their stationery sorted so their children are ready to go on the first day. Welcome to our new teachers: Carrie-Anne Dennis (Rm 12), Rosie Ulrich (Rm 11) and Josie Grundy (Rm 10).
Good luck to our ex-year eights who are starting high school next week. We are sure you will do well and enjoy it!
News of and congratulations to a former Awakeri student Quest Tipping who recently played for the first ever Maori Football team. They beat the indigenous Australians 3 - 2 in a hard game.
Quest was a top athlete and footballer here around 2008.
Old News Do you want to look at the news from last year and before that? It is reeeeaaallllly cool. Click here to find that interesting old news from 2017, 2016, 2015, 2014, 2013, 2012, 2011, 2010, 2009, 2008, 2007, 2006, 2005, 2004, 2003 or even 2002 and before.