Library

Welcome to our library page!!
Library News:
Mrs White's latest message. If you want to read some of her old ones, click here, there are some fantastic entries!
Library column 11 April 2018

The great genrefication has begun! We have finally started to put the 12 different genre stickers onto the Senior Fiction books. This process will take quite some time and we will not rearrange the books into individual genres until most of the books have been stickered. For now they will remain in alphabetical order. Already I have had lots of positive comments from the kids, some are very excited to know that it will be an easy process to find fiction in their favourite genres, especially those kids who have very strong preferences. Input from students also lead me to add Science Fiction as its own genre (I was going to combine it with another) and I can see more conversations happening between kids as they discuss reading likes. Posters with a key to the genre stickers will go up today but here's a quick rundown.

War – Books with a strong war theme or set during a conflict.

Funny - Books with plenty of laughs.

Action – Lots of explosions and gadgets! Probably has a realistic setting.

History – Books set in a specific time period, may have time travelling.

Sport - The main story involves a sport.

Fantasy, Myth and Fairy tale – Books with magical creatures and/or people with magical powers, or based on traditional fairy tales.

Horror – Books with plenty of scares!

Mysteries and Spies – Books where some kind of puzzle must be solved.

Animals – Books where animals are the most important part of the story. May be realistic animals or with human characteristics

Realistic and family – Books that could be true and are about friends, families and the drama of real life.

Adventure – Books set in the outdoors, may be a survival story.

Science Fiction – Books with futuristic societies, aliens and gadgets.

6 Tips to keep holiday brains busy!

1. Make sure they have books around the house. Kids can't read what they don't have. Check that they have returned any overdue books and issued new and interesting ones ready for what may well be a very rainy holiday! Pop into op-shops and second hand shops and stock up on anything that will catch their eye. Join your local public library.

2. Remember non-fiction books for hobbies, such as sports, cooking and making crafts. If you are worried about a book in the kitchen photocopy the page – you can glue it into a scrapbook and make a family cook book for all the holidays! Cooking is great for reading and maths. (And eating!)

3. Going on a trip? Photocopy a map and get the kids to mark off your journey. Staying home? Cross your fingers for some good weather and find a map of Whakatane, make a plan of what streets you will travel down and finish in an interesting spot for a picnic. Maybe the "Lion in the meadow" statue or Muriwai's cave or Pohaturoa rock.

4. If your kids are obsessed with a particular author check out their website. Many top authors have informative and interesting sites that will give tasters of upcoming books or offer colouring and activities related to top books. Some suggestions are Julia Donaldson (of "The Grufflo"), Jacqueline Wilson, Jeremy Strong, Roald Dahl (although the author has passed away his site, run by a trust, is very cool), Lauren Child and David Walliams.

5. Board games and word games – anything with some reading, writing and maths involved. Make up your own – have a story on the fridge where each person adds just one word at a time. Keep it going for as long as you can – visitors can be invited to add words too.

6. Read aloud! This is such a consistent piece of advice from pretty much every survey to do with kids and achievement. It doesn't really matter what you read aloud, as long as everyone enjoys it. If you feel a bit nervous, a rhyming picture book or something with a bit of silliness does the trick. Kids will listen because it's you – not because they are critiquing your performance.

Happy (Holiday) Reading!


| | |
| --- | --- |
| | |
| Librarians at work | Henali Patel, Sasha Cameron and Ella Murphy issuing books |
| | |
| Kendall McKane returning books to the shelves | Jade Moloney |
Photos from author Stacey Gregg's visit

Kids Lit Quiz
Kids Lit Quiz training off to a good start for 2016!

On Tuesday 27 Oct 2015 four of the children who will be competing next year at the regional Kids Lit Quiz Competition took part in a mini quiz run by the Tauranga Intermediate. The quiz is for Tauranga teams as a warm up for the official Kids Lit Quiz in March and this is the first time Awakeri School has been invited. We were also there to share and inspire other schools with the story of our success in the International Kids Lit Quiz with the children, librarians and teachers who attended. Mrs Petersen and Mrs White gave short Power point presentations outlining the events of the last six years of KLQ for Awakeri and some details about the training we do with the teams each year. Then onto the quiz – always the most exciting part! The quiz consisted of five rounds of ten questions and Awakeri were lucky enough to hold on to a strong first round lead to win the competition! The prize of choosing three books each from the sponsor Books-A-Plenty in Tauranga plus several spot prizes of books and chocolates certainly made the day worthwhile for the team! On the return journey we stopped by to see the statues of Lynley Dodds' famous dog and cat creations along the waterfront. Here is a picture of the team with Hairy Maclary and company, from left; Ben White, Riley McDonald, Alex Robbie and Tayla Jones.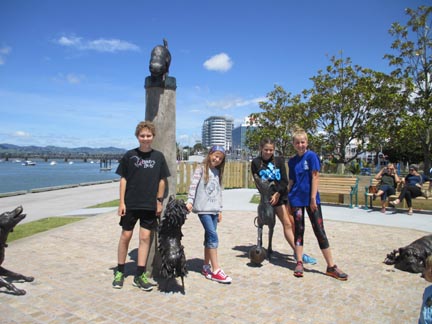 A huge congratulations to the 2014 KLQ teams. The A team won the BOP regionals, won the NZ nationals and then came 3rd in the World finals in England. Congratulations Finn Spod, Ben White, Emily and Alex Robbie, also coaches Ann Petersena and Margo White. To check out our past glorious KLQ history go to the Academic archives page.
Here the four students write about their experiences in England:
EMILY
Our long and exciting journey started all the way back in Term 3 last year. Each week we would spend one lunch time being quizzed to find the top 8 students in our school with good literature knowledge. When the teams were chosen our fantastic coaches Mrs Petersen and Margo quizzed us in teams and gave us heaps of ideas and books to read.
In May, we competed in the regional competition where schools from throughout the Bay of Plenty battled to be B.O.P champions and for the cash prize of $1000 and the chance to compete at the national quiz.
The next quiz, which was in Wellington was much harder, not only were we competing against the best teams in NZ, the questions were much more complicated and we had to buzz in before the other teams to answer a question. We only won that quiz by one question.
As national champions we were given the chance to compete in England for the Kids' Lit World Cup. We started training every school day, with Margo and Mrs Petersen always giving us something new to learn, they gave us information about authors and illustrators, suggested different books to read and websites to investigate about books and nursery rhymes.
Then early last month, we were off to England. Going to England is not cheap, and with only 3 weeks to raise enough money for 6 people to travel it would have been almost impossible without the help of so many great sponsors.
ALEX
The Quiz, the reason for it all, the battle of the readers happened on the Tuesday of the trip. On the morning of the Quiz, we all dressed in our handsome uniforms and got on the coach, bound for the Princess Pavilion. After a practise run through of the quiz with mock questions, we begin to get a bit, no, a lot nervous. The teams filed onto the stage, Australia, Canada, us, Singapore, South Africa, UK and finally USA.
Finally, we were all seated at our tables awaiting the last Kids' Lit Quiz for 2014, the world final. After what seemed like a bagillion years sitting at our table with Lord Ripper, our team mascot, the two Steves introduced the man who made it happen, quizmaster Wayne Mills and the Quiz could begin at last. After the first category we were doing quite well but at half time we were coming dead last. During the second half we started to creep up the score board and by the end we were pretty sure we were third although they don't show the score in the last round. Sure enough they called us up for third and we were proud beyond words, far beyond words.
BEN
When we were in Cornwall, the teams and their coaches got treated to a week of fun activities around the glorious city. On Sunday we went to Glendurgan Gardens and the teams loved doing the maze and going on the Giant's Stride, a huge six person swing. On Monday we visited Heartlands which is a big mining museum with a great playground, and then we went to Pendennis castle, where we met a historian/author called Steph Haxton. On Wednesday we went to Restormel castle and Swanpool beach, where the teams got to go kayaking and bell-boating, which is like rowing a waka. On Thursday we went to the Minack Theatre and a castle called St Michaels Mount, which is in the middle of the ocean. On Friday we went to a fascinating place called the Eden project, where we learnt all about plants, and how they are used.
FINN
Travelling to England as a member of the NZ National Kids' Lit Quiz team has been a great social experience and an excellent way to meet new friends from around the world. Some of the highlight memories were getting used to the weird and wonderful accents, being invited by the Canadian team for a breakfast of pancakes and maple syrup, learning new games from other countries and running through a hedge maze with new friends. One Canadian boy was a master magician and could make a coin appear from behind your ear, an Australian member was amazing at soccer, and a Singaporean was an excellent photographer. During the week of activities everyone became really good mates through jumping off rocks into the freezing cold English Channel, playing manhunt in a 13th Century castle ruins and ultimately, the quiz world final and celebratory Gala dinner.
Some of the things we will take away from this once-in-a-lifetime experience apart from memories and photos are that we now have a new network of friends to keep in touch with for future adventures. We have also had a taste of city life and all that goes along with it, like crowds, riding the London underground and navigating through train stations and airports. We've had opportunities to chat with famous authors and our eyes have been opened wide to the knowledge that can be learned from books and world travel.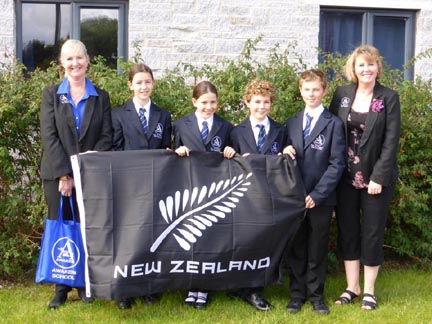 3rd in the World. Wow!
Mrs Petersen, Emily, Alex, Ben, Finn and Mrs White represent their school and country with excellence.
FLYING LIKE A BIRD
Milky white clouds, as soft as a new merino jersey,
Stretches of treetops below me,
I soar on golden wings,
close to the dazzling sun,
When I screech, the sound echoes around canyons and valleys,
Breathtaking sights unfold before me,
The life of a bird is magnificent.
BEN WHITE

Some responses to The Hobbit from Room 14:

Bilbo Baggins

Bilbo is good, I think mainly, because he is too nice to be EVIL!!!!
Bilbo has a very big role in The Hobbit, well, because he is the Hobbit. He is the lucky 14th person in this adventure.
Bilbo is like me in a few ways.
First off, at the start of the book, he is quiet and would rather be at home with a book in front of the fire than be outside in the cold, adventuring.
Bilbo is also like me in another way. His Baggins side is quiet, calm, respectable and scared of adventuring. But his Took side is adventurous, outgoing and daring. Like him, I am quiet and don't like to go too far outside my comfort zone. But on the other hand, I am adventurous, love exploring and I love the feel of adrenalin running through my veins.
So comb your foot hair and relax for an awesome book.

Georgia L.C.



Gollum

With his teeth like splinters and eyes like moons, Gollum is actually quite a fearsome character. I mean, he sits in the dark with a magic invisibility ring on, stalking stray goblins. I love the way he is so easily surprised. One minute he's about to eat someone, the next, he's sitting on the floor bawling! But for a low life creature like him he's pretty smart. I wonder where he got those riddles and where did he find the ring? So much is not known about him. What was his real name before he took on Gollum? I felt quite sorry for him. Sitting in a cave, catching fish and goblins all alone in the dark must get very lonely. Still, he is a horrible thing. His raspy voice is really freaky. The way he talks makes himself sound like a horror movie.
So anyway, "Make hassste, make hassste," and stop reading this before Gollum gets you!

Finn S